Millennials don't need any introduction. We can see that a lot of articles, books and research have been written about them. There are also many opinions about Millennials. Some people consider them spoiled, others as people with huge ambitions and passion. Of course, we can make our own opinions about them, but the thing that is certain is that they are already a growing group in the labor market. Attracting Millennials to your crew can be a challenge. Current trends show that Millennials are interested in many things besides money – they value time with their family, do not sacrifice their quality of life in a career and are team-oriented. So how do you attract them to your company? Below, we present 3 things to keep in mind when recruiting Millennials.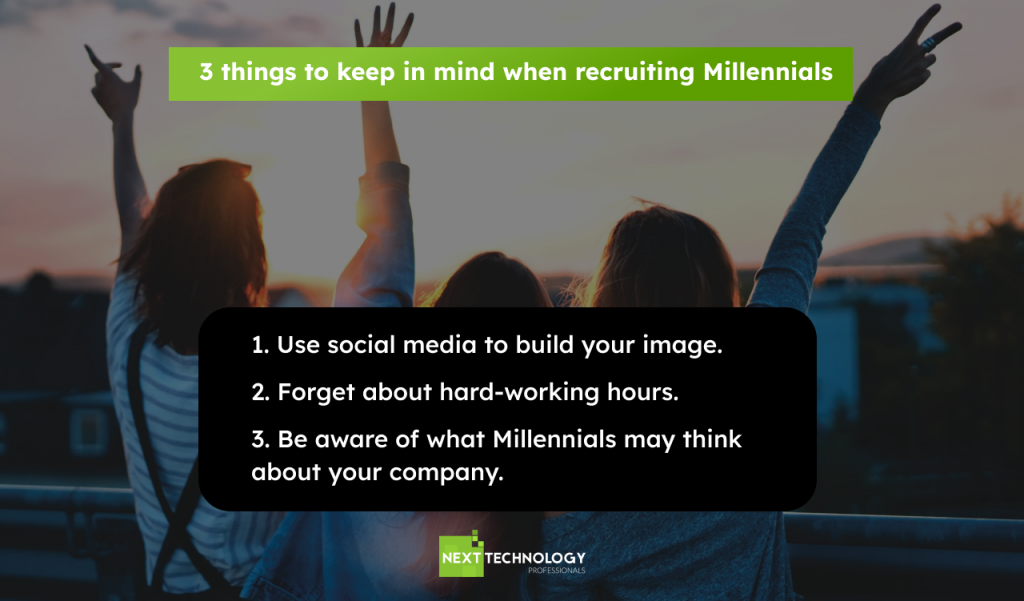 1. Use social media to build your image
Undoubtedly, one of the advantages of having social media is selling and maintaining relationships with your customers. Exactly the same principle applies to the recruitment. Every photo you share, every content you post or your social media status update is so important. All of these together create a mental picture of your company's culture. Therefore, it is worth making the content published there attractive for them. Moreover, social media is the first place where Millennials look for information and opinions about a given company. The channels themselves are also important. The presence on Facebook might not be enough. It is worth considering Twitter, Instagram or Snapchat (and right now probably Tik Tok).
2. Forget about hard-working hours
In a survey of Millennials that was conducted in 2011, 95% of respondents said work-life balance was important to them, and over a quarter of young workers said that they were disappointed with the level of balance they maintained in their current job. Therefore, when creating job positions, it is worth thinking about creating a flexible schedule in that case. We can also assume that the possibility of individualizing work schedules or remote work is very important for this group of people.
3. Be aware of what Millennials may think about your company
There is a fact that really sets Millennials apart from previous generations. Millennials really do not want to be associated with companies whose practices are morally questionable. They also don't want to associate themselves with brands that don't offer great products and amazing customer service. For this reason, you can expect them to do huge research on your business with very careful attention. The best way to deal with it is to find out how you are perceived by this generation and take steps to clear up any negatives. Various tools available on the Internet can help.