As cloud computing provides companies with a number of business benefits, especially in the post-pandemic era of dynamically evolving remote work, cloud computing has already become one of the top emerging technologies. Let's see what 2023 has in store regarding the trends in cloud computing.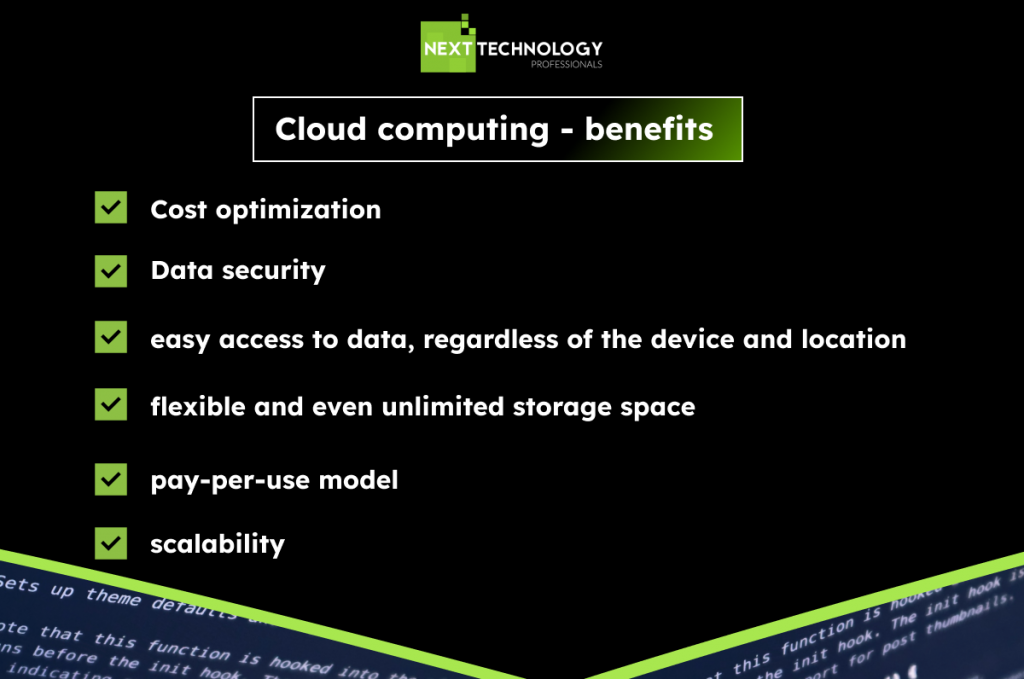 What is cloud computing?
Cloud computing is an umbrella term for delivering hosted services online. These services can be provided in three basic models:
Infrastructure as a Service (IaaS),
Platform as a Service (PaaS),
Software as a Service (SaaS).
Building cloud infrastructure involves both hardware and software components and designing the cloud computing model tailored to the organization's specific needs. The cloud can be private or public, depending on the company's goals, resources, and environment.
Cloud computing provides companies with a number of general benefits, such as:
cost optimization,
data security,
easy access to data, regardless of the device and location,
flexible and even unlimited storage space,
pay-per-use model,
scalability.
Cloud computing trends for 2023
According to Statista, the global public cloud services market is expected to grow by 18.8% in 2022, which amounts to about 490 billion USD. During the pandemic and post-pandemic era, when more and more organizations have decided to switch to remote work models, the demand for flexible solutions has grown – and the increasing popularity of cloud computing is the best example.
So, let's see what are the top cloud computing trends for 2023.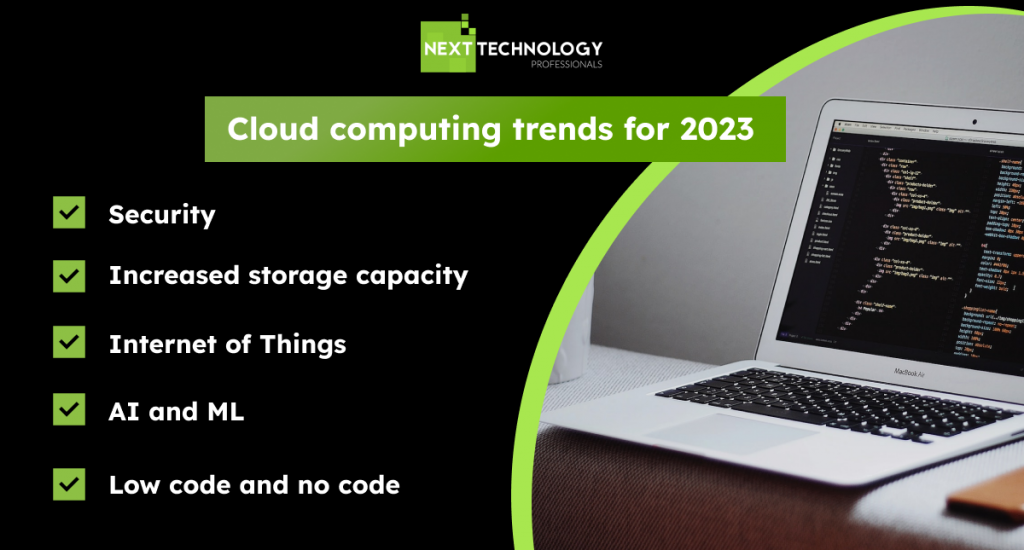 1. Security
In the era of intensified digital threats, data security will become a priority for the majority of companies and cloud solutions providers. Although the data stored in the cloud is already quite secure, there's always space for improvement as the risks of cyber attacks will definitely not diminish. The good news is, cloud services providers still ensure a lot higher security than any small company can achieve on its own.
2. Increased storage capacity
The volume of data generated nowadays is constantly increasing. This is why cloud services providers will strive to search for solutions that will allow them for extending storage space and processing an even bigger amount of information. Fortunately, with emerging modern technologies it is possible to build a data center ensuring the right security and feasibility, much bigger than any individual company can organize without the cloud computing provider's support.
3. Internet of Things
IoT technologies are more and more frequently combined with cloud computing. As IoT requires advanced data analysis and machine-to-machine communication, cloud computing technology is a perfect solution that successfully drives this innovative approach.
4. AI and ML
Similarly to IoT, cloud computing involves also other emerging technologies – Artificial Intelligence and Machine Learning. As a result, they become more and more frequently integrated with cloud services in many dimensions, for example in applications for asset management, virtual assistants, and other tools intended to drive automation, personalization and self-learning.
5. Low code and no code
Last but not least, in the era of high demand for software developers, low code and no code development come in handy. A number of the low-code and no-code solutions are already provided via the cloud (for example, in the SaaS model), moreover – they also engage previously mentioned AI and ML. Thanks to this, the user can access the tool easily without building their own computing infrastructure, and start building their own software without coding experience.
Who is a Cloud Developer?
The growing popularity of cloud services leads to an increased demand for cloud developers. What are their main responsibilities and skills?
Cloud developers are specialists who design and build software with the use of resources taken from a cloud-based platform. They are responsible for designing, developing, and maintaining the cloud infrastructure and systems in the organization. They also perform integrations and analyses, as well as develop workflows and processes.
Cloud developers should have skills such as:
A good understanding and knowledge of the cloud architecture,
Ability to set up and configure the cloud environment,
Designing cloud-based application,
Implementing and deploying a variety of cloud solutions,
Integrating cloud services provided by different vendors,
Monitoring, documenting, and optimizing the performance of cloud applications.
And if you already feel like you need to hire a developer with cloud-realted skills, feel free to contact us. As an IT outsourcing and recruitment company, we will be able to provide you with top-skilled specialists in the field of cloud computing.