5 min read
As you probably know, the IT industry is developing more dynamically from year to year, with new technologies appearing on the market at a rapid pace. However, which technology trends for 2021 should you pay attention to?
The text below will help you find the answer to that question!
Trend 1: Increased development of 5G infrastructure
The implementation of 5G infrastructure is at a very advanced stage, and the fact that over 380 worldwide operators are currently investing in this technology speaks for itself.
What is the phenomenon of the 5G network? Essentially, it offers a much faster download and upload speed, causes almost no delays in the transmission and has much better connection stability.
In addition to ultra-fast Internet for smartphone, laptop and tablet users, 5G makes the Internet of Things (IoT) a reality from which we, as consumers, are greatly benefiting from. Nowadays there are over 6 billion worldwide devices connecting to the network, incl. household appliances (e.g. refrigerators) or road infrastructure (e.g. traffic lights).
Until recently, you could associate smart cities with fantasies taken out of Ridley Scott's movies, today we know that some of these visions may become a reality. According to a report released by Ericsson in late 2020, 1 billion people – 15% of the world's population – already live in 5G coverage zones. By 2026, this number is expected to increase to 3.5 billion.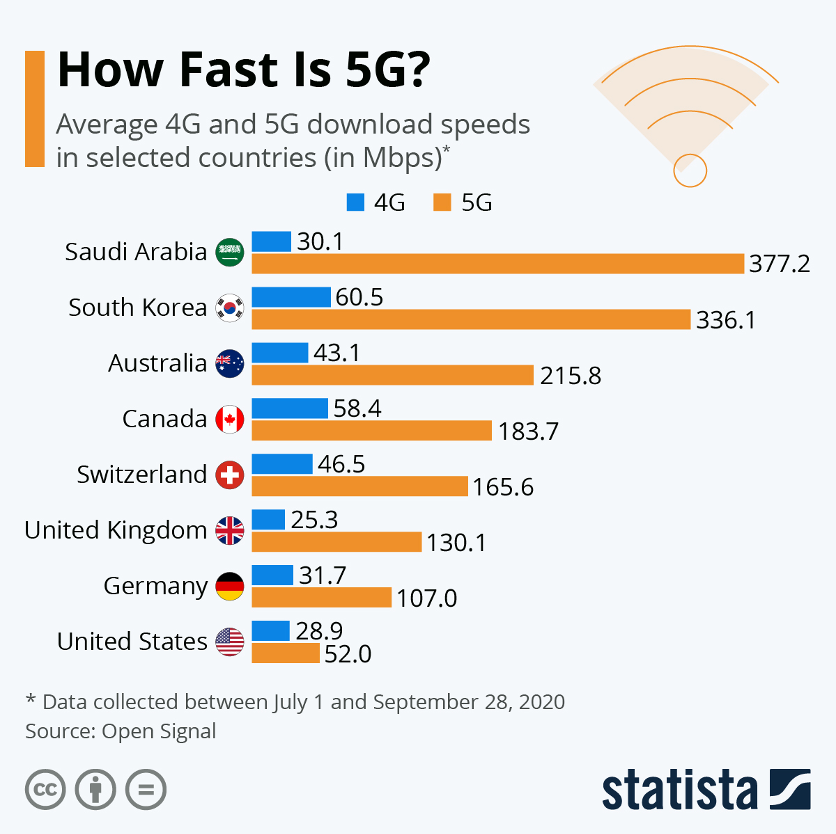 Trend 2: Increase in the use of artificial intelligence (AI)
In 2021, you can expect tremendous demand and rapid development of artificial intelligence (AI). This will be noticeable especially in the improvement of industrial automation technologies and supply chains, which are crucial in today's world focused on cost optimization and increased efficiency.
The latest research on AI, done by PwC, shows that 86% of companies are currently reaping the benefits of the better customer experience through AI, and 25% of companies with its widespread adoption expect to see the tech payout in increased revenue during 2021.
Trend 3: Virtual reality (VR) and augmented reality (AR) technologies usage rises
According to the analyzes of the American consulting organization IDC, it is estimated that in the years 2019 – 2024, expenditure on VR and AR will increase on average by nearly 80% annually. In 4 years, the virtual and augmented reality market will reach a value of  $136.9 billion.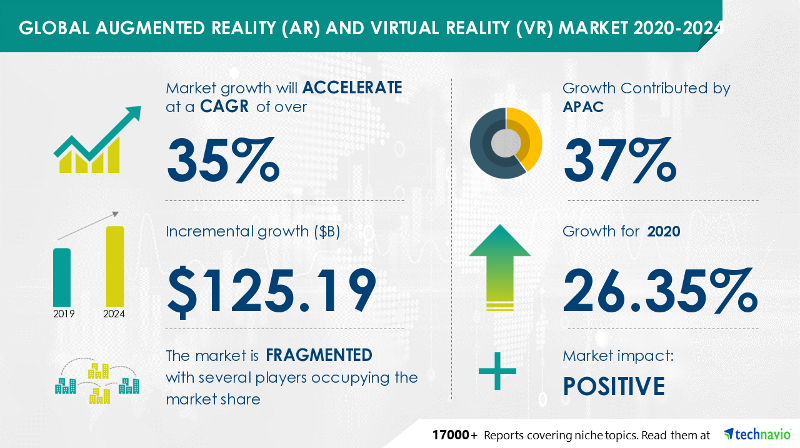 Apart from the stereotypical image of a gamer wearing a characteristic blindfold, VR and AR introduce tools that aim to significantly improve operations in the industry. That is because they enable the implementation of complex activities regardless of time and distance.
Virtual image (with data on individual devices) displayed on special glasses, e.g. Microsoft HoloLens, overlaps with the real image and improves the given process by facilitating the engineer with quick access to a lot of valuable information regarding the project.
A good example of how this technology already works comes from Skanska – one of the world's leading construction groups. By using VR and AR technology the organization showcases their projects. Potential tenants, while wearing a headset, can take a holographic tour of the building and get a feel for what it is going to be like. They can look around and walk through the place while staying visually and emotionally connected to the leasing representative.
However, it is worth remembering that a stable Internet is a basis for having the correct transmission quality and performing remote activities; therefore, very high hopes are placed in the previously described 5G network.
Trend 4: Digitization of healthcare
The COVID-19 pandemic forced the health care system to quickly adapt to the new reality. There is no doubt that this is an area that will become more digital in the coming years.
E-prescriptions, telehealth, home delivery of prescription medication, the use of wearable electronics that monitor the heart rate and count steps – these solutions are probably familiar to you. According to the latest McKinsey report, prior to COVID-19, the total annual revenues of U.S. telehealth companies in the U.S. were $3 billion. This was caused by using telehealth systems mainly in times of emergencies. In 2021, this number is expected to rise to $250 billion, when telehealth will become the standard instead of a physical visit with a doctor. Similar trends are noticeable in other countries around the world.
The healthcare sector is expected to be among the top five industries investing in AI in the next couple of years. According to Gartner, 79% of healthcare providers are already successfully employing IoT solutions. IoMT (Internet of Medical Things) is estimated to grow to $508.8 billion by 2027.
Trend 5: Innovative recruitment processes
Remote recruiting has now become the norm, and many companies have decided to no longer expect employees to physically come to the office. Using technology to develop an innovative recruiting process can improve HR teams' performance and enable faster identification of the most promising candidates.
Additionally, digital recruitment opens up many new opportunities for the selection of potential employees – companies such as Goshaba offer recruitment games that enable HR professionals to evaluate experience, technical expertise, intellectual skills, soft skills, and cultural fit.
Trend 6: Electromobility
Climate change and the growing trend of sustainable development contribute to the popularization of electric vehicles. Companies from the automotive industry are competing in creating innovative products powered without the use of fuel.
According to calculations by Deloitte, it is forecasted that total sales of electric vehicles will grow from $2.5 million in 2020 to $11.2 million in 2025, then reaching $31.1 million by 2030. Currently, just over 17,000 electric automobiles are registered in Poland, which is an increase of 120% compared to 2019.
Deloitte's Electric Vehicles Report
Trend 7: Developed Cybersecurity
Recently, cybercrime has grown rapidly. The company Net Complex in its report on cybersecurity forecasts for 2021 summed up the previous year with the following data:
80% of companies saw an increase in cybercrime;
phishing attacks have increased by 600% since the end of February;
ransomware attacks increased by 148%;
attacks related to online payments increased by 33% in March.
The above figures show the importance of ensuring adequate cybersecurity. In 2021, cybercriminals will continue to exploit gaps between devices and the network mainly caused by remote work. Due to this, organizations should better secure their branch networks and cloud applications to protect their data.
---
Sources:
Trend 1: Increased development of 5G infrastructure
https://www.inc.com/anis-uzzaman/top-business-technology-trends-in-2021.html
Trend 2: Increase in the use of artificial intelligence
https://www.inc.com/anis-uzzaman/top-business-technology-trends-in-2021.html
https://www.forbes.com/sites/tomtaulli/2020/12/12/artificial-intelligence-ai-whats-in-store-for-2021/?sh=58bf273b5a3c
Trend 3: Virtual reality (VR) and augmented reality (AR) technologies usage rises
https://www.inc.com/anis-uzzaman/top-business-technology-trends-in-2021.html
https://group.skanska.com/about-us/research-and-innovation/innovation-projects/
Trend 4: Digitization of healthcare
https://www.entrepreneur.com/article/361311
https://objectbox.io/digital-healthcare-market-2020-stats-projections-and-trends/
Trend 5: Innovative recruitment processes
https://www.bain.com/insights/ten-technology-trends-moving-into-2021/
Trend 6: Electromobility
https://www.wnp.pl/motoryzacja/pspa-w-2021-r-w-polskiej-elektromobilnosci-utrzyma-sie-trend-wzrostowy-przekraczajacy-100-proc,441209.html
https://www2.deloitte.com/content/dam/insights/us/articles/22869-electric-vehicles/DI_Electric-Vehicles.pdf
Trend 7: Developed Cybersecurity
2021 Prognozy Cyberbezpieczeństwa PDF. Retrieved from https://www.netcomplex.pl/prognozy-cyberbezpieczenstwa-na-2021-rok