TikTok is currently one of the most downloaded applications in Poland. Over 7.5 million Poles use it. The platform attracts more and more marketing specialists, influencers, and recruiters who notice its great potential. The app is great for presenting the employer's brand and attracting new talents. Young people are eager to post their virtual CVs on it and learn how to act properly during job interviews.
Employers hiring representatives of the younger generation, who perfectly understand the specifics of the platform and feel at home in it, will benefit the most. The app will prove helpful, above all, in the recruitment of university students and graduates.
How to recruit on TikTok then?
A few words about TikTok
TikTok started its operations in 2016, and already in 2020 it achieved the highest number of downloads in the world and was used by approximately 2 billion users.
The activity in the application is based on sharing short videos that do not exceed 60 seconds. Compared to other social media, TikTok stands out by promoting authenticity, thanks to which it attracts more and more followers, mainly among young people. Videos on TikTok differ significantly from retouched Instagram posts. Users are eager to share their thoughts and reflections. Comedy videos, e.g. with funny pets, stand-ups, streams, tutorials and short educational content are most often published there. Among the latter, you can find more and more advice on looking for your first job, writing your CV and participating in recruitment interviews.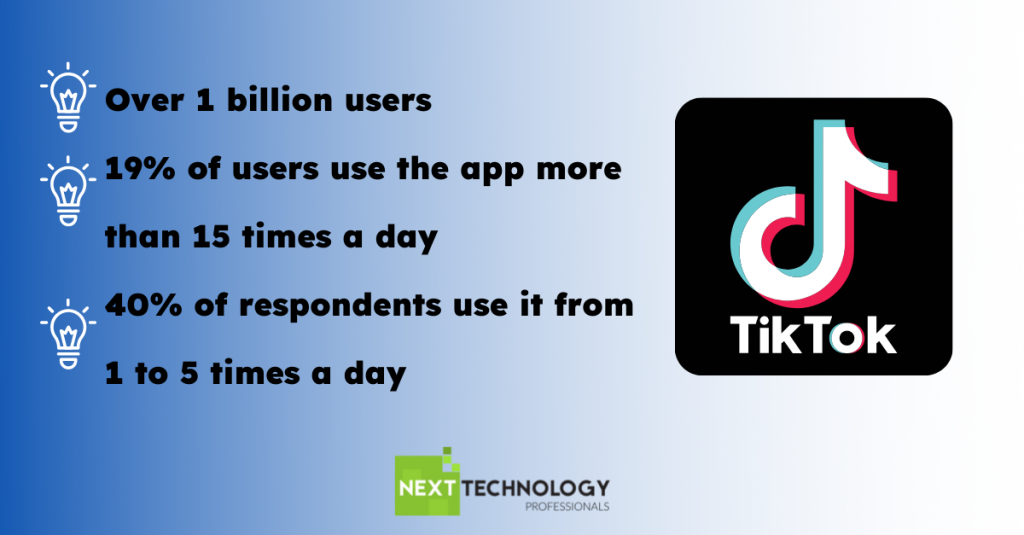 TikTok in Poland
The study conducted by GetHero Agency shows that over 8 million Poles have had contact with TikTok. Compared to the previous year, the group of users increased by 58%. They include not only the representatives of the Z and Alpha generations, i.e. people born in 1996-2012 and after 2012, but they are among the most active users.
As we read in the report, 19% of TikTok users use the application more than 15 times a day, and 40% of respondents use it from 1 to 5 times a day. Most often, users spend over 2 hours every day, and more than half of the respondents record and share their own videos.
TikTok Resumes
After the outbreak of the pandemic, people who wanted to spread their professional wings began to use this medium to look for a job. This started the trend of creating short videos to present yourself as a candidate for the job. It was noticeable mainly in the service, commercial and catering industries. As a result, the employers themselves began to pay more and more attention to the app.
In response to the initiative of users who published their video presentations with an appropriate hashtag, in July 2021 TikTok decided to test a new service – TikTok Resumes. It allowed for the creation of virtual CVs and their submission in response to employers' offers. The service was tested in the United States, primarily by companies seeking employees to run corporate channels on TikTok.
Unfortunately, the tests did not receive any further comments from the company. Therefore, it is not known whether they were successful and whether the initiative will be continued in other countries.
Nevertheless, TikTok can still be used to promote the employer brand and recruit young employees, especially if we are looking for candidates for positions that require creative thinking, video creation and editing skills, and knowledge of social media.
TikTok in recruitment and Employer Branding
On TikTok, you can already find the first companies that decided to use the potential of the application in recruitment and employer branding activities, such as HBO, Hollister or Starbucks. Recently, there is also a Polish accent – the PwC company, which encourages candidates to apply through its profile on TikTok, where it regularly publishes a video with information about the employer.
The Washington Post also uses TikTok. The newspaper provides comedy content in the application, showing the realities of working in the company, with particular emphasis on funny scenes played in the newsroom.
In turn, Starbucks managed to build such a positive atmosphere at work that employees themselves contribute to employer branding activities. The company does not have an official profile on TikTok, and yet it is present on it. All thanks to satisfied employees who, on their own, publish films recorded while working in a cafe there. At the same time, perhaps unconsciously, they build a positive brand of the employer.
---
It looks like recruiting on TikTok is just getting started. Knowing the pace of application development, we can suspect that there will be more and more employers' initiatives every day. Who knows, maybe TikTok will soon revolutionize the way of conducting recruitment of young candidates, and their applications, instead of a CV document, it will take the form of a short video with self-presentation.
If you would like to cooperate with an IT recruitment agency as innovative as TikTok – contact us, we will support you in hiring the right candidates.