Recruitment is one of the most important aspects of any company, especially in the IT industry. Without the right staff, your business will not succeed. When you need support and are looking for a recruitment agency, you want to make sure you hire an honest and reliable company.
How to do that? This article will describe how to choose the best recruitment agency.
What is a recruitment agency?
In short, recruitment agencies are companies hired to find employees for employers. They are most often hired by large companies which have a large number of jobs to fill. Recruitment agencies will post advertisements for the company they represent, and then they will go out and find potential employees. Recruitment agencies can be either temporary or permanent, depending on the type of work they do.
Why should you consider working with a recruitment agency?
1. Time savings
Finding talent internally can be time-consuming and difficult. Recruitment agencies can help you find the right person for the job quickly and easily. By working with them, you can cut down the days needed to get the talent that your company needs. Dedicated and experienced recruiters have a broad talent pool as well as proven methods that help them find the right individual for the role as efficiently and effectively as possible.
2. Reaching top talents
To find the best candidates, recruitment agencies test a lot of different places and screen them carefully. They want to make sure that they find the best candidates possible.
They will reject those who are not the right fit and only proceed with qualified people who adapt to your company's goals and objectives. Your company can use the saved time to screen candidates better and without rushing.
3. Access to top talent in demand
Sometimes companies work with recruitment agencies to get help finding hard-to-fill positions. It may not be because there is not enough time, but rather because there is huge competition for specific jobs, like IT specialists.
Recruitment agencies employ experienced staff who know how to convince candidates of an offer, so your company's chances of finding the right employees are higher.
[ Read also: Cooperation With a Recruitment Agency – Where Do the Costs Come From? ]
5 questions to ask before choosing a recruitment agency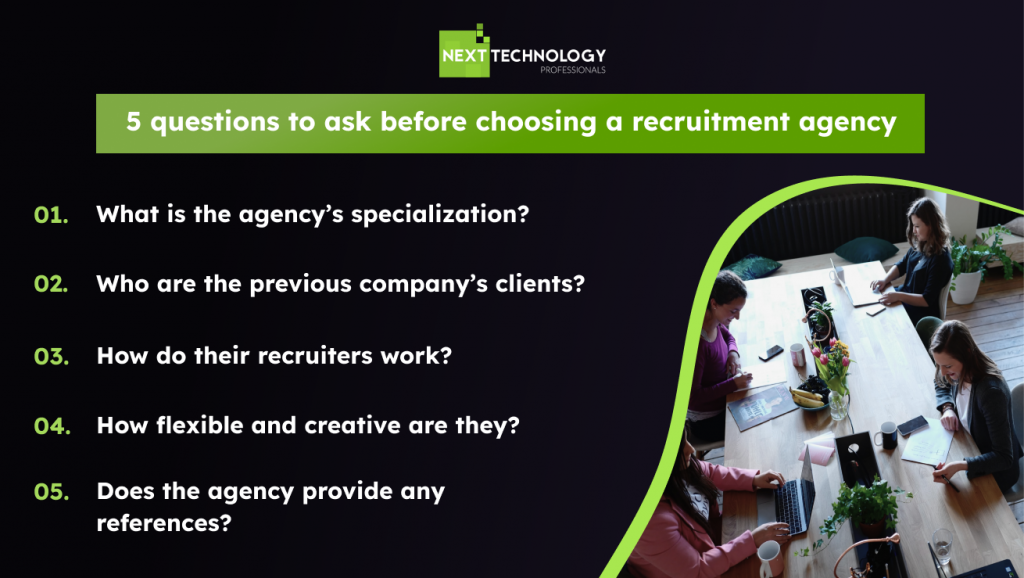 1. What is the agency's specialization?
There are many different types of recruitment agencies, so it is essential to do your research and find the one that is best suited for your business. For example, some agencies specialize in specific fields such as engineering, whereas others focus on certain industries such as retail.
Especially when you're hiring for permanent placement, you should think about how often the firm has filled positions in your industry and what kind of reach their network has. For example, if you're hiring for a job in the IT industry, the firm should have a database of IT experts and should be tapped into passive candidate networks.
2. Who are the previous company's clients?
Ask which clients the company has worked with so far and if they have recruited candidates for similar positions you are looking for. If so, ask what their recruitment methods and experiences were. You can also ask how long it took to recruit for the specific positions and how much time they need to find a candidate for your company.
The more experience an agency has with companies similar to yours, the better the chances that you'll be satisfied with their cooperation.
3. How do their recruiters work?
The next step in choosing the best recruitment agency is to check the experience of their staff. You can check their LinkedIn profiles or talk to them directly and ask what their methods are.
What do they do to pre-screen candidates?
How do they find the best candidates?
How much time do they need to send you the first CVs?
Good recruiters should know that many great employees are not looking for a new job but are interested in hearing about other opportunities elsewhere. And a good recruiter should try to convince them to try something new.
Remember that you're choosing people who should convince people to join our company. Therefore, they should be good enough to show people the best sides of your company.
4. How flexible and creative are they?
The best recruitment agencies can move quickly and creatively to help you and your company find and retain talent. The last thing you want to do is get stuck working with a recruiting partner that follows one pattern and is not open to other possibilities.
If you want to work with a company that can move quickly and creatively, you should avoid organizations that get bogged down with inflexible terms.
5. Does the agency provide any references?
It is also essential to find an agency that has a good reputation and that you can trust.
If the company has nothing to hide and has good customer reviews, they will be happy to send you references from previous customers. If not, this should message you not to trust this agency. After all, you don't want to be the guinea pig and lose your time, money and image to an unproven agency that may even discourage people from working for your company.
There are many things to consider when looking for a good recruitment agency. We hope that the steps above will help you make better choices and find an agency that will truly serve your needs.
Are you looking for IT employees for your company? Contact us. We'd love to talk about your needs and help you find the best talents.