The pandemic has meant that modern companies have often had to revolutionize their previous practices. The job market will never again be what it was before the pandemic. Entrepreneurs have to face many problems nowadays. Which of them are the most difficult, and thus – the most frustrating? In this article, we will try to answer this question and share tips on how to solve them.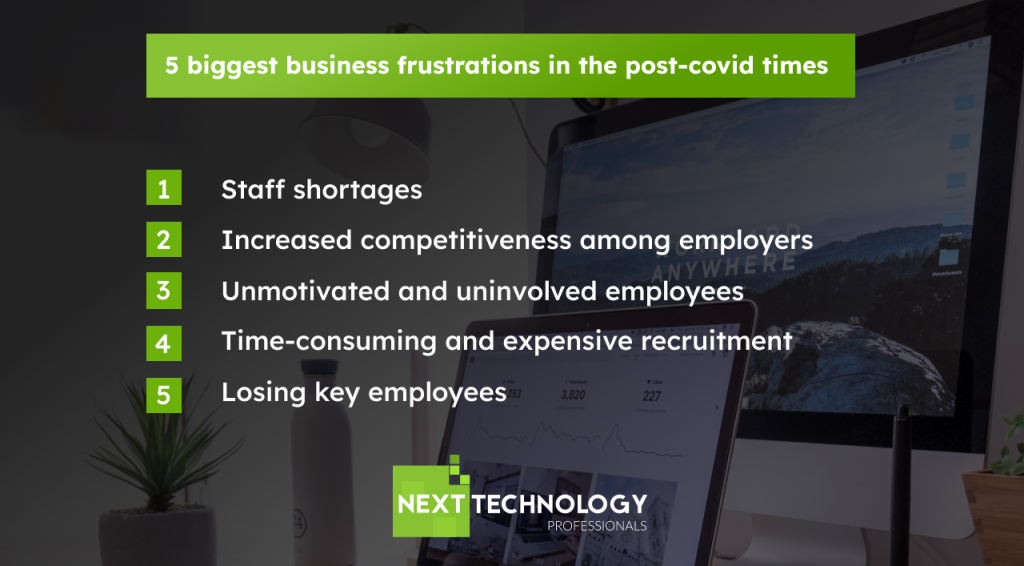 1. Staff shortages
During the pandemic, many people lost their jobs – that's a fact. But now, there are many job opportunities again. Even those employers who fired employees at the beginning of the pandemic are again looking for new talent. However, the pandemic has made employees increasingly cautious about taking a new job if the current company suits them. What does this mean for you as an entrepreneur? There are even greater difficulties in finding qualified talent in the marketplace, especially when it comes to IT specialists, whose demand continues to grow.
After a drop in the early days of the lockdowns, technology hiring did bounce back toward the end of 2020. In the US alone, tech occupations grew by 391,000 positions in December, according to industry association CompTIA, with software developer and application developer roles accounting for the largest share of new postings, at 62,900.
Source: InfoWorld
2. Increased competitiveness among employers
It is worth noting that the pandemic has opened up new opportunities for many workers (mostly software developers). The best can work remotely for large and rich companies that offer the highest rates on the market. What does this mean for you as an employer? If you care about good staff, you will probably have to enable remote working, raise salaries, or look for other solutions, which we will talk about at the end of the article.
A survey of 278 executives in August 2020 found they planned to reduce office space by 30%.
Source: McKinsey, The future of work after COVID-19
On the positive side, there can be savings associated with office maintenance. By allowing you to work remotely, you can have a smaller office space with even more employees.
3. Unmotivated and uninvolved employees
Only 15% of employees worldwide feel engaged.
Source: Gallup
Finding employees is a challenge, but keeping them is an even bigger one. Today, an employer should make employees unwilling to look for other offers.
How to do it? Today, a good salary could not be enough. Today also important are non-wage benefits, the atmosphere at work, development opportunities, exciting projects (if we talk about the IT industry) and much more. A good employer should care about the employee's well-being – both at work and outside of it. It's a big challenge. That's why companies decide to offer an increasingly wide range of non-wage benefits, office amenities or advanced programs (such as e.g. gamification platforms), increasing employee engagement.
4. Time-consuming and expensive recruitment
How many times has it happened that just when you thought you had found the perfect candidate, they decided to decline your offer? Sometimes the reason may be a better offer from another company. Sometimes even a previous employer may outbid you to keep an employee with him.
The cost of failed employee hire is estimated to be over $4,000. It includes promoting open positions, scheduling and hosting interviews, and the recruitment process.
Source: Society of Human Resource Management (SHRM)
Failed recruitment is a huge waste of time and money. What's more, it will also have a negative impact on HR employee satisfaction and engagement. There are many employer branding solutions that can help you retain the best candidates, but are they effective enough?
5. Losing key employees
The cost of replacing an individual employee can range from one-half to two times the employee's annual salary.
Source: Gallup
Losing employees is not just a huge cost. It's also a risk of bringing down the mood and decreased motivation among your employees. Moreover, it can also be a big impediment to completing projects on time and even ensuring good customer relations.
Together with the labour shortage, your best employees will get better and better offers. Therefore, as many as 63.3% of companies say retaining employees is harder than hiring them.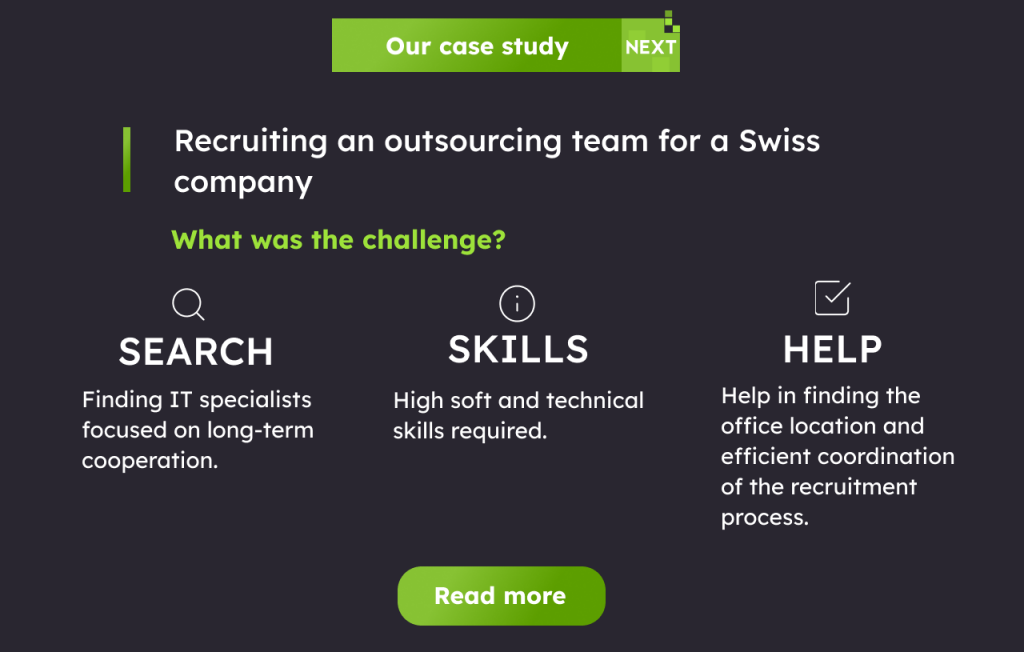 5 problems and only one solution
No, it's not a joke. You can solve all the above 5 problems with one solution, which is – outsourcing.
Choose this solution to:
quickly find the best specialists on the market
do not waste time and money on unsuccessful recruitments
do not worry about unengaged and motivated employees
not to pay the costs of employee rotation
be able to implement their projects quickly
save time and money by hiring employees from other countries
be able to focus on the most important matters of your business
If you want to learn more about the benefits outsourcing can bring to your business – check out our offer and contact us today.
---
It was our subjective list, so we'd love to hear your thoughts. What are the most frustrating business problems for you? We're curious about your answer and would be happy to find the best solution for your business.