At Next Technology Professionals, we are starting a new series. We want to present the problems, possibilities and opportunities for women in the context of the IT industry. Our goal is to interview interesting people from the IT industry once a quarter and present the greatest inspirations or the most important conclusions. We start the series with an interview with Ms. Izabela Taborowska – CEO at CyberClue, who has several years of experience in IT.
The future of women in the IT industry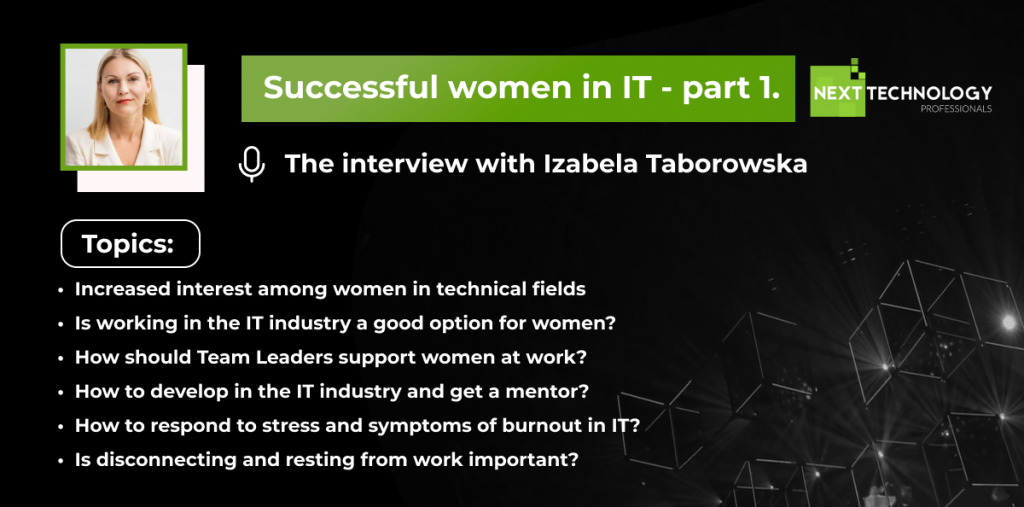 Women are still underrepresented in the IT industry and many inequalities still exist. That is why it is so important to raise topics related to women in this industry and share practical knowledge to create real changes as quickly as possible.
We discussed with Mrs. Izabela Taborowska on topics such as:
Increased interest of women in technical fields
What makes working in the IT industry a good option for women?
How should Team Leaders support women at work?
How to develop in the IT industry and get a mentor?
What if I feel like I'm very stressed out by working in IT or I'm approaching burnout?
Is disconnecting and resting from work important?
Mrs. Izabela started her path from an economic high school and wanted to go in a direction that was not limiting and developmental. She received advice from her cousin to study computer science because it offers many opportunities and a secure job. She decided to try and, despite the voices of disbelief from others in the possibility of completing such studies, she took up the challenge. It turned out that at the beginning of the first year she was positively surprised that the IT area was more interesting than she initially expected.
Then, during her engineering studies, Ms. Izabela took her first job as a tester. It was an IT role that was just emerging in Poland. It concerned localization, i.e. translation of the antivirus into English, Russian, Czech and Polish. This is where her whole career and path started. Every year a lot changes regarding the opportunities for women in IT on the IT job market and the conversation with Ms. Izabela sheds light on many important topics:

Is women's interest in technical fields more noticeable than before?
"I am closely analyzing the situation when it comes to women in IT. There are more of them in IT and there is greater openness and willingness to employ them. Sometimes it goes the wrong way and companies have KPIs on the number of women. Many women may wonder whether they were hired because of their skills and competencies. However, there are more and more women in IT in Poland."
"This whole perspective is strongly influenced by childhood and whether we let girls know when they are little that IT and technical fields are not an area intended only for men, and that women's interest in them is not something "forbidden" or strange. Women received the message that an IT profession was not for them. To sum up, we should change this from an early age."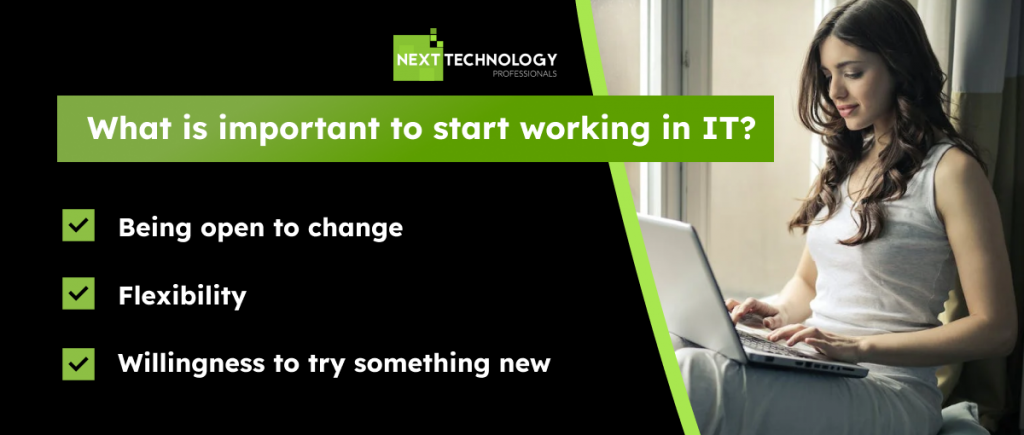 Can working in the IT industry be a good option for women?

"From the perspective of years and time, I am sure that it is one of the best industries in which women can work. The possibility of working remotely, the possibility of giving birth to a child or not worrying about the fact that, for example, you may be fired immediately after returning. Working in IT can give you a lot of peace and security. The financial aspect is certainly an advantage here. What's more, you can count on a "healthy working mode". There were situations in the past whene working overtime was involved, but now this work system is normal. To sum up, it is a job with good finances, with constant development – it is an adventure, because we are constantly doing something new, constantly learning something new and encountering new situations. Working in IT gives you a sense of professional security, good cooperation and respect at work. Of course, there will always be exceptions, but respect, culture and a common sense approach in the IT area always prevail, e.g. based on my experience."
What advice do you have for Team Leaders in the context of supporting women?
Give a chance to women who are changing industries or trying to get their first job. In my experience, women are much more determined to achieve goals and find fulfillment.
It is necessary to ensure equal pay and equal distribution of tasks and responsibilities, which will be adequate to the remuneration. What I mean is that women often have the disadvantage of being very modest, not asking for raises, etc. They underestimate their competencies and their needs when it comes to requirements. However, the salary difference does not necessarily have to result from the fact that someone in charge decided it this way, but from the "low" expectations of women who come to companies. It is worth paying attention to this, encouraging them to develop them and making sure they are ready. I remember such studies that a woman must have 100% competence for a job offer in order to accept it or even dare to send a CV, and men believe that they are better candidates despite having about 60% competence. Perceptions in self-esteem vary greatly.
Let's treat a woman as a normal member of the organization and try to make her feel equal in the team. Let's also make sure that the entire team treats her equally.
Women are much less likely to boldly ask for a raise. They will be waiting for praise and for their skills or efforts to be noticed. Therefore, it is worth changing the approach to management to a more careful one. Thanks to this, we will gain a loyal, great and effective employee who performs high-quality tasks.
How to remember all this and gain the courage to start working in IT?

"It is worth observing various women's initiatives and expanding your knowledge. Preferably not only about technology, but also about shyness, lack of willingness to fight and women's problems (which occur in all industries – not only in IT)."
"On the one hand, we must constantly develop and observing technical or technological conferences is crucial. However, we must remember that we have to develop or make better our "soft skills" too. Many foundations and organizations organize interesting meetings or provide interesting materials. There is the Cyber Woman Community and, for example, Girls in Tech Poland is preparing some interesting programs for women. There is one more option, which is to find a mentor. One who is already in IT, who is doing well and is at the same professional level. We can meet such a person and exchange ideas. We can talk about problems or challenges and show off something. It is also worth reading development books from time to time that inspire and strengthen your self-esteem. There is a foundation called "Sukces pisany szminką" and in a great and humorous way it presents how women approach life, how they take on too many tasks, how they forget to communicate that they need help or support, and then complain that they are tired. Everyone is inspired by someone else."
"There is also an initiative called "Woman's Career Day in IT" – it is mainly addressed to people who are changing industries, but there will also be a lot of interesting soft-skills content there."
What advice do you have for someone who wants to find a mentor in the IT industry?
"If we are thinking about sending a message on Linkedin to someone who is in a similar or higher position, we can always try to do so. Of course, we must be understanding and know that this person may not reply to us immediately because they have a lot of work or many other more important private matters. It's not worth getting discouraged, just try, write and be determined to find that person. I noticed that the openness to talk in the IT area is very high and women are willing to share their knowledge and support. This chemistry and understanding are important, because if we feel that the person we are talking to has a different value system, it is better not to force anything and simply look for another person."
What to do if we already work in IT, but we feel stressed and symptoms of burnout appear? Do you have any advice on how to deal with this?
"I'm not a perfect example because I used to go through stages of burnout and overwork. Even though I am a conscious person, I sometimes forget to pay attention to how I feel. So I recommend you to remember to check your well-being and realize as soon as possible that a certain job does not have a positive effect on you."
"It's like that at some point we come home without smiling. These are the first syndromes that may let us know that it is worth changing our job. It may happen that changing your job will not help, because another job will still be another stress. I try to look for small projects that I can complete when I am very busy. Then I feel empowered and satisfied that I did something and finished it. It gives me a lot of joy. In IT, projects are often very long, which means there is no feeling or awareness that I have achieved success."
"The second way for me is that I have a side hustle that brings me a lot of joy. I am a mentor and I help people change their careers and I pass on my knowledge. I learn a lot by working with such people and I feel I develop. On the other hand, bootcamps are short, so I feel successful and at the same time I help people – which is inspiring and gives me joy. To sum up, short tasks that give satisfaction and joy make us have more strength for those long and more complicated tasks where the road to success is bumpy."
As you mentioned earlier, women are often involved in work at a particularly high level, which leads to problems with rest. Is the practice of disconnecting from tasks and thinking about work in your free time possible in IT? What are your experiences?
"I'm working on it, but it's not easy. On my side, it's not even the fear that something will happen or I'll lose my job if I don't keep up to date with it, it's more a question of curiosity. "What's going on there? What happened?" If we approach work as a passion, cutting ourselves off is much more difficult. However, I keep trying and there are often weekends when I completely cut myself off, but honestly, it's not every weekend."
Cutting yourself off from work in your free time gives you some distance, and thanks to this, much more interesting ideas come to your mind later.
What is worth following to stay up to date with topics important for women in IT?