IT outsourcing becomes more and more popular. Why does it happen? The biggest benefit is the possibility to choose from the specialists that really suit your needs. Not being limited by borders or culture can really help your business to develop and maybe even save some budget on the run.
Poland is one of several countries where companies from around the world look for outsourced development teams. So, let's see where to start with hiring a development team in Poland and what are the things you should keep in mind along with the process.
IT outsourcing in Poland
Poland, just like other countries, has been developing in the IT sector very fast throughout the last decades. The latest statistics show that the Polish IT market is going to grow by 4.8% from 2021 to 2026. With such fast development, you can expect to find good specialists there that have already gained the necessary experience on the market.
So, let's see what are your options for hiring a development team in Poland.

Why hire an IT recruitment agency in Poland?
It's not a secret that outsourcing in business can come with valuable benefits, not only in IT sectors. More and more companies decide to hire recruitment agencies because they save a lot of time and, in turn, money.
Research conducted by TurnerFox established that an average recruitment process usually takes up to 10-12 weeks. According to their data, a recruitment agency can reduce this time to 3.5 weeks (or even more).
Those numbers can be interpreted similarly all around the world. This means that if you're planning to hire a recruitment agency in Poland, you can expect very similar perks.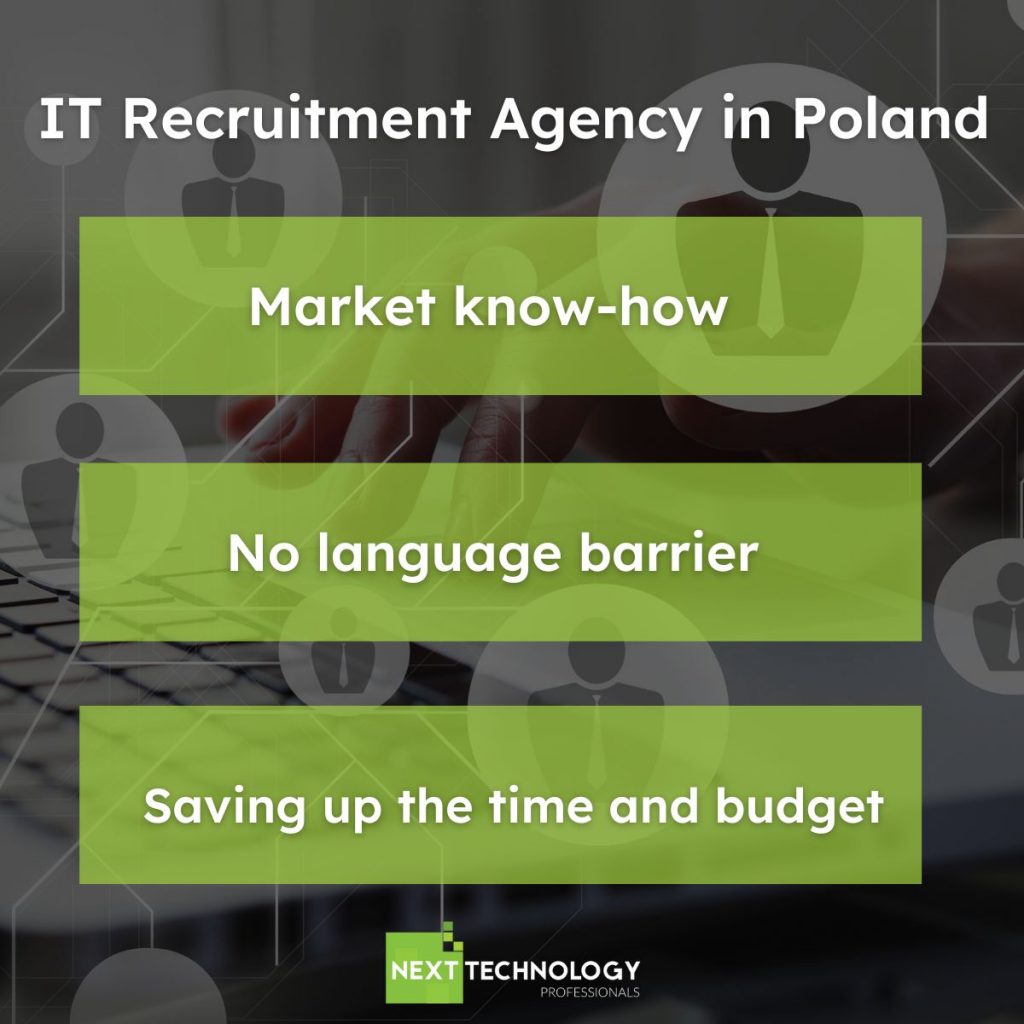 But it's not the only perk you'll get from that. Let's see, why is it beneficial to hire a recruitment agency in Poland:
Market know-how. A local agency knows the reality better than any specialist from abroad, even if they did extended research. You can rely on their experience and resourcefulness. For example, they can know which channels to choose when searching best-suited candidates. They can also advise you on the appropriate pay rate. 
No language barrier. As simple as it sounds, you cannot underestimate this if you consider IT outsourcing abroad. A recruitment agency in Poland can reach out to the candidates in their mother tongue, therefore making the process more transparent for both sides. There is a high possibility that the potential match can be estimated yet in the first phase.
Saving up the time and budget. Just as it was already explained, hiring an agency can help to shorten the recruitment process. Instead of searching aimlessly, an agency can get to the best candidates right away. It's a great way of saving your recruiters' and managers' time, as they will get in touch only with candidates that passed the first phase.
>Read the article for more information: IT Recruitment Agencies in Poland – Business Overview<
Hiring development team in Poland
If you're not sure if the recruitment agency in Poland is the best option for you, you can still go with doing it in-house. How to do it?
First, you need to define where to post a job offer and look for candidates. In Poland, a lot of young developers find jobs and commissions via LinkedIn. If you choose this option, remember that it demands some outreach strategy. If you'd rather post your offer on job markets, be sure to consider such places as Pracuj.pl, Olx.pl, Justjoin.it and jooble.pl.
However, searching for IT specialists in Poland on your own might require a lot of time. Moreover, each channel requires a different approach, strategy, and resources. The reply time can also vary depending on the medium. Also, be prepared for cold calls and the interviews that unveil the discrepancies in the resumes that you received. You may even not find the perfect team at all in the time frame that you predicted.
So as you can see, going with this option requires some more of your time and, in return, money invested in the whole process.
What to ask at the interview?
If you hire a recruitment agency in Poland, it's important to brief them on the questions they should ask the candidates in the first phase.
There are of course very general ones, like expected pay rate, their skills, and experience. However, for the sake of this article, let's focus on the other types of questions, that are specific to Poland:
What is the legal status of your team? It's very important, so you can set the payment method. The team can be a part of a software house company, or they can be individuals. If the second is true, check whether they are open to B2B contracts or if to consider an Employment Contract. Find out more about the differences between B2B contracts and employment contracts by reading our separate article.
What time frames are they available? If you consider hiring a development team in Poland from across the globe, it's necessary that you check if your time schedules correspond despite time zone differences.
Are they fluent in English? If you're hiring a development team in Poland, you need to be able to communicate with them freely. Each year, more and more people in Poland speak this language on an advanced level but don't take it for granted.
Hiring a development team in Poland might be a challenging task, but we can help you find the best match! Not only will we save your time, but also make sure that you get in touch with the candidates worth your while. Feel free to reach out to us, and we'll explain more details.