The recruitment process in the field of finance requires diligence and attention. In this article, as a recruitment agency that conducts recruitment processes in the field of IT, finance and engineering, we present a practical guide on how to find the best specialist for the financial industry. We also offer insight into our report on recruitment in finance, which contains many valuable tips (at the moment it is only available in Polish).
1. Choosing a recruitment agency
Choosing the right recruitment agency can be a key element in the success of the recruitment process. Before choosing a recruitment agency, it is worth carefully analyzing their portfolio, references from clients and the competences of their team. Reviews on Clutch, LinkedIn profiles or the quality of the published publications can also help in the assessment. In addition, it is worth checking whether the recruitment agency has experience in recruiting for the financial industry. We recommend to see our case study on recruiting 20 business and technical consultants.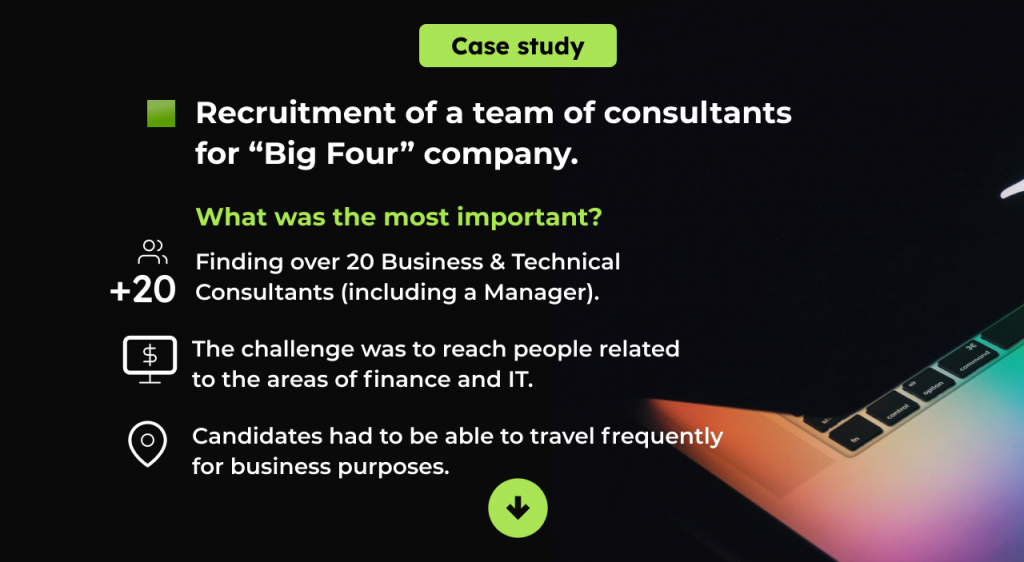 2. Define requirements
Before we start recruiting a finance specialist, it is important to carefully define the requirements for the position. Such requirements can range from technical skills to soft skills. It is also worth taking into account preferences regarding work experience and education. Defining clear and precise requirements will help you successfully attract the right candidates. We also recommend deciding which of them are necessary (must-have) and which are welcome (nice-to-have).
What questions are important, e.g. when recruiting an accountant?
1. Motivation to change a job
It is worth finding out what is the candidate's motivation for changing jobs. It may concern professional development, gaining new experience or access to better working conditions. These questions also identify potential problems in the previous job, if any, and how the candidate dealt with them. In addition, thanks to this question, we know how strong the candidate's interest in the new job offer is and we can assess whether the probability that he will want to participate in all stages of the recruitment process is high.
2. Knowledge about the financial industry and regulations
In job offers such as chief accountant, financial analyst, financial controller – having financial knowledge is of course necessary. Therefore, it is important to ask the right questions about the position. For example, I can relate to knowledge about accounting books, tax law or preparation of financial reports.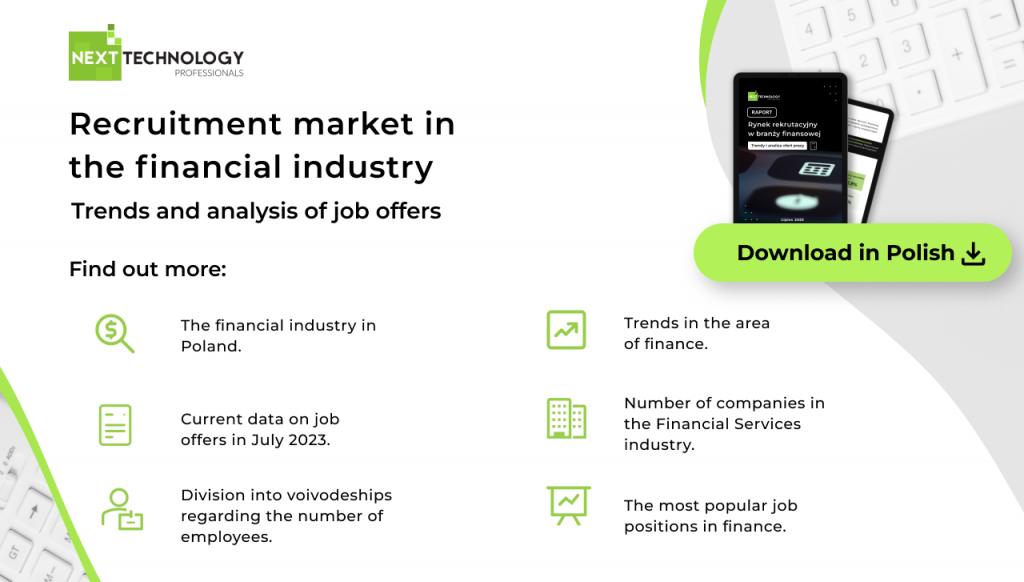 3. Soft skills and conscientiousness at work
Soft skills are extremely important for an accountant – a person in this position has contact with e.g. with many other employees and customers. Interpersonal, communication and problem-solving skills should be explored.
4. Technological skills
Skills in the use of accounting software, spreadsheets or financial management systems are essential. Many professions related to finance will increasingly concern areas related to IT. The openness of the candidate in terms of possible learning is welcome.
What jobs in finance are the most popular?

The finance industry offers a wide range of exciting and challenging career opportunities. We list the most popular finance jobs in our article about recruitment in finance.
3. Promoting a job offer
Knowing the requirements for a given position, it is worth using job boards, social networking sites or groups on Facebook or Linkedin. It is also important to describe the job offer in an attractive and convincing way, highlighting the benefits of working for the company.
4. Analysis of CVs and interviews with candidates
The applications received from candidates must be carefully analyzed. It is worth paying attention to work experience, education, technical and soft skills, as well as references from previous employers. In the next step, it is important to conduct phone interviews to get to know the candidates better and assess their commitment and motivation.
5. Employment and onboarding
After the candidate accepts the offer, appropriate onboarding support should be provided so that the new employee can easily get used to the company and start working. We encourage you to read our article: Top 5 tips for remote onboarding.
6. Report on the recruitment market in the financial industry
As part of our activities, we have prepared a report on recruitment market in the financial industry. It contains many practical tips on how to develop a strategy for employing the best specialists.
7. Hire a financial specialist
Recruiting finance specialists can be a demanding process, but if done well, it can bring many benefits to the company. Choosing the right recruitment agency, defining clear requirements, effectively promoting the position are important elements. We hope that our report on the recruitment market in the financial industry will help you find the best finance specialist and build a strong team.

If you are considering hiring finance specialists, as a recruitment agency we will be happy to share our knowledge about the current labor market. Contact us for a free consultation.