In recent years, the Polish ICT sector has been among the fastest growing in Europe – which is confirmed by the increase in the value of this industry by 19%. Moreover, the contribution of the IT sector to GDP is estimated at around 8%.
According to GBS World, in 2022 Poland was considered the most preferred place in the context of IT Outsourcing services. Our country is distinguished by the quality of services, professionalism and focus on customer needs.
Why is it worth focusing on IT outsourcing in 2023?

In 2019, the global IT outsourcing market reached $66.52 billion. The figure is estimated to reach 395 billion in 2022, and exceed 585 billion by 2027. This projected growth suggests that most companies are using IT outsourcing. If you want to learn about the 8 most important benefits of IT outsourcing in Poland, we encourage you to read one of our articles on this topic.
What is IT outsourcing?
IT Outsourcing is a business strategy that involves the use of external resources in order to commission certain tasks. Everywhere we can find information that IT Outsourcing gives companies access to many qualified IT specialists. All this allows you to reduce costs, save time and great flexibility.
Tailor-made IT outsourcing in Next Technology Professionals

IT outsourcing by Next Technology Professionals is a service in which the client can feel calm and confident about the process at all times. To explain what exactly we mean, it will be best to present the roles of each person from our team and show our actions in the form of short case studies.
What exactly does the IT Outsourcing process look like?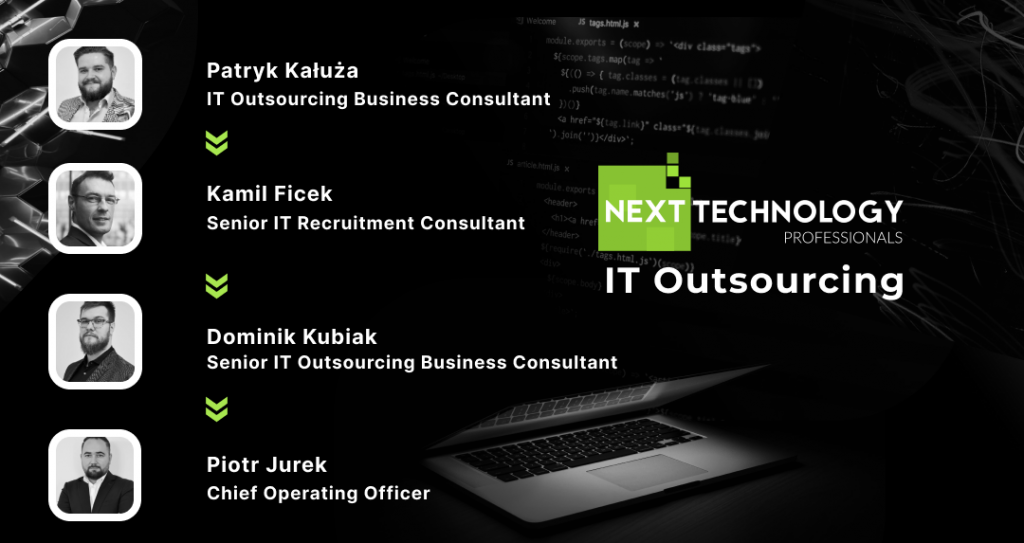 Send information to Patryk who you are looking for and specify your requirements. Then, after the consultation, you will receive information about the cost of the service.
Patryk will analyze everything and ask for additional information or propose any necessary changes to effectively meet your needs. After the mutual acceptance of the conditions by both parties, Patryk passes this topic to Kamil.
2. Kamil has over 10 years of experience in the recruitment area, thanks to which he can quickly contact IT specialists who are experts in the sought-after technologies. We will present you the first 2-4 candidates in max. 5 days.
3. Then you will talk to Dominik. He will ensure that the entire process goes smoothly. After its completion, he will be the person responsible for communication between you and the employed IT specialist, taking care of all issues that arise during cooperation. Thanks to this, you can focus on your business and we will take care of your team of specialists.
The IT market nowadays competes strongly for the best employees, which means that your IT specialist can get a better offer at any time. Dominik will take actions to minimize rotation and, based on his experience, he will do everything to solve any problems that may arise.

To sum up, during the meeting with Patryk you will define your needs and consult your doubts. Thanks to this, the entire process will run smoothly. Kamil will recommend candidates ideally suited to your needs who will help you achieve your goals. Dominik will take care of communication. He will be in constant contact with you so that you can rest assured that everything will go according to plan. Piotr Jurek will monitor and streamline the entire process.
Piotr Jurek has over 10 years of experience in IT industry.
Piotr is the COO at Next Technology Professionals. He makes key decisions regarding the area of IT Outsourcing services. As a Project Manager, he led IT projects in over 30 countries around the world, and as a Program Manager, he managed a team of over 20 Project Managers. He implements all the knowledge gained by managing business processes at Next Technology Professionals. Piotr is a great support for the analysis and optimization of IT Outsourcing processes and constantly monitors the operations carried out.
Thanks to the combined experience of all of us, we are able to build entire teams of specialists that meet the needs of your organization's structure.
We have solid experience gained over the years in the implementation of projects for clients from around the world. IT outsourcing is our passion, and the one under the banner of Next Technology Professionals is modern and tailored to the client's needs.
People in IT Outsourcing
Services in the IT industry are not processes that always run the same way. Just like in life, we all know that challenges can arise at some point. We must not forget that, regardless of the case, the most important thing is a partnership approach. At Next Technology Professionals, our mindset is based on paying special attention to presenting the best solutions for both the Candidate and the Client. Below we present short success stories that can more accurately show our strategy of action, depending on the challenges.
Case studies: How does the IT outsourcing service work?
We work fast
Recruitment of .NET Developers and Senior .NET Developers (availability: up to a month), who want to work with out-dated technologies.
We presented 9-10 candidates during the week. The main challenge was that the profiles required knowledge of old technologies. A small number of candidates wanted to work in this project, the said it's because of the lack of opportunities to gain knowledge and development as the reason (many of them preferred working with ASP.NET and Azure). Despite the small number of candidates, we managed to reach people interested in the technologies required by the client. Finally, 6 people were employed and the project started in a short time, so the client did not have to worry about anything.
Immediately required Senior Devops Engineer operating on Azure with AZ-400 certification
The challenge was a short time and demanding profile in terms of technology. We presented 3 candidates in 5 hours. By adjusting the client's requirements to the commissioned task, everyone was invited for further talks. Thanks to the work of the entire team, the process of finding people matching the position went very smoothly. We have been working together for many years and each team member does a great job.
We build large teams quickly, carefully and effectively
High-volume recruitment of Linux Administrators. Our task was to hire 20 Linux Administrators within a month.
The challenge was to hire many candidates in a short time. As a result, the client trusted us that we would procedurally complete the process, taking into account the previously specified requirements. Thanks to this, only one interview with the candidate was on his side, and the rest was handled by our team. As a result, the client had a lot of time for other activities related to the project, and we made him feel confident in the context of the candidates.
Free consultation with the IT Outsourcing team

We are a team with extensive experience and a carefully planned process that makes the IT outsourcing service run smoothly. We care about partnership cooperation and presenting innovative solutions that we have developed while working together on many projects. We present candidates who are not only technically advanced specialists tailored to your needs.
You can contact us and write a message (kontakt@nexttechnology.io). We are sure that we can work out beneficial solutions together and we will be happy to present you conditions regarding our service.