Are you looking for the best solution to quickly complete your software development project? How about IT outsourcing in Poland? In this article, you will learn the 8 most important reasons why companies worldwide choose this model of cooperation. Check them out and make sure if it is a solution for your business.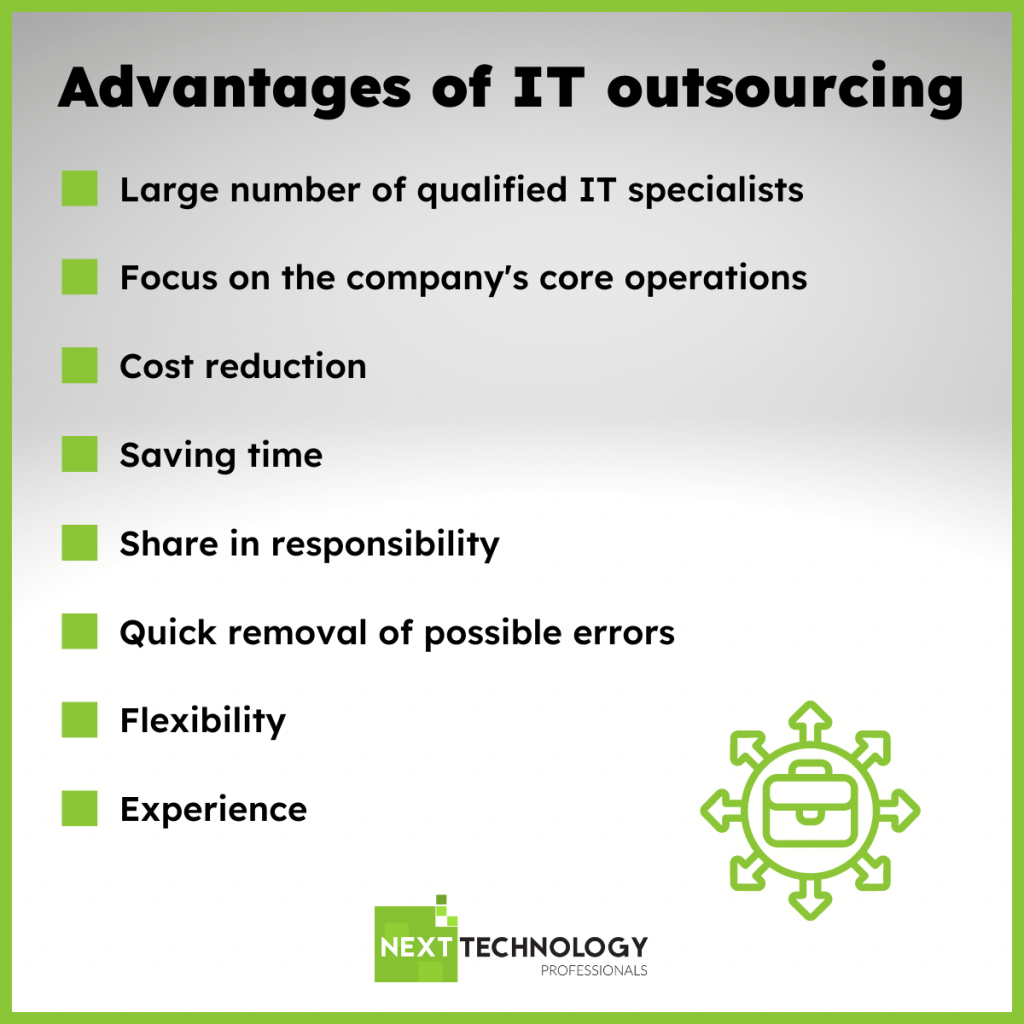 What is IT outsourcing?
IT outsourcing is a business strategy that involves hiring an external person or company to outsource certain tasks. The main benefit of this solution, which makes this service much more cost-effective than creating an in-house IT department from scratch, is of course saving money.
For example IT outsourcing in Poland can take place in various forms, including fully remote work or by commissioning specific projects. In the case of a full outsourced IT service, the company using the services only provides the specifications of its project, and the service provider deals with all aspects of the project implementation.
Why is it worth focusing on IT outsourcing in 2023?
In 2019, the global IT outsourcing market reached $66.52 billion. The figure is estimated to reach 395 billion in 2022, and exceed 585 billion by 2027. This projected growth suggests that most companies are using IT outsourcing and that these numbers will increase with the demand for IT specialists/IT workers through IT outsourcing services in the coming years.

What does the IT outsourcing service process look like – case study
The IT outsourcing service process does not have to be complicated – the Next Technology Professionals team has developed a case study that will allow you to behold the service process in a simple and orderly way and familiarize yourself with the individual roles of the responsible persons. We encourage you to read about this topic in the article devoted to a case study of IT outsourcing services based on the example of our team.
The price of well-run IT outsourcing
To make this process to be most effective, it is important to remember about the partnership approach during the implementation of the service, as well as during any challenges that arise over the process. Professionalism should be the main factor influencing the quality of the IT outsourcing service provided. The price of the service may vary depending on the type and duration of cooperation. However, an IT outsourcing company is more profitable than employing employees through a management unit within the company – it generates lower costs, as we wrote about later in the article.
The future of IT outsourcing
IT outsourcing has many potential advantages for companies. The top 8 benefits it can bring are:
1. A vast pool of skilled specialists
The first reason why many companies decided to outsource was the difficulty in finding qualified specialists. Did you know that as many as 53% of European companies report difficulties in recruiting IT professionals? The biggest problems with finding employees in this sector are common in the Nordic countries, Switzerland, Germany, the United Kingdom, and other western countries. They are usually looking for support from Poland, Ukraine, or further afield, such as India or China. It allows them to access a more extensive base of developers to offer higher rates than companies from their domestic market.
2. Focus on the core business activities of your company
Finding and managing a team of software developers is a very time-consuming and complicated process. According to the report: "Prepare for the IT recruitment process in 2023 – IT job market in Poland" an optimal recruitment process should consist of a maximum of two stages.
When you decide to outsource your IT, you can focus on other essential things that you wouldn't have time for when working on a project in-house. Even if you have your own internal software development team, outsourcing will allow them to focus on the tasks they feel comfortable with and are most effective at.
3. IT outsourcing in Poland can reduce your costs
The cost reduction from outsourcing is really huge. Have you ever compared the average earnings of software developers from your country to the earnings of Polish developers?
If not, just take a look at the salary table we have compiled using data from Glassdoor, PayScale, and SalaryExpert.
| | |
| --- | --- |
| Country | Annual Salary |
| Poland | 25.797 EUR |
| Germany | 62.650 EUR |
| Switzerland | 87.410 EUR |
| Sweden | 46.894 EUR |
| Norway | 63.100 EUR |
| Finland | 53.065 EUR |
| Denmark | 57.859 EUR |
Statistically, 300,000 jobs are outsourced each year only in the United States. No wonder so many companies have reasons to look for support, especially in development with high quality and lower rates. You don't have to trade price over quality anymore, outsourcing allows you to level them out.
When analyzing costs, it is worth noting that IT outsourcing allows for more savings than just employee salaries. You can also include much lower operating costs such as recruitment process costs, employee benefits, or office rentals. For current salaries of IT specialists, see our report: "Prepare for the IT recruitment process in 2023 – IT Job Market in Poland".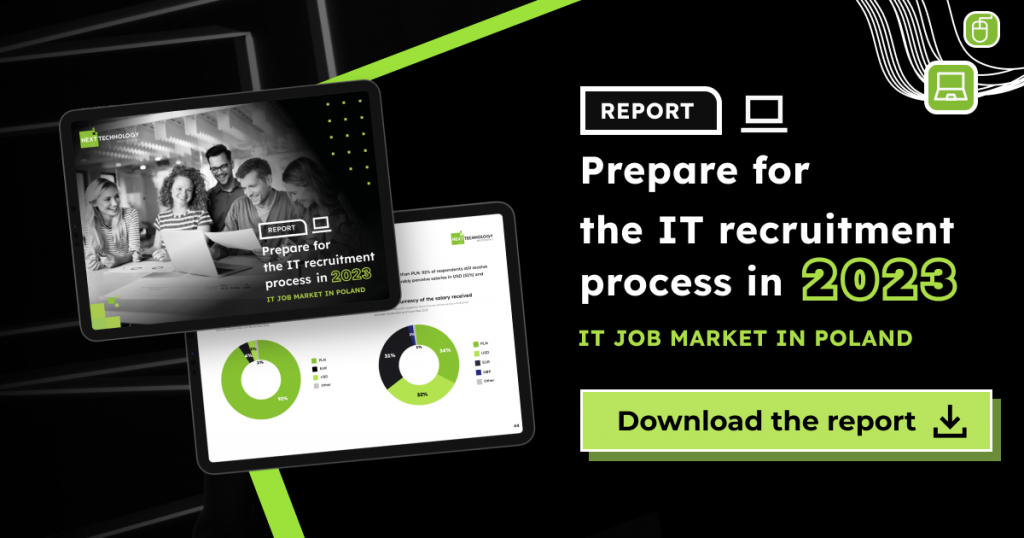 4. IT outsourcing saves your time
With a massive shortage of IT staff, finding the right people is a big challenge. In some companies, it even takes more than 3 months to recruit a programmer. Outsourcing is a solution to this problem and allows you to start working on a project without wasting time on long sourcing and recruiting time. Suppose you decide to cooperate with an outsourcing company. In that case, it's their responsibility to find employees that fit your project, so you don't have to spend your valuable time and energy on the process.
5. Responsibility share
Every business investment is related to a certain amount of risk. Significantly the IT sector is changing very quickly. When you cooperate with an IT outsourcing company, it will take responsibility for the potential risks and help you solve any problems. A full-cycle IT company should have specific industry knowledge, especially related to security and compliance issues. If you want to be sure that they will manage potential risks, you need to include this into an agreement when signing it.
6. Rapid fixing of possible errors
IT system failures disrupt the daily work of a company. It can have significant consequences and adversely affect the productivity and satisfaction of both customers and employees. IT outsourcing companies can take over care of servers, backups and software. They will also reduce the risk of failure and quickly detect any irregularities and then eliminate them. Such care is unlikely to be provided by in-house IT specialists, who can focus on another project at a given time.
7. IT outsourcing allows you flexibility
Outsourcing will help you to manage IT tasks and spikes in workload quickly and efficiently. It is a beneficial solution when you need a specific skill for a short period. When you decide to outsource your software development services, you don't have to recruit, employ, and fire in-house employees. It gives you great flexibility and allows you to adjust the number of software developers involved in the project according to your current needs.
8. Experience in IT outsourcing
IT outsourcing companies employ carefully selected professionals with many years of experience in the industry. They also continuously expand their competencies, follow market innovations and solve non-standard problems with hardware, systems and software.
They are experts who then work for many clients and have experience in solving specific problems. Therefore, they can propose the best solutions for your company and quickly remove any errors. Companies offering IT outsourcing services employ engineers who specialize in many niche fields of IT, so if there is any problem with the IT infrastructure in your company, there should always be an expert in the team who will quickly remove the irregularities.
What are the benefits of IT outsourcing in Poland?
IT outsourcing helps you avoid the costs of hiring new full-time workers while giving you flexibility not available in other cooperation models. We can help you with IT outsourcing in Poland. Check our case study about how we outsourced team for a Swiss company.
IT contracting in Poland
We recommend you to take a look at IT contracting service. Our consultants from Next Technology Professionals can present you the advantages and disadvantages of this solution and advise whether it is suitable for your business. We can support you in working on the project thanks to IT contracting. If you are interested in more issues related to this, we encourage you to read the article: Is it worth being a contractor in the IT industry – IT contracting service in Poland.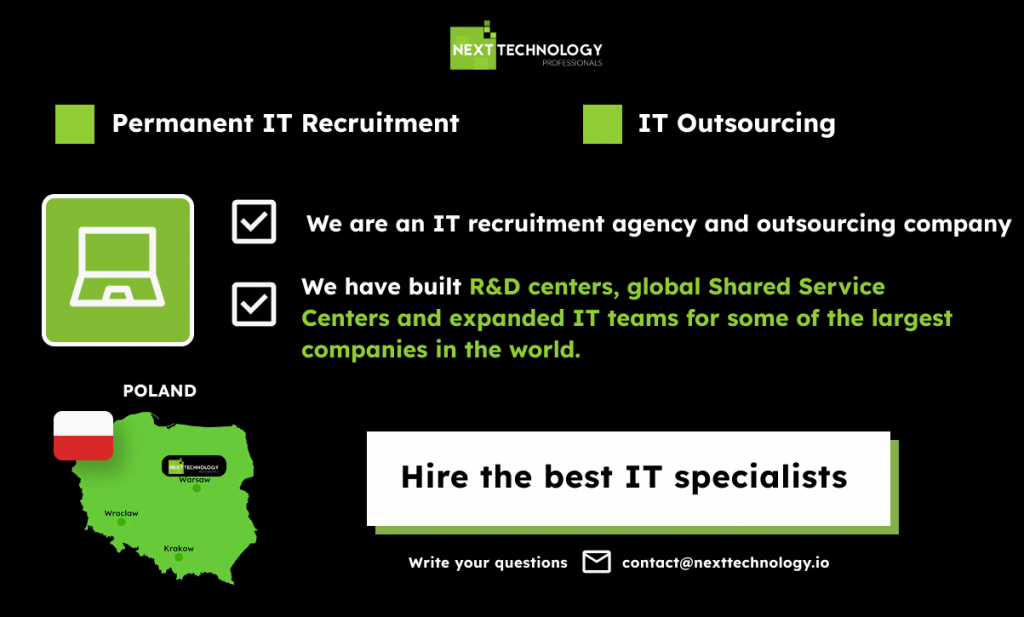 Looking for an IT outsourcing company to help you complete your project? Contact us. Our qualified IT specialists will help you create the best solution tailored to your business needs and expectations.