Poland and Ukraine are two popular destinations chosen by Western companies looking for software developers. If you wonder which country can offer you more — this article may be helpful. You will find here all-important differences and find out where it is worth outsourcing IT services.
This time we reverse the order and intentionally share the infographic with the key data that you will get out of this article at the beginning. Keep on reading to get to know all the details and be sure that you will make the right decision!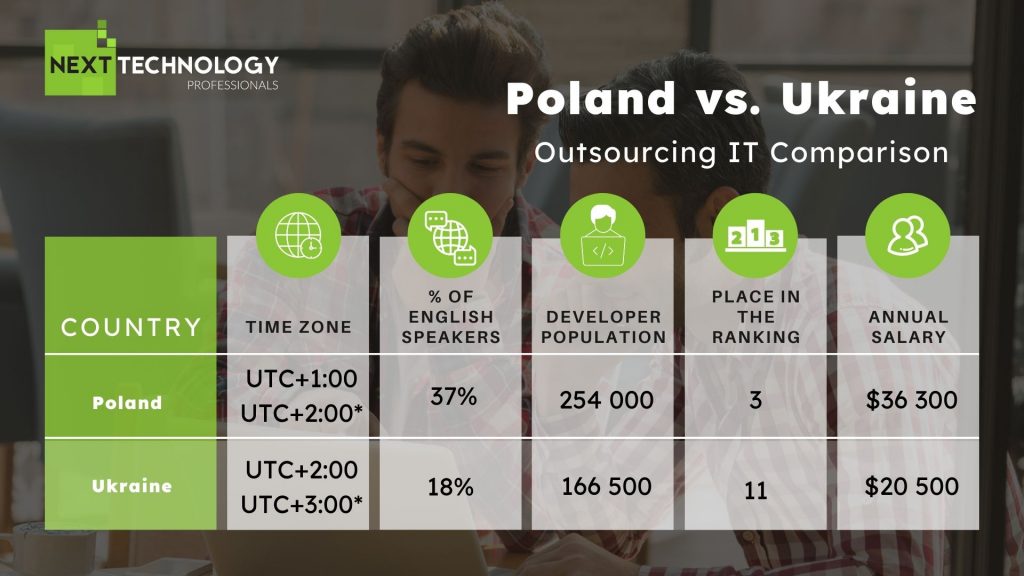 Why should you consider IT outsourcing?
Before we compare developers from Poland to developers from Ukraine, let's answer the question: Why outsourcing is a good solution for your business? Here are the most important reasons.
5 key benefits of IT outsourcing
Cost optimization — the first and most important benefit of IT outsourcing is, of course, saving money. By hiring programmers from countries such as Poland or Ukraine, you can save a lot, as their salaries are usually lower than in Western European countries or the USA. Moreover, it also saves money spent on recruitment.
Time-saving — finding the right IT professionals is a real challenge today, especially if you are looking for people with very specific skills. When you choose to outsource, you will receive perfectly matched specialists, and your HR department will not waste their time on unsuccessful recruitments.
High level of IT skills — outsourcing increases your chances of working with top-class developers. And their skills and professionalism have a significant impact on your business growth.
Increased efficiency — finding the right IT professionals is the biggest problem your company is currently facing? Outsourcing will allow you to solve this problem and focus on your core business processes
Access to a wide talent pool — according to the research Solving the UK Skills Shortage – Technology, more than 70% of British technology employers are experiencing IT skills shortages. Moreover, The Bureau of Labor Statistics indicates that the shortage of developers in the US will exceed 1.2M by 2026. So, what can you do to avoid staff shortages? Yes, you are right — the answer is outsourcing.
If you want to know the most important information and tips about IT outsourcing, we encourage you to visit and follow our blog dedicated to this topic.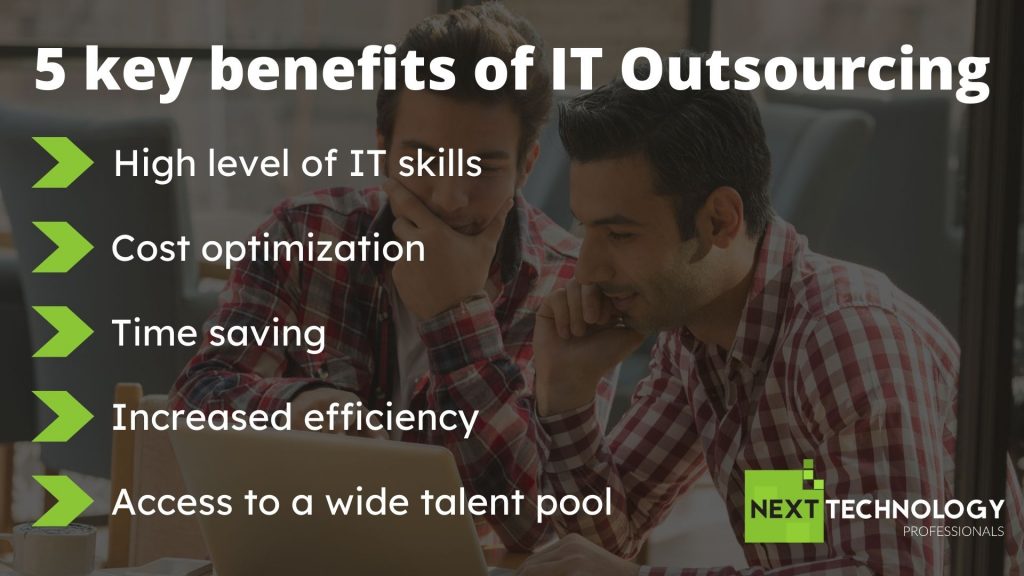 Poland or Ukraine — where should you outsource your IT services?
Although the two countries are neighbors, they differ in several important respects. Among the most important of these are:
Geographical and cultural proximity
The advantage of Poland over Ukraine is both its greater geographical and cultural proximity to Western countries. Poles have been working in an international environment for years. Poles have been working in an international environment for years. Polish companies often implement Western work culture and use English in daily communication.
According to Poland 2025: Europe's new growth engine, Poland is the fastest-growing economy in post-crisis Europe. Therefore, many international tech giants such as Google, Microsoft, and Facebook are keen to open their offices there.
Moreover, there is no denying that Poland is closer and more connected to Western countries, so if you needed to organize a live meeting, it would be much easier and faster to go to Poland than Ukraine. It is worth mentioning that thanks to Poland's geographical proximity, there is less or even no time difference.
Poland – apart from a very similar culture to Western countries – is also a member of the European Union, which makes it easier to conclude agreements, settle accounts, pay taxes, meet quality requirements or maintain intellectual property rights than in the case of Ukraine, which does not belong to the European Union.
Language skills
Another issue you need to consider when choosing an IT outsourcing partner is English language skills. As you know, communication is a very important aspect of working in a software development team, and any misunderstandings would be very costly. So, what are the English skills of Poles and Ukrainians?
According to the List of countries by English-speaking population published by Wikipedia, 37% of Poles speak English, and it is the first foreign language learned in this country. When it comes to Ukraine, the figure is much lower at just 18%.
Another important source of English skills is the EF English Proficiency Index, which shows that Poland ranks 16th globally and Ukraine 44th.
Talent pool
As we mentioned above, the demand for programmers is vast and will continue to increase. So, if you choose your IT outsourcing partner, you should analyze the talent pool they can offer. Did you know that in Central and Eastern Europe there are just over 1 million software developers?
Wondering which country has the most of them? According to the Stack Overflow report, as many as 24% of them (about 254.000) are based in Poland. According to the European Commission, the number of IT specialists in Poland has increased by as much as 15% over the last four years and will grow by 18% over the next four years. As far as Ukrainians are concerned, the number is much smaller and amounts to 166,500.
On the other hand, the IT Association of Ukraine in its "Ukraine IT Report 2021" indicated that IT services generate more than 4% of Ukraine's GDP, which makes the country put a great emphasis on IT education. After all, an upward trend in the number of Ukrainian programmers in the global labor markets is certain to be noticed in the coming years.
Deciding to outsource IT services in Poland, you have a better chance of finding suitable candidates perfectly matched to your company's current business needs.
Skill level
The last but significant point we would like to compare is the programming skill level in these countries. As you probably know, the technical expertise of the developers you work with can have a huge impact on your business's efficiency, continued success, and competitive advantage.
Polish programmers are also very successful and are willingly employed by companies such as Google, Oracle, IBM, Capgemini, Volvo, Nokia, Motorola or Cisco.
Poles are also strong in algorithm competitions and team coding. Teams from the University of Warsaw regularly win prizes in international competitions, e.g. they have won the Academic World Championships in Team Programming twice.
For years, the best source for testing coding skills has been a popular HackerRank ranking: the Programming Olympics.
According to their data, Poles are in 3rd place among the world's best software developers. What about Ukraine? Specialists from this country are in 11th place.
Costs
As an entrepreneur, you are indeed interested in comparing the labor costs of developers from Ukraine and Poland. According to SalaryExpert, the national average salary for a programmer in Ukraine is around $20,500 per year. The same source states that the average rate of a programmer in Poland is around $36,300 per year.
If you want to know the average salaries of individual IT professionals from Poland, we encourage you to download our report "Prepare for the IT recruitment process in 2022".

While the difference may seem significant, by comparison, the annual salary of a UK programmer is about $75,500, and in Germany $86,800. As you can see, whether you choose to outsource in Poland or Ukraine, you will save a lot of money related to hiring employees.
Summary: Poland vs Ukraine — IT services comparison
Both Poland and Ukraine have masses of experienced and highly skilled programmers to offer. Much depends on the company profile, requirements, and aspects of the project in question. However, when analyzing the most critical issues, such as the level of programming skills and English language knowledge, Poland seems to be the best direction for IT outsourcing.
Looking for the best talents on the IT market and considering IT outsourcing in Poland? Contact us. We will be happy to talk about your needs and provide you with the best specialists!