Recruitment in the IT industry has never been easy, but now it's becoming a real struggle worldwide. The massive talent shortage puts new IT product development and investments at risk, and constant increases in salaries cannot attract the countless number of candidates to enter the industry. How to solve this problem and efficiently conquer the US IT talent shortage?
US talent shortage statistics
According to research, the IT job market is expected to grow, and more and more vacants are going to get open in the upcoming years. It is estimated that the demand for IT specialists will increase by 22% from 2020 to 2030, which is much faster than for any other occupation and can result in a nearly 85 million tech talent shortage. It is already clear that this gap cannot be covered by the number of IT adepts graduating from American universities. Then, we can expect that the struggle with talent shortage will continue.
However, there are already a few proven solutions used worldwide that can help to conquer the US talent shortage as well as recruitment issues in your organization. Let's have a look at how you can contribute to minimizing the gap between supply and demand in the IT job market.
5 ideas to solve the IT talent shortage
Here are a few ideas on how to address the problem of IT talent shortage.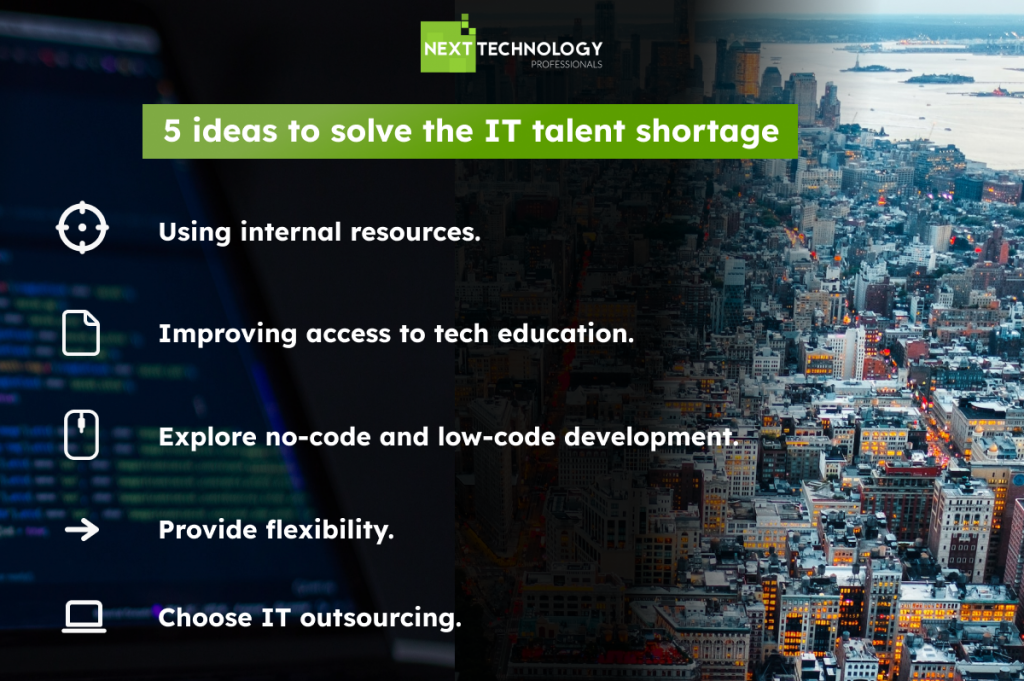 1. Using internal resources
Searching for new IT talents among your current employees might be a great idea. It may be truly effective to provide your most promising staff members with accurate training and help them to switch to IT jobs. Focusing on building internal resources, extending your reach by building a network, and recruiting from places that you are already familiar with might help you avoid long, ineffective searching and quickly provide you with desired competencies.
2. Improving access to tech education
According to data, only 51% of high schools in the United States offer IT programs. Later on, it doesn't get any better, as universities usually don't upgrade their IT education offer according to the latest industry trends and demand. This means that organizing short, intensive training courses or boot camps may be a great way to enable IT adepts to start working in the industry. Also, many HR departments and recruiters have already given up on degree requirements and started to recognize the value of alternative education. Companies can also consider opening internship positions for students and college students to help them gain their first experience in the industry as soon as possible.
3. Explore no-code and low-code development
These two emerging approaches to software development are a chance for many to enter the IT industry. These methods allow performing programming jobs with little or even no knowledge and experience in coding and accelerate the development of various applications supporting business processes. Thanks to the low-code approach, employees of any profession are able to improve and automate their daily work by creating simple applications. So, promoting these methods is a chance to reduce the US IT talent shortage.
4. Provide flexibility
The IT industry attracts new adepts not only because of high compensation but also flexibility. IT jobs typically allow remote or hybrid work in flexible hours and help to maintain a satisfying work-life balance which is now a priority for many. Offering flexible options as a part of the company's culture encourages even more tech adepts to take the chance and try to pursue their careers in the IT field.
5. Choose IT outsourcing
Last but not least, one of the most efficient options to possess IT talents is hiring specialists from remote locations. In the era of remote work, the US talent shortage can be fixed by working with developers from Europe. Especially Central and Eastern Europe are providing experienced, highly educated and English-speaking developers coming from Poland, Ukraine, Romania, and Czechia among others. Widening a talent pool can help you to quickly solve the problem of IT talent shortage in your company and provide you with qualified candidates. Moreover, software developer salary the USA is much higher than in Poland, so there might be a huge difference in your profits from hiring Polish vs American programmers.
Annual salary of Software Developers in Poland and U.S.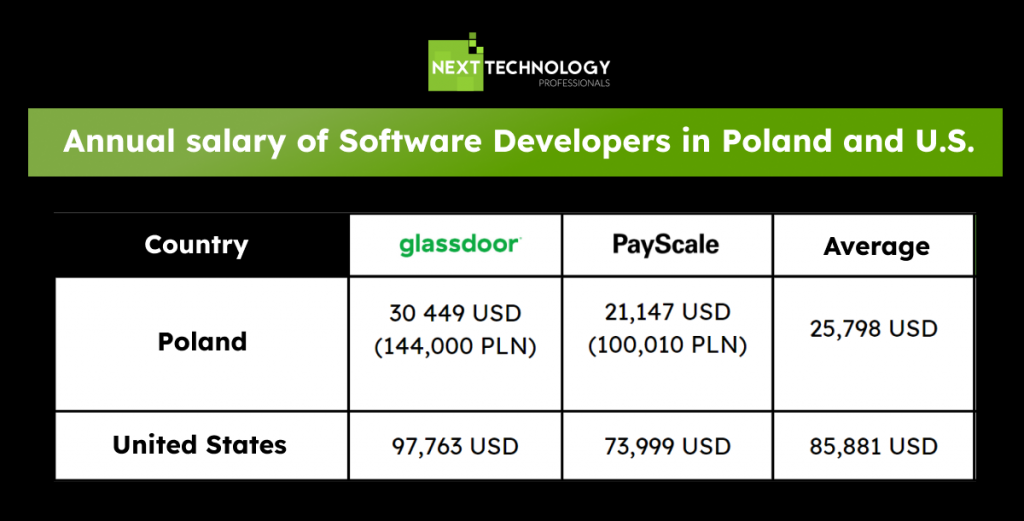 In the table above, you can see the difference between the salaries of Polish and American Software Developers. The data is from Glassdoor and PayScale (here we took into account the exchange rate on August 31, 2022). If we compare the earnings in countries such as the USA (and Great Britain or Germany), it can be noticed that the salary costs of Polish programmers are relatively low. More about annual salaries in other countries you can read in the article about 5 Reasons Why You Should Choose Poland for Outsourcing IT.
What is the IT job market in Poland like?
As Next Technology Professionals, we have prepared a report on the IT job market in Poland. Thanks to the analysis of 112,000 job offers and collecting the data from 852 specialists, it was possible to make conclusions allowing for a closer look at the actual salaries.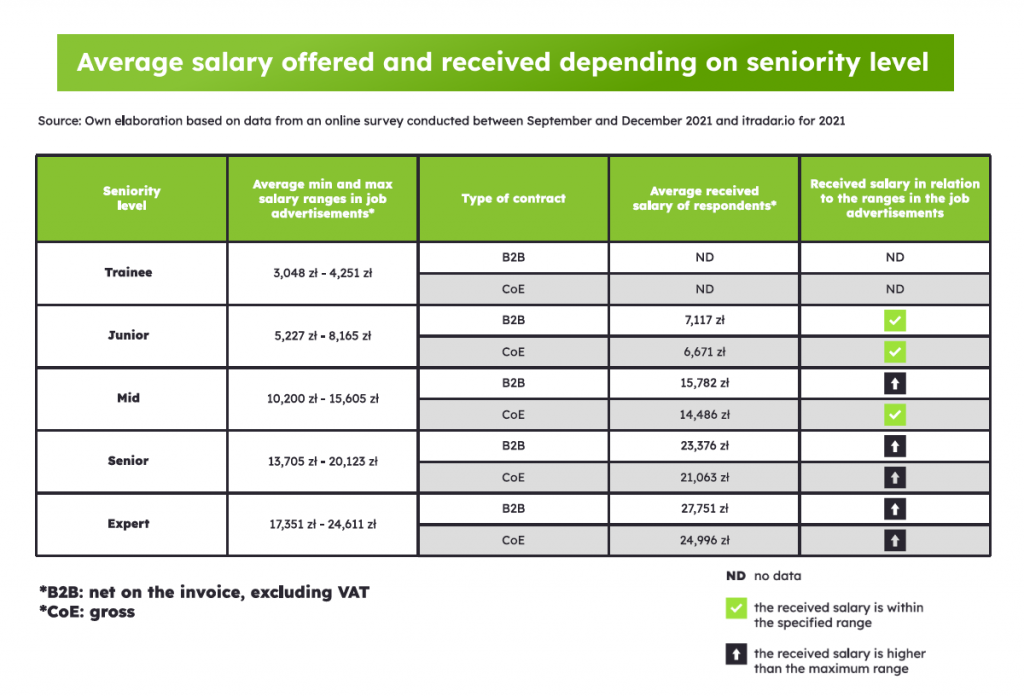 If you want to take a look at the summary of this report containing the most sought-after IT specialists and their salaries or aspects of remote work and recruitment processes you can read this article. However, we encourage you to download for free the full version of the report available in English.

What makes Poland better for doing business compared to other countries?
Why do American companies decide to cooperate with Poland and what distinguishes it from other countries? These include very good command of the English language (16th place in The EF English Proficiency Index), a similar work culture (there are significant similarities between Poland and the USA in Hofstede Insights), clearly defined forms of contracts in Poland (when it comes to programmers B2B and CoE contracts are most often used). You can read more about the employment of Software Developers in Poland in our article about the types of contracts in Poland. Moreover, a great advantage of Poland is its location in central Europe.
if you want to read more about why American companies open branches in Poland and employ Polish programmers, read this article.
IT outsourcing in Poland
If you're currently struggling with the IT talent shortage and considering IT outsourcing, feel free to contact us. As an experienced company regularly reaching out to top candidates from Central and Eastern Europe, we will be able to provide you with highly qualified developers ready to contribute to your project. As an IT recruitment agency in Poland, we will be happy to help you.