The COVID-19 pandemic resulted in a global crisis in a number of industries – except for MedTech. As it naturally became the main branch involved in the fight against the coronavirus, the situation was quite advantageous and led to the dynamic growth of the sector. Then, in 2022 it offers more opportunities to startup founders and industry specialists than ever before.
Let's see what are the specifics of the MedTech industry in Poland in 2022, and what you should be aware of before starting a MedTech business in Poland or hiring a MedTech developer.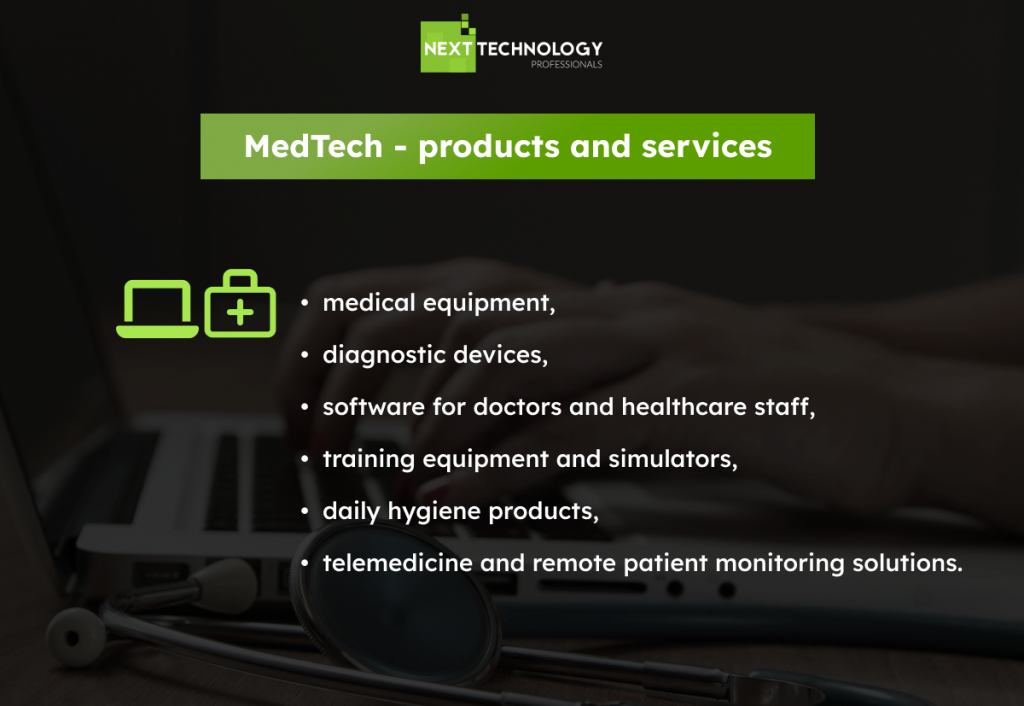 What is a MedTech industry?
To put it simply, the term "MedTech" is a combination of two words: medicine and technology. Although the industry offers a quite broad spectrum of products and services fitting the term, they are all driven by innovation and unique values and principles required in the healthcare sector.
Thus, the MedTech industry offers a variety of healthcare-related services and products such as:
medical equipment,
diagnostic devices,
software for doctors and healthcare staff,
training equipment and simulators,
daily hygiene products,
telemedicine and remote patient monitoring solutions.
In the development or production process, they utilize a number of innovative technologies with blockchain, artificial intelligence, machine learning, and chatbots among others. MedTech solutions help to reduce costs and increase the efficiency of diagnoses, increase patients' comfort and safety, and improve the general availability of healthcare services.
MedTech in Poland
In Poland the industry, although still young, is dynamically growing and its market players are already reaching for global expansion. According to the Polish Federation of Hospitals and EIT Health InnoStars research, there are already at least 100 startups active in the Polish healthcare market, while half of them were established no earlier than 3-4 years ago.
As MedTech is quite a broad term, in Poland there are a few major sectors of the founders' interest. There are:
cardiology,
modern diagnostics,
medical devices,
3D printings,
robotics,
software.
Moreover, it is predicted that the importance of geriatrics and senior care will grow in Poland, as well as globally, due to general demographic trends.
The driving force for the Polish MedTech industry is a number of universities that educate future researchers, doctors, engineers and IT specialists. In Poland there are:
These numbers create a great base for the development of MedTech startups in Poland and ensure the availability of educated and highly qualified developers, engineers, doctors and medical staff.
MedTech projects in Poland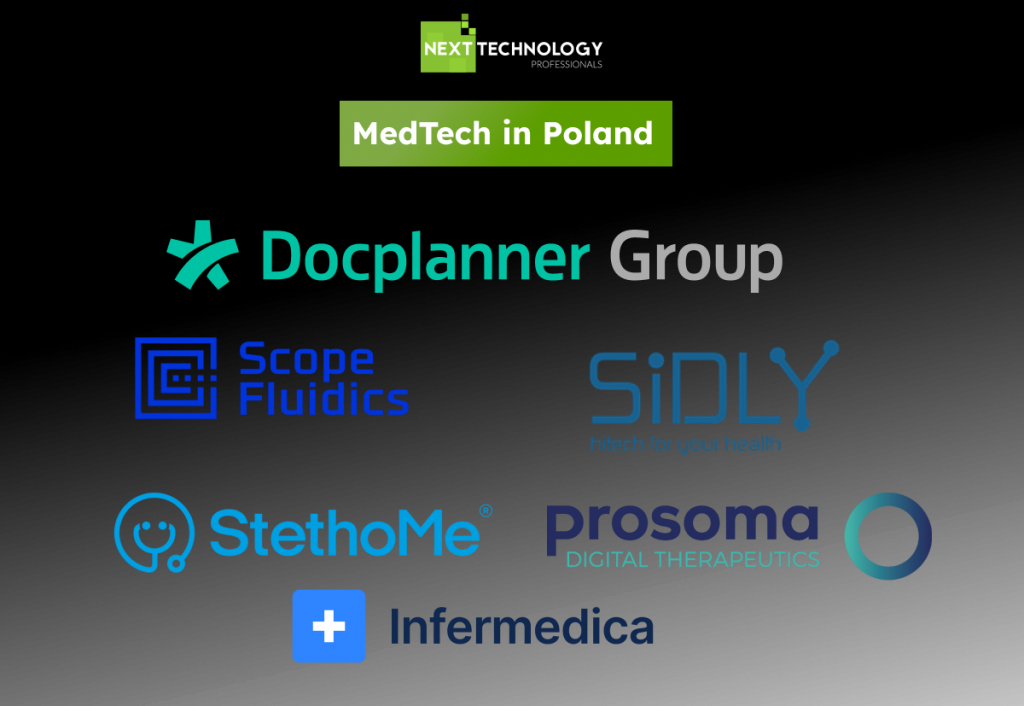 It is worth mentioning some Polish startups in the MedTech industry. The list of companies that create interesting projects that may have a significant impact on medicine is longer than on the list below.
Docplanner
DocPlanner is a booking platform and management software provider for doctors. Platform makes appointment calendar management, communication and online payments easy. It is the first Polish startup whose valuation has exceeded $ 1 billion.
Scope Fluidics
Scope Fluidics is a biotechnology company dealing with the development of innovative projects based on microfluidic technologies in the area of medical diagnostics and health protection.
Intermedica
Infermedica – a Polish medical and technological company that creates solutions using artificial intelligence to facilitate initial medical diagnostics. The system includes a phone application, internet platform, API nad chatbot.
StethoMe
StethoMe – detects abnormal sounds in the respiratory system. With StethoMe, you can auscultate your child at home, just like an experienced physician in a practice, and immediately know the result.
SiDLY
SiDLY is a company founded in 2014 by Edyta Koczek. The startup offers a telemedicine wristband, thanks to which it is possible to monitor people requiring care (most often in old age).
Prosoma
Prosoma – Prosoma is a medical company creating digital therapeutics products for cancer patients.
MedTech challenges
Despite the undoubtedly promising perspectives, there are a few difficulties that MedTech in Poland faces.
The first obstacle is the lack of funding which is critical in such a challenging industry. There is still insufficient cooperation between the public medical sector and MedTech companies. Lack of funding, high responsibility coming from participation in saving human lives and strict procedures related to healthcare procedures and devices create a high barrier to entry.
This is why the healthcare industry and MedTech startups require a highly qualified workforce, including both healthcare specialists and engineers, to be able to comply with industry standards. However, it might be challenging to find the right competencies. Despite the high availability of an educated and qualified workforce, it might be difficult to verify a candidate's skills, experience in attitude during a remote recruitment process.
MedTech Developers
So, how to find the best MedTech developers in Poland? One of the solutions is to hire an experienced IT recruitment agency. Skilled recruiters that know the specifics and reality of the local job market, will be able to reach and select top candidates matching your criteria.
The expected salary of Polish Software Developers
The salaries of Polish IT Specialists are mostly determined by their seniority level and tech stack. It is worth looking at the table below and see the salary ranges and the expected value of the raise when changing jobs. An IT specialist who works on a B2B contract expects a wage increase on average 20% when changing jobs. Junior is defined in this case as a person with up to 2 years of experience, Mid from 2-4 years, Senior 4-10 years, and Expert with more than 10 years of experience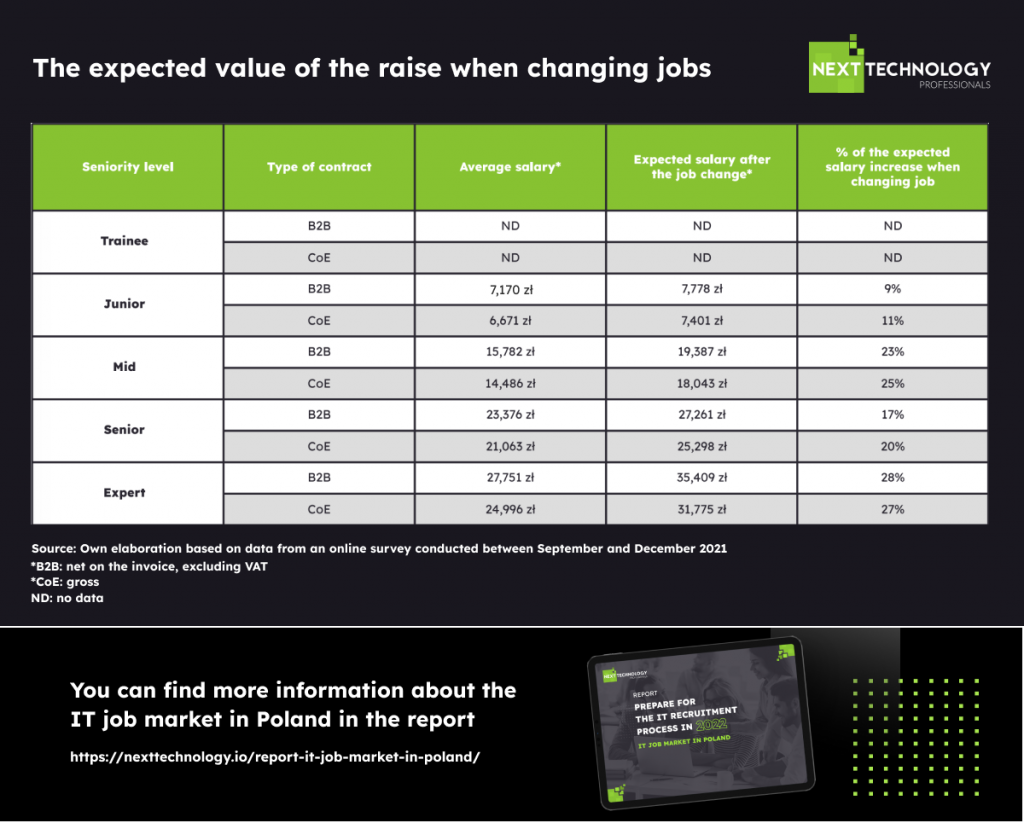 Types of contracts in Poland
There are 2 most popular types of contracts in Poland. In the context of hiring Polish Software Developers, you can most often meet with a B2B or UoP contracts. It is important to know what are the differences between them.
The employment contract includes the rights and obligations of the employer and employee. The employer must pay the employee as previously agreed. The employee's tasks include the performance of the duties assigned by the superior. Furthermore, a B2B contract is an alternative to an employment contract. A programmer becomes self-employed by starting his own business to provide services to another company. In a B2B contract, the employee is responsible for paying fees related to employment, e.g. related to taxes. You can find out more about the employment of Software Developers in Poland in our article about the types of contracts in Poland.
Explore MedTech opportunities in Poland
Are you currently looking for a MedTech developer? Feel free to contact us. With our experience in IT recruitment processes, we will reach out to MedTech developers in Poland and help you to fuel your project with candidates performing top competencies and the right attitude.