Major changes caused by world events influenced the way of verifying job satisfaction in the enterprise. Employees today have different needs than before the pandemic. Some of the once top benefits have become a standard today, and employees treat them as a mandatory addition, not as attractive forms of motivation, which distinguishes from the competition.
Fruity Thursdays, sports cards or private healthcare will no longer help us retain the best talent in the organization. The home office has also become the new norm and is expected by most employees as part of the post-pandemic reality. So what benefits should we choose to keep up with market expectations?
Find out in the article.
How to deal with changes?
The presence and manner of using benefits is evolving. However, their main idea remains unchanged. The purpose of employee benefits is, and has always been, to increase the motivation and commitment of the team and to influence their loyalty and willingness to stay in the company for longer. What we should pay special attention to is the appropriate adaptation of benefits to the needs of employees, which have recently undergone major changes. If we properly recognize these needs and find a remedy for the greatest problems of employees in the organization, we will be able to plan benefits packages for every budget.
Previous benefits lose their significance
Before the pandemic, both employees and employers had different priorities. What were the most popular employee benefits in 2020?
In many companies, we could find various sports cards, medical care packages and language courses. Today, most of them are standard, offered to employees in large and smaller enterprises. Vouchers were also a frequent addition, e.g. Christmas vouchers were offered occasionally as a form of additional support. Today, we focus on regular bonuses that systematically build employee loyalty and commitment.
Remote work and co-financing for meals were also frequent benefits before the pandemic. Today, according to the results of Pracuj.pl research, 35% of employees work remotely or in the form of hybrid work, and 91% of respondents still want to be in this mode. During the pandemic and lockdown, working from home has become the new norm, and meals around the office have lost their importance as we usually eat lunch in our own kitchen.
A new approach to employee benefits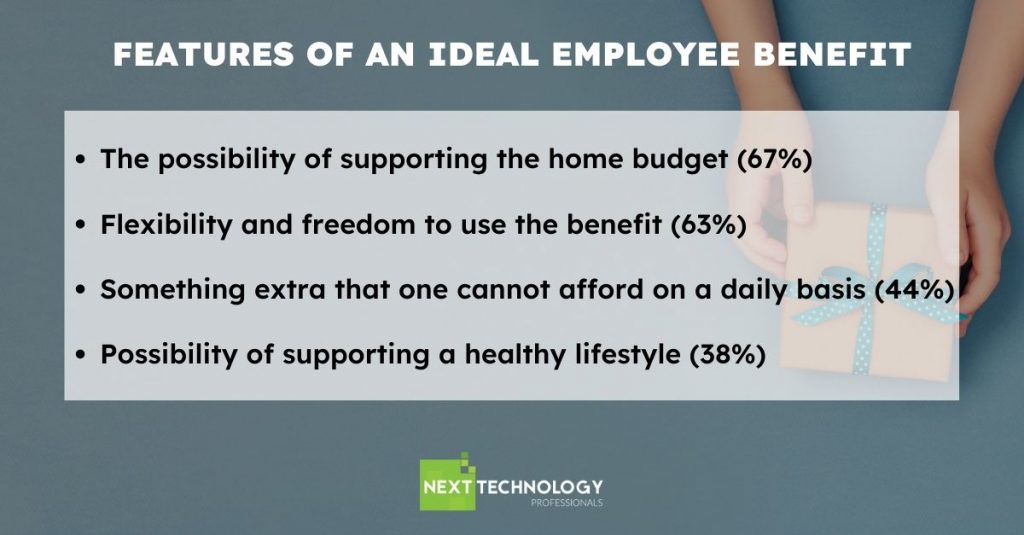 In the "Employee Needs 2021" study, respondents were asked what features an ideal benefit should have. The most frequent responses were:
the possibility of supporting the home budget (67%),
flexibility and freedom to use the benefit (63%),
something extra that the respondents cannot afford on a daily basis (44%),
possibility of supporting a healthy lifestyle (38%).
After the outbreak of the pandemic, we began to pay more attention to our own health, both physical and mental. We also value the feeling of financial security more and more. It is these factors that influence the choice of future benefits.
Mental health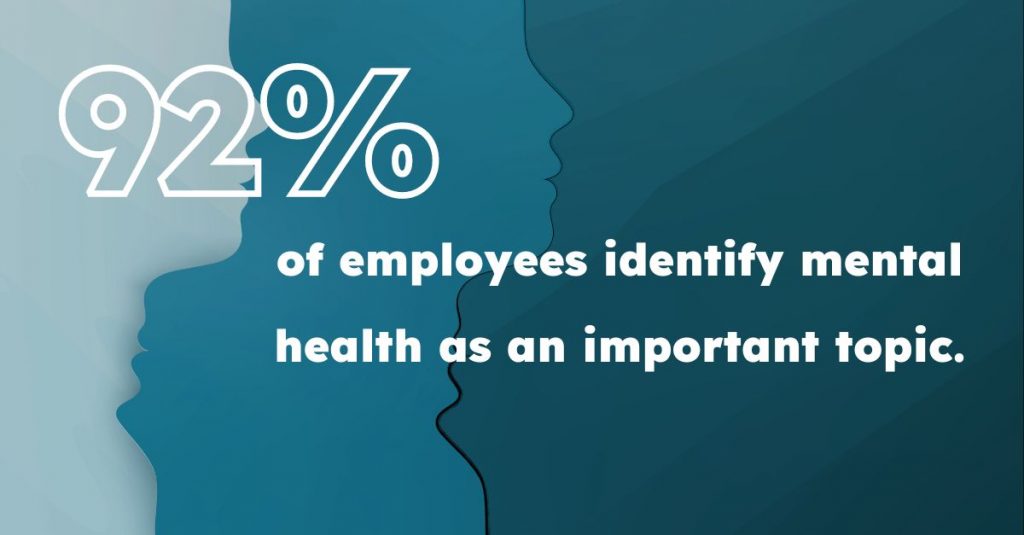 Mental health is an increasingly important aspect. According to the AON survey, as many as 92% of employees identify it as an important topic. Organizations meet these needs more and more often by offering, for example, support in consulting with a psychologist or dietitian. Interestingly, the need to take care of mental health is most often indicated by the representatives of the young generation. We can conclude that they will be setting trends in this area. If your company employs people from Generation Z, it is definitely worth considering including similar activities in your employee allowance system.
Physical health
Medical care, a sports card or encouragement to visit the gym more often is no longer enough. Employers are more and more often involved in the organization of employees' activities by providing them with massage rooms, bicycles and a sports field, as well as organizing free activities, e.g. joint runs or yoga classes. In some offers, we can even find surfing lessons, free vaccinations and lessons in cooking healthy meals. It is worth combining such activities with the celebration and communication of the company's values ​​and CSR activities.
Financial assistance
The difficult economic situation is another aspect influencing the needs of our employees. Thus, various forms of non-returnable allowances, student loan repayments, low-interest loans, gift vouchers and learning to manage a home budget are gaining popularity.
Flexible working time
More and more companies focus on the effects of work as opposed to strict control of employees' working time. This benefit turns out to be especially appreciated by parents of young children who have the opportunity to stop work and be available to their children at various times during the day. Additional days off, e.g. before public holidays and a 4-day working week or free Fridays in the summer season, are also enthusiastically welcomed.
Home office benefits
Considering that building an atmosphere and commitment, as well as a positive organizational culture at a distance, is a very difficult task, companies start investing in benefits that employees can use at home. In this way, they try to keep in touch with the company's employees, take care of their health and appreciate their work in stressful times. Some employers surprise their employees with packages with healthy products, including fruit. Such packages also include masks, sanitizers, company gadgets and recipes for healthy meals, which the recipients can prepare using the products they receive at home.
Benefits in the IT industry

The most preferred benefits among IT specialists are the possibility of remote work (63%), flexible working time (52%), a medical package (34%) and additional paid leave days (31%). Professional training was also ranked high (28%), which underlines how important it is for IT specialists to develop and deepen the knowledge gained so far.