Nowadays almost everyone uses social media. People more and more often use it to search for a job, inform about their openness to work and brag about their own skills and newly obtained certificates.
As a result, social media has become a database of job candidates that helps recruiters select the best potential employees. They are perfect for sourcing, especially in difficult recruitments, in industries struggling with the so-called 'employee market', e.g. in the IT industry. They will also be an excellent tool for building a positive image of the company as an employer.
In this article, we will focus on recruiting with Facebook.
Why is Facebook worth using?
The benefits of recruiting on Facebook
Facebook is the most popular social networking site in the world. According to Facebook, over 2.8 billion worldwide users access the portal every month, and 1.9 billion of them visit the platform every day.
In Poland, Facebook ranks second (after Youtube) among the most visited social media. The most engaged age group using Facebook are people aged 25-34 (according to research conducted in 2019). An average user gives one like a day, and leaves a comment three times a month. (Hootsuite, Report #Digital2021:Poland).
Contrary to advertising portals, most Facebook users use the platform regularly, even several times a day. Facebook is a huge base that recruiters can use to search for job candidates.
On the portal, you can define the desired reach and adjust the appropriate filters to the characteristics of the ideal candidate. When designing a classified ad, for example, you can choose a specific location, industry or keywords that will help you reach the right audience.
Recruitment activities on Facebook
Facebook offers many possibilities. You can use it both for the recruitment itself, as well as for creating a positive image of the company and building your position among competitors.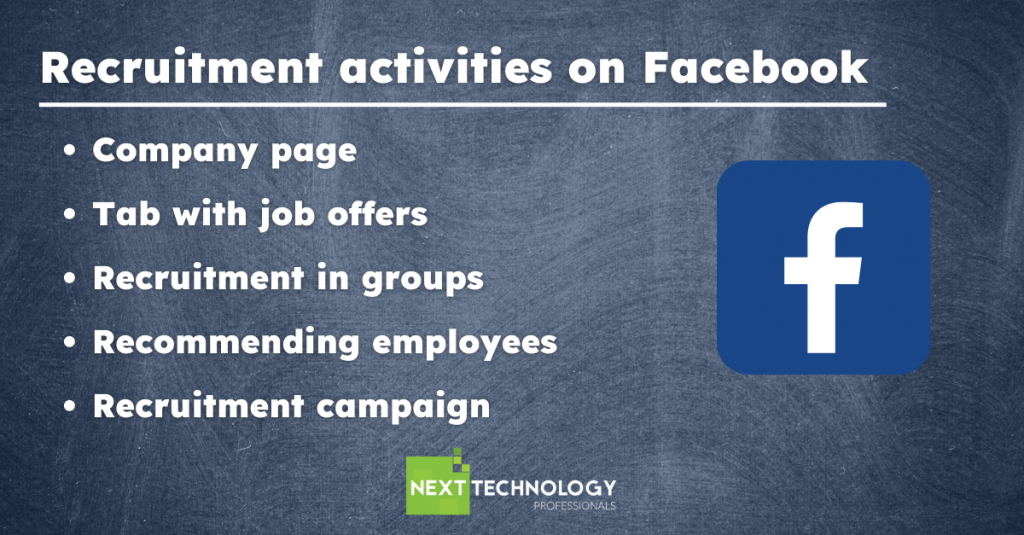 Company page on Facebook
One of the ideas for promoting a brand is to set up a company page on Facebook. You will be able to publish posts about interesting company events, communicate positive changes taking place in the company, and even engage employees to share interesting ideas. Using the website, you can also build a community and inform potential candidates about the recruitment processes being started and encourage them to apply, presenting the benefits of working in the company.
Tab with job offers
Some companies decide to create separate profiles representing different aspects of their functioning, for example those that focus only on the career and professional development offered in the company. For example, you can use an application that displays current job offers in the company. This will make it easier for interested candidates to quickly browse the offers and apply for positions of interest to them.
Recruitment in groups
Another idea for posting classified ads is to add free posts on social groups that suit the interests of your candidates. This way, you can reach active applicants who are joining the job posting groups. When looking for a suitable group, you can suggest a location (e.g. "Work in Warsaw"), a group of candidates (e.g. "Work for students", "Work for specialists"), or a position (e.g. "Work for software developers").
Groups also make it possible to reach passive candidates who are not active in groups related to looking for a new job. For example, you can search for relevant thematic groups related to the specific skills and interests of your candidates, or engage in discussion forums and publish recruitment posts there, or contact potential candidates directly using Messenger.
Recommending employees
Employee recommendations are a very good tool for building the employer's image and effective recruitment processes. With their help, you will not only engage the company's employees to praise the employer but also gain contact with great specialists. There is a good chance that your company's employees stay in touch with people with similar interests and skills, especially on social media. After publishing content on your company website, you can encourage employees to share information with your network of contacts, e.g. by likes or sharing a post with their own comments.
Remember that employees are the best brand ambassadors. They are the most reliable source of information for people potentially interested in working for your company. Therefore, in order to involve them as much as possible to actively share messages, it is worth offering them interesting awards. E.g. the company can pay after the recommended candidate accepts the job offer or after the first months of working there.
Recruitment campaign
If the above free forms of communication with candidates prove to be insufficient, you can use a paid campaign on Facebook. This way you will reach a wide audience (including passive candidates). In paid campaigns, Facebook allows very precise targeting. Thanks to this, you will be sure that the published content reaches the people you are most interested in.
How to create a recruitment ad on Facebook?
If you decide to pay for a promotion, you should start by creating a job advertisement tailored to your target group. Job offers should always be added to the company's website. This way, in the later stages, you will be able to promote the post.
Adding an advertisement step by step:
Go to the company website and add a post.
Add a photo to your post that will catch the attention and interest of the potential candidate.
After publishing your post, click the "Promote Post" button.
The basic Facebook advertising module will appear on the screen. Click the "Edit" button, which will allow you to create an audience according to your recruitment requirements.
Choose the gender, age and location. If you want to reach people entering the labor market, you can, for example, set the age range from 19 to 24 years. When defining a location, you will be able to define how far the recipients may be from the selected city.
In your interests, enter keywords related to your target group. For example, if you are looking for programmers, you can enter the names of the programming languages ​​that they will need to know.
Define the budget and duration of the campaign. In the beginning, you can try the campaign for 100 PLN for 14 days, i.e. for over PLN 7 a day. Facebook will immediately inform you of the number of people your ad will reach.
After publishing your advertisement, it is worth following its effectiveness. You can use the generation of links in the ATS system or attach to the recruitment form a question about the source of information about the offer.
---
Facebook's popularity is growing all the time. Everything indicates that we will be able to use this tool to acquire both active and passive candidates for a long time. It is worth learning to use all its functions, testing different variants and constantly improving your recruitment processes. There is huge potential in social media, it would be a shame not to take advantage of it!