Instagram has seen a significant increase in usage since 2017, by as much as 28%. Such an impressive change is largely the result of the increased interest in the portal by recruiters under the age of 50. According to the data presented in the "2021 Recruiter Nation Report", Instagram is currently in 4th place among the social networks used for recruiting (46%) and providing the best quality candidates (21%). And already in 2017, a widely commented report prepared by the same company showed that Instagram is one of the main tools that the young generation uses when looking for a job. It helps them to better understand the corporate culture and work style of the organization they are interested in.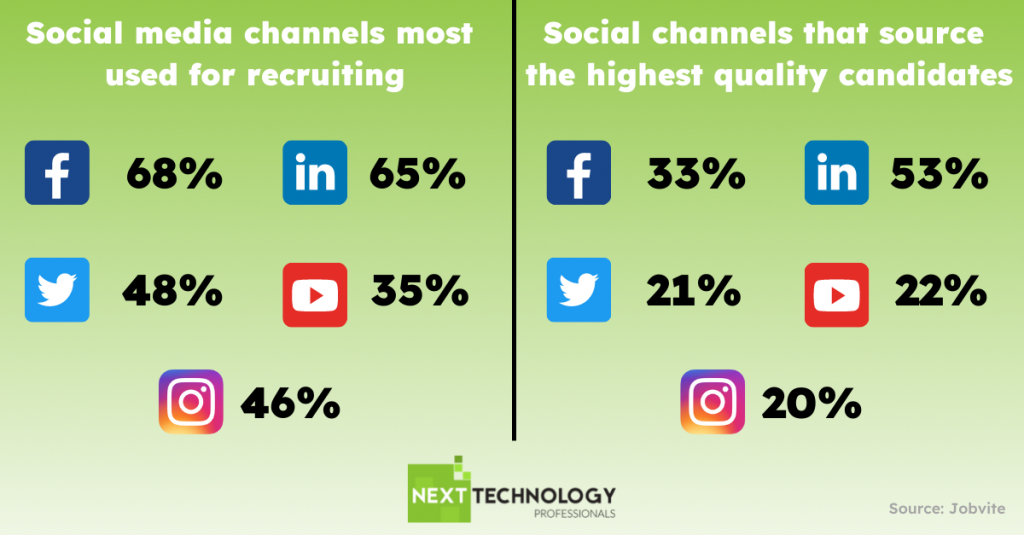 Employers use social media primarily for recruitment and employer branding purposes. They use it to a lesser extent to learn more about potential employees, which contradicts the widespread belief, especially popular among young people, that recruiters, as part of the recruitment process, viewed the private profiles of candidates on social media. According to the aforementioned survey, these portals are mainly used to publish a job offer (66%), build an employer brand (57%), reach passive candidates (47%) and supplement the information in employee referral programs (34%). You can read more about how to use various social media in recruiting in this article on our blog and in our other posts from the social recruiting series.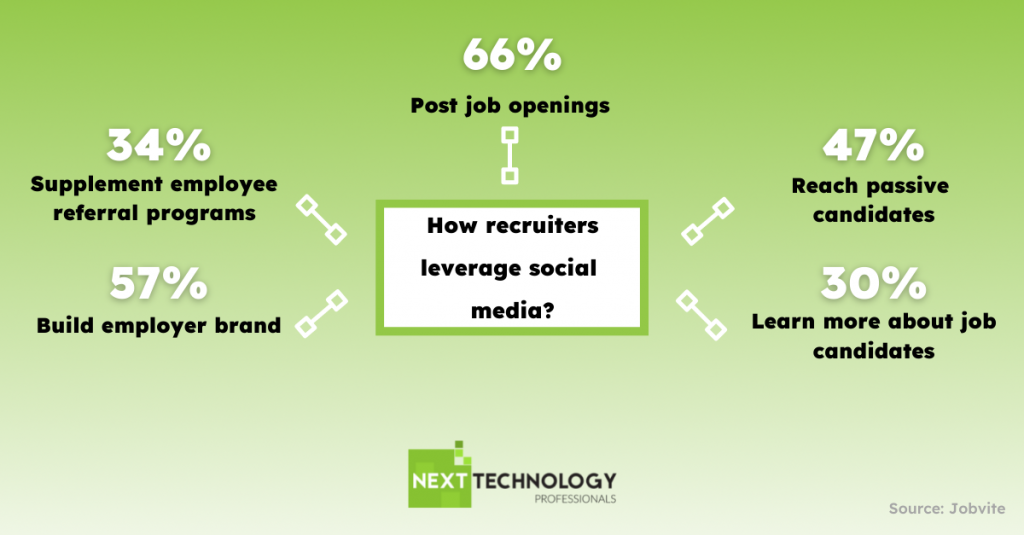 When to choose Instagram?
Why and in what cases is it worth using Instagram?
Instagram will be perfect for recruitment campaigns targeted at younger generations because it is people aged 18-29 who most often visit this website and use it to collect information about employers. At the same time, it is worth knowing that this is a group of employees with specific requirements regarding the workplace. Instagram will help us to present the conditions in our office, the learning opportunities and the positive working atmosphere that are particularly important to this generation.
According to the research "Young people in the labor market", for the majority of the young generation (over 63%), one of the most important aspects that they pay attention to when choosing a job is the employer's profiles on social media. The following are also important for them: the company's activity profile, earnings, development opportunities, the importance of the performed work and tasks which are in line with their interests. Interestingly, almost 70% of respondents, when verifying the offer, check what solutions the company introduced during the pandemic.
We can present all of the above aspects by running an employer's profile on Instagram. The platform allows you to add short and long videos and photos presenting the company's activities "from the inside", as well as to quickly interact with recipients and build engagement.
Ways to recruit and do Employer Branding on Instagram
In order to make the best use of Instagram in recruitment and Employer Branding, it is worth setting up a company account on the platform, where various content related to work in the enterprise will be presented. These can be, for example, unusual office events, educational projects for students, candidates or employees, team-building events or a joint celebration of success and ways to reward high performance at work. Presenting the vision and values ​​of the company brings its image closer to the candidates and builds commitment to the published content. As a result, people are more willing to participate in recruitment meetings and identify with the brand. Presence in social media is not only about publishing content, but also engaging in the exchange of messages, commenting on posts of other companies and organizations, as well as sharing suggestions. It is also worth encouraging candidates to exchange opinions and comment on the content published on the account.
How can we build an employer brand on Instagram?
Promoting organizational culture
Instagram is great at showing our culture and values. We can publish photos or videos that best reflect the atmosphere in the company. The posts should not miss the faces of employees and the environment in which they work. It is also worth paying attention to the communication of the rules in force in the company, as well as the style of work and relationships in teams. We can also distinguish the best employees. Instagram is great for posting authentic, inspiring stories.
Use of hashtags
Hashtags are Instagram's primary tool. It is worth checking which of them best suit our target group and adding them to the published content as often as possible. Thanks to this, we will reach a wider audience and gain likes under the best photos.
Educating the audience
Let's use infographics and photos to familiarize candidates with the secrets of our business. We can, for example, show what the production process of the company's most recognizable product on the market looks like. In this way, we will be able to present even complex processes, products and projects easily and clearly. At the same time, we will allow potential employees to get to know each other better and like each other.
Presenting a job offer
When starting a new recruitment, make sure to publish this information on social media. On Instagram, we can, for example, post a photo of a team that is looking for a new colleague with the words "Join us" or "We are waiting for you". Instagram is an excellent channel for presenting internships, apprenticeships, job offers and any other form of professional development.
Respond to interest
Remember that interaction is what matters in social media. If our publications arouse interest and there are comments on them, be sure to answer the candidates' questions. In this way, you can build a relationship with them and encourage them to continue following the company's profile and applications for job vacancies.
---
If you want to work with an IT recruitment agency that uses many proven sources of reaching candidates, contact us.