IT outsourcing services have been transforming IT departments and businesses all around the world. They provide organizations with a number of opportunities to reduce their costs and unwind potential. Let's have a closer look at one of the most promising IT outsourcing models: Managed Services.
What are Managed Services?
Although Managed Services are frequently confused with IT outsourcing, these two services vastly differ. What's the major difference between IT outsourcing vs managed services?
IT outsourcing basically means delegating selected tech processes to an external organization. Engaging a third party provides the company with a number of benefits: access to modern technologies, reduced equipment and headcount, accelerated and optimized operations. To sum up, outsourcing is related to narrowly-defined processes rather than complex, strategic tasks.
On the contrary, Managed Services mean delivering more comprehensive support. Instead of completing operational tasks, Managed Services providers perform a much more holistic approach leading their clients towards general business optimization. The partner takes over IT management and infrastructure and defines their strengths and weaknesses in order to improve them. As more and more companies have been turning to Managed Services in the past years, the market is expected to reach $274 billion by 2026.
Manages Services – pros and cons
As with every single business approach and decision, Managed Services has its opportunities and drawbacks. First, let's have a look at the benefits:
Managed Services help to optimize costs in many ways: via process optimization, reducing headcount, avoiding expensive recruitments, staff training and team building, and having more efficient maintenance. Costs become also more predictable and well-planned.
In the Managed Services model, your hiring possibilities are nearly unlimited, and lack of office space, infrastructure, or management capabilities are no longer an issue. So, hiring an external company is able to deliver almost countless headcounts and create great opportunities for expansion.
Managed Services help to prevent downtime and malfunctions thanks to efficient equipment maintenance. This is how the continuity of IT and business operations are ensured. Moreover, process automation and the support of qualified employees help to reduce human errors.
Hiring highly qualified specialists provides your organization with access to modern technologies and lets you benefit from industry trends. In this way, your organization can grow much faster, as hiring internal IT experts who could deliver their expertise is costly and time-consuming.
In 2022, when the risk is significant, it is particularly important to protect your company against malware and stealing confidential information. Thanks to careful IT operations monitoring and implementing advanced precautions and tools, it is possible to detect most of the incoming security threats.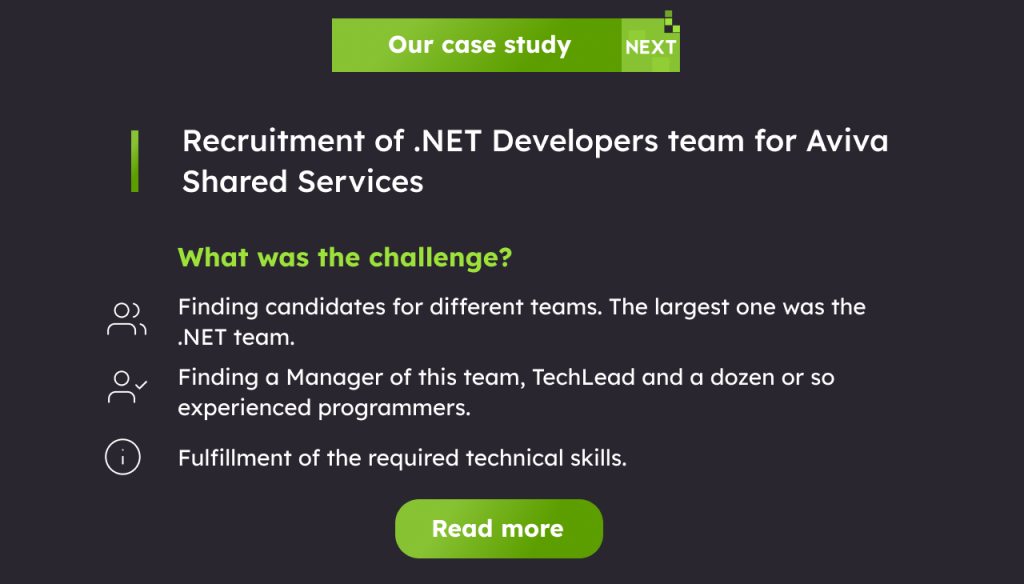 And what are the drawbacks of Managed Services?
Hiring a reputable Managed Services partner isn't cheap. However, analyzing whether the upfront and monthly fees will be compensated by delivered optimizations will help you to dispel your doubts. In a majority of cases, savings will be significant.


Managed Services providers might not be capable of covering all technical areas. This is why you need to carefully select the partner in order to provide yourself with a perfect match with your specific needs. The partner should provide you with a list of technologies and applications of their choice, so you can verify their stack.


Cooperation with a Managed Services provider is a strong bond. In case your partner fails or closes up, it might significantly impact your day-to-day operations. However, using Service Development outsourcing models means sharing both profits and risks. Despite the potential insecurities, the service provider might still enable you to reach results that would not be achievable without their support.

Conclusion: Software Development outsourcing models
Before you decide whether IT outsourcing or Managed Services are the right solutions for you, you need to fully understand their potential and carefully analyze your specific needs.
In case you face difficulties in defining your recruitment challenges and goals, feel free to reach out to us. As an experienced hiring and outsourcing partner, we can support you in the IT recruitment process.