In recent years, the Polish ICT sector has been among the fastest growing in Europe – the value of the IT industry itself has increased by as much as 19%. The number of job offers is constantly growing and IT contracting has become a frequent solution chosen by companies. What is it about? What does cooperation with an IT contractor look like? What are the pros and cons of deciding to hire a contractor to work on a project? Is being an IT contractor profitable? We will answer these and other questions in this article.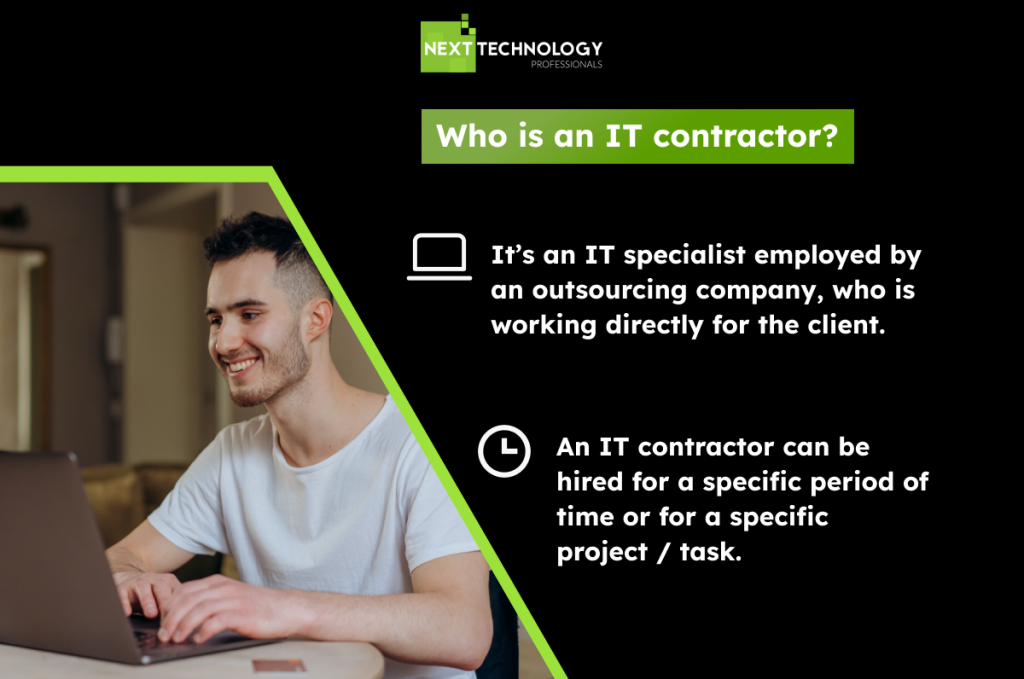 What is IT contracting?
In short, it can be said that IT contracting is the provision of services in a way that gives great flexibility. This form of cooperation enables cooperation with specific specialists from the IT industry for a specific period of time. Thanks to this, for example, one IT specialist with specific skills can be a great support for the entire team of programmers for a specific amount of time.
Who is an IT contractor?
An IT contractor is a person with extensive experience and specific skills in some field (these can be niche skills). Such a specialist works with an IT outsourcing company. Therefore, he or she can be hired for a precisely defined time, for a specific project or task. It can be a short-term or long-term contract.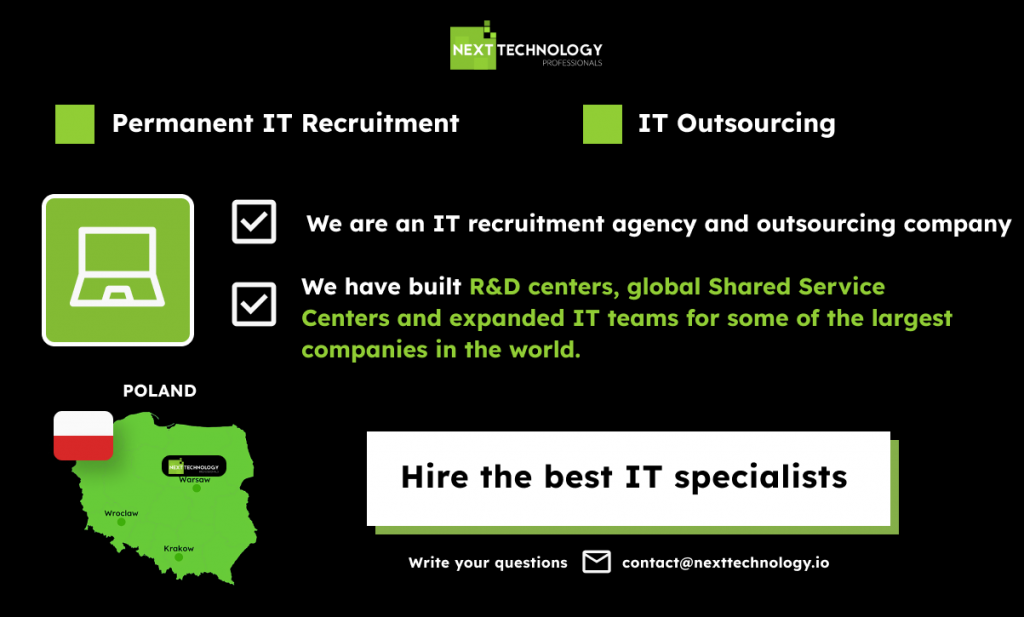 We are an IT recruitment agency based in Warsaw (Poland). As IT recruiters, we are interested in trends and news regarding the direction in which programming is heading in order to provide the best services. If you have any questions regarding IT recruitment, contracts (UoP or B2B) and other services related to the IT industry, please contact us. We also encourage you to look at the recommendations.
When should you consider IT contracting in Poland?
IT contracting is a great solution when we need specific and narrow skills in the team only for a certain amount of time. Then an IT specialist who has the appropriate knowledge joins the team or work on the project. Thanks to this, there is no need to spend a lot of time recruiting and hiring a given programmer, because then he joins the team not permanently, but for a certain number of hours or months. The whole process is fast. Therefore, if there is an urgent deadline, it is an ideal solution.
IT contracting in 2023
You will get the most information on IT contracting by making a free consultation with Dominik Kubiak. The IT outsourcing team at Next Technology Professionals can take care of the most important issues regarding IT projects and providing the most suitable person for a specific IT task. You can read more about the team in our case study.
What does the cooperation with an IT contractor look like?
The IT contractor is employed by an outsourcing company, so a contract is signed with this firm. It presents exactly the work goal that an IT specialist is to achieve and implement in a given company. The exact time and place of such cooperation is also presented there. Furthermore, the cost of such cooperation for the client is also determined – the outsourcing company calculates a fee, thanks to which we have a guarantee that a programmer who will be sent to a given company is a person verified in terms of technical and soft skills.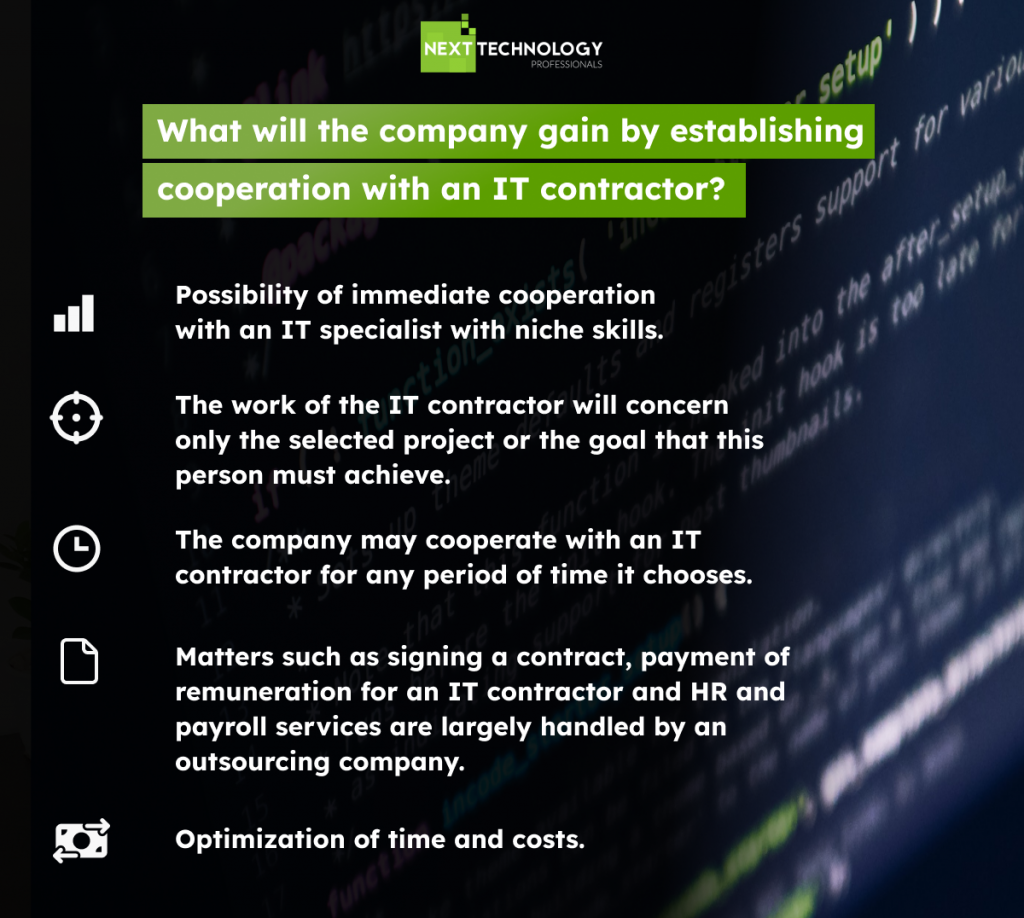 What are the advantages of IT contracting for the company?
When a company is working on a project and it lacks a person with specific skills, it can hire an IT contractor to perform a specific task that the current team cannot perform.
IT contracting is a good solution for a company when the budget for permanent employment has ended and you need additional hands to work on the project or to meet the deadline for achieving the goal. In this case, the company does not have to hire a new IT specialist with a long-term contract. The client can select IT contractors, for a specific task or stage of the project and decide on the time of this cooperation.
It is the outsourcing company that settles accounts with IT contractors, not the client. Matters such as signing a contract, payment of remuneration for an IT contractor and HR and payroll services are handled by the agency.
It is the outsourcing company that conducts various negotiations with the IT contractor, e.g. organizes pay rise talks or discussion about the career path or regarding the termination of cooperation.
Outsourcing firms often inform the client about the most important issues that help to facilitate the candidate management process. On the client's side, a single IT contractor is often managed by the Line Manager.
Outsourcing companies are often able to provide all the necessary things for the work of an IT contractor, e.g. appropriate equipment or a workplace.
You may also be interested in what questions should be asked when choosing an IT outsourcing company?
Some companies like ours also offer a recruiting service. The client does not start cooperation with a random contractor, but with a person who has gone through all stages of the recruitment process and is tailored to the needs of the organization.
Is the company's cooperation with an IT contractor worth it?
The IT contractor's salary already includes all costs, such as e.g. administration and the fee of the outsourcing company. Therefore, the preparation of documentation is mainly on the side of the outsourcing company.
A contract with such an IT specialist is more profitable because, for a period of time specified by the client, it is possible to gain an employee with very rich experience and often niche skills in the field of technology. Finding and employing such an employee directly is not only a large amount of time but also costs – people with such an advanced portfolio want adequate earnings to their experience. In addition, our report shows that an IT specialist employed on B2B or CoE expects a 20% salary increase when changing jobs. To sum up, if we need an IT expert to complete only a part of the project, employing him for a longer period of time can be associated with high costs. If it turns out that other skills are needed in the project, then it is easy to change the IT contractor and fill another gap in the team for a short time. It is also worth mentioning that cooperation with an external employee increases the competencies of the current team.
What can you gain by being an IT contractor?
The IT contractor's salary is agreed between them and the outsourcing company. IT outsourcing agency also takes care of many aspects that support the candidate and end up being profitable for both parties. Good IT outsourcing companies take care of their contractors and want them to receive tailored projects to them, from which they will be satisfied, both in terms of earnings and preferred technologies. What are the other advantages of this collaboration?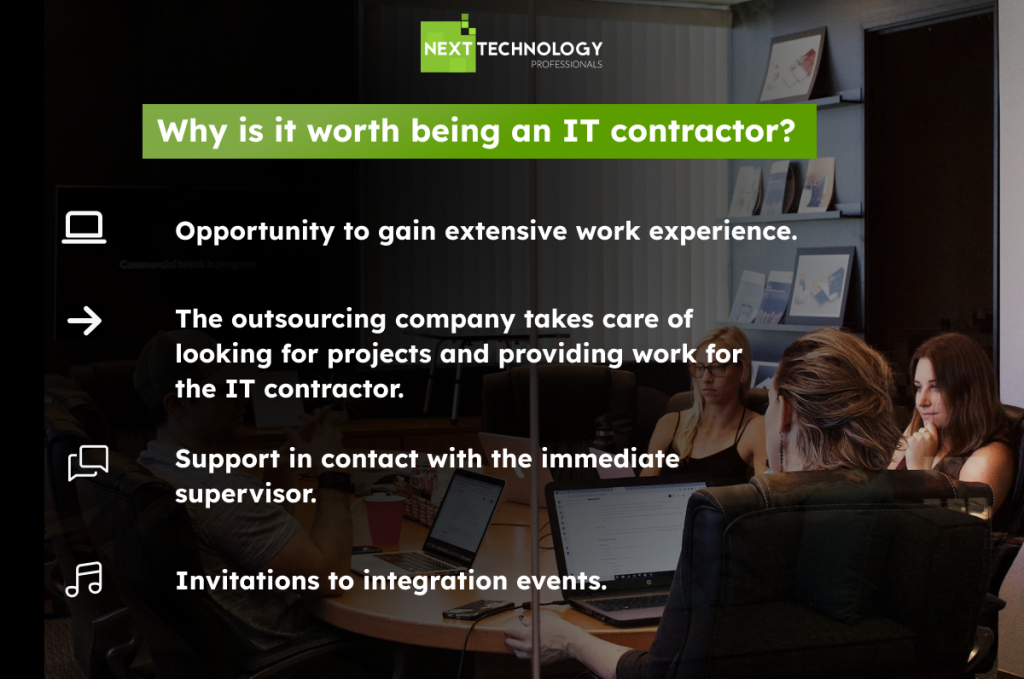 Advantages for the IT contractor
Opportunity to gain extensive experience due to work on many projects, with various teams of IT experts. Thanks to this, you can create your professional career and build your position on the IT job market.
Various project proposals give the opportunity to work in an international environment, using the latest technologies. It all depends on the contractor's needs, which he will transfer to the IT outsourcing company.
The outsourcing company takes care of looking for projects and providing work for the IT contractor.
The outsourcing company supports communication with the immediate supervisors.
As an IT recruitment agency and outsourcing company, we care about a good relationship with IT contractors, which is why we organize integration events (once a quarter) to which they are invited. We want IT contractors to feel a part of our team.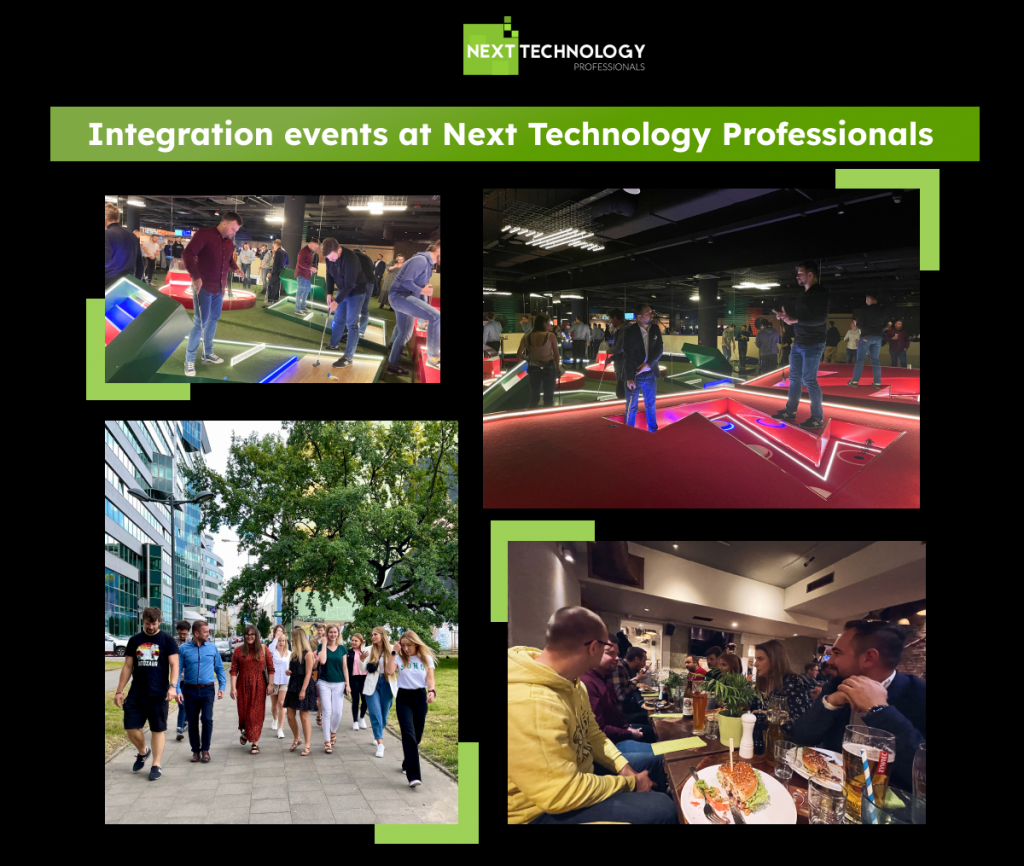 Cons for the IT contractor
In some cases, depending on the contract, you get a bonus pay only for the work done, which is the time during which the project is carried out.
If an IT outsourcing company will not be able to find a project for a contractor for some time, you have to be patient and be on the so-called "bench". Many contractors are not fans of this type of situation because for this time they usually don't make any self-improvement connected to work and this can be also monotonous.
If someone is a person who likes routine and no change, this mode of work can be a challenge. Contract work may require you to work for several clients in the same year. However, if someone is looking for challenges and wants to gain a huge experience, this is a great option for acquiring new skills and creating a professional career.
Cooperation with an IT outsourcing company
Cooperation with an IT outsourcing company can be full of advantages for both the candidate and the client. On the basis of a contract, companies can hire an experienced IT expert, who is not only best suited to the received criteria, but also checked in terms of technical and soft skills. On the other hand, an IT contractor, thanks to cooperation with an outsourcing company, can acquire new skills and constantly expand his portfolio. In the case of negotiating the salaries or terms of the contract, it is the IT outsourcing firm that cares for the candidate, so that he or she is satisfied and that cooperation with the client proceeds with satisfaction for both parties.
Outsourcing IT in Poland
IT contracting in Next Technology Professionals is a service that can be discussed with our IT outsourcing team. It is best to contact Dominik Kubiak first. In the context of IT contracting, he takes care of the best course of the entire process and is the person responsible for communication between the client and the employed specialist. You can learn more from our article about IT Outsourcing in Poland.
---
If you have any questions about IT Contracting or are considering establishing such cooperation, please contact us. We can help you and provide the best IT contracting services. You can also read more about IT outsourcing here.