IT Outsourcing is usually associated with hiring an entire IT team, including software developers, testers, project managers, etc. But what about when you only need the support of QA Engineers? We have good news for you. Then you can also use the services of an outsourcing company.
Why should you consider this model of cooperation with software testers? In this article, we will present six key points that will answer this question.
Let's get started!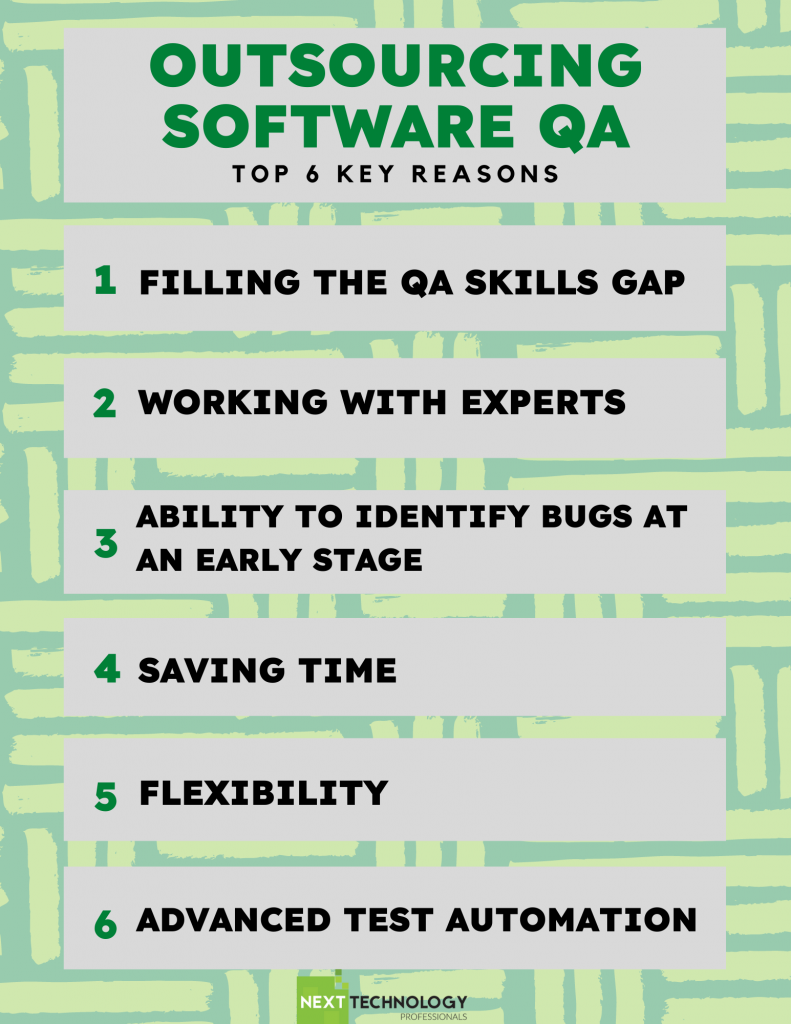 1. Filling the QA skills gap
For years, IT professionals have been the most sought-after employees in the job market. However, staffing shortages are not just for programmers. Indeed, they are in most significant demand, but according to the HackerRank Developers Skills Report, 5.4% of hiring managers admit that the most important role they were looking to fill was actually QA engineers. It doesn't seem like much, but considering that the European Commission says there are IT staff shortages of up to 600,000 in only the European Union, the number is becoming impressive. The solution to the shortage of QA Engineers is outsourcing, which will allow you to quickly find a qualified specialist or an entire team of QA experts.
2. Working with experts
QA teams provided by outsourcing companies usually consist of professionals with extensive knowledge and experience. Moreover, they will include people with different areas of expertise and different skill sets, including both soft and hard skills. It allows you to benefit from standard and unique testing methods. By choosing outsourcing QA services, you will work with professionals who will be able not only to find but also to predict and fix bugs in your code.
3. Ability to identify bugs at an early stage
If you have experience in software development, either from the technical or business side, you surely know how costly all kinds of bugs in code can be. Is there a way to reduce these costs? Of course, there is – if the bug is found quickly.
For example, if a bug is identified during the Software Development Life Cycle (SDLC) phase, it will be much cheaper to fix it when it is found during production. Usually, the difference is almost tenfold, which is why it is so important to detect bugs and fix them as soon as possible. If you work with a dedicated team that cares about code quality, then they will be able to detect bugs faster.
4. Saving time
Sometimes, your team may be in a hurry to complete the project on time, thus running out of time for proper testing. As a result, you build low-quality, error-prone software that doesn't satisfy either you or the end-users. If you need to finish the project as soon as possible but you care about quality, a good solution is to outsource QA services, which you can hire at any stage of project development. Thanks to this solution, your team will be able to focus on software development without having to worry about possible unexpected errors.
5. Flexibility
One of the most significant advantages of outsourcing, in general, is the flexibility of resources. It is especially important when it comes to hiring software testers. If you are working on a large project or leading a complex and challenging phase of product development, you may need the temporary support of a tester or a whole QA team. Then, outsourcing is the most effective way to include them in the project as soon as possible.
[ Read also: Top 8 Benefits Of IT Outsourcing ]
Moreover, you don't have to worry about having enough tasks for them in the future. Outsourcing provides a fully scaled collaboration model where you can decide how many people you need at any moment.
6. Advanced test automation
Automation is the future of software testing, as probably all QA experts are perfectly sure. To extract the full benefits of automation tools, you need to work with experts who have a lot of knowledge, experience, and skills in this field. When you decide to outsource QA services, you will be working with a competent team that has experience handling automation for different products, domains, technologies, and tools. With their support, your product is likely to be more successful and meet user expectations.
Do you need support from experienced QA Engineers? Contact us. We will find experts for you who will take care of the highest quality of your software.