Poland's engineering industry has been thriving in recent years, with a growing demand for skilled professionals in various sectors such as automotive, electronics, and manufacturing. As a result, many companies are turning to engineering recruitment agencies to help them find the best talent for their organizations. This article provides a comprehensive overview of engineering recruitment agencies in Poland, exploring their role in the job market and the benefits they offer to both job seekers and employers.
We'll take a closer look at the top engineering recruitment agencies in Poland and highlight their unique features and specialties. Whether you are a job seeker looking for your next career move or an employer seeking top engineering talent, this article will provide valuable insights into the engineering recruitment landscape in Poland.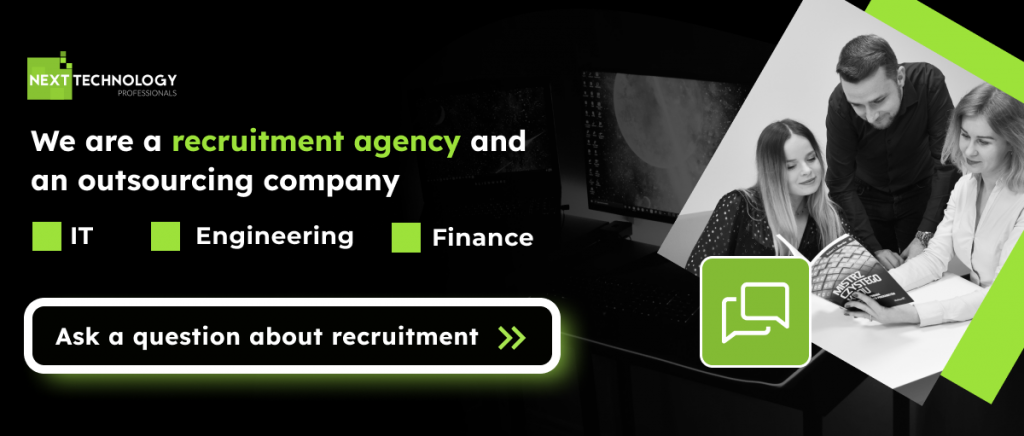 You can also check out our articles:
From the article you will learn what an IT recruitment agency is, what indicators it measures, what cooperation looks like and where the costs come from.
In the article, we described which points should be considered when choosing with whom we will establish cooperation regarding the recruitment of IT specialists. It is important to check e.g. the issue of offering guarantees, models of cooperation, location and knowledge.
In this article, we describe engineering recruitment agencies (random order) such as:
Next Technology Professionals
HRK
Hays
Antal
Michael Page
HR Partner
Goldman
Alten
Inżynierowie.com
Bergman Engineering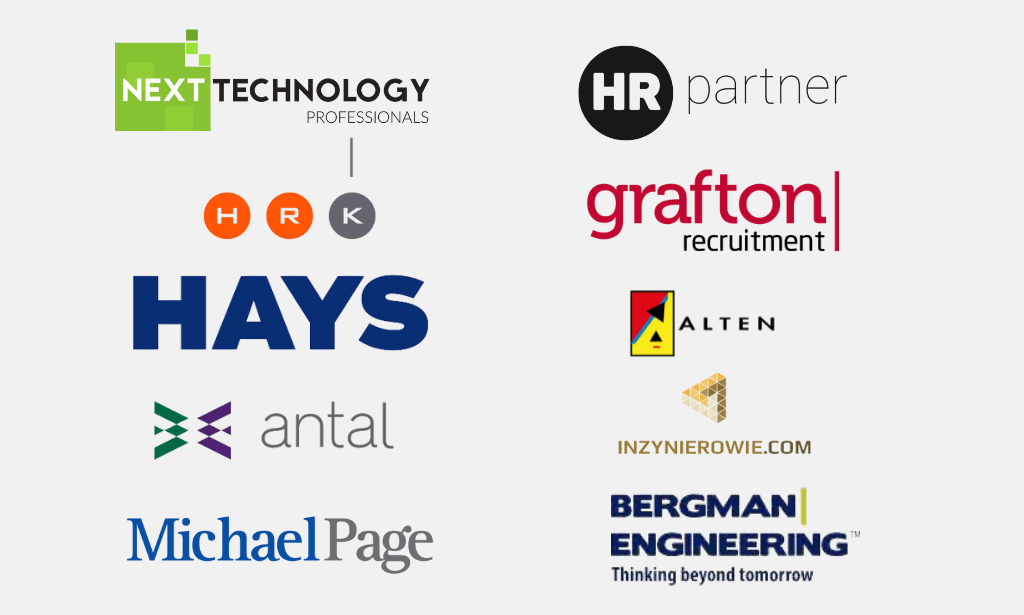 List of engineering recruitment agencies in Poland
Below we present a list of top 10 engineering recruitment agencies in Poland. They have been described taking into account the recruitment services offered, opinions, as well as the location and number of employees.

Google: 5/5⭐, 36 reviews
Number of employees: 11-50 employees, 40 on LinkedIn
Services offered:
Next Technology Professionals is a recruitment agency founded by two brothers – Dominik Jurek and Piotr Jurek. The company supports clients in recruitment of specialists from the areas of IT, Engineering and Finance. It has been operating on the market since 2015 and has completed over 700 successful recruitment processes. What is more, this recruitment company creates and publishes reports on the IT job market in Poland. The recruitment agency shares its knowledge and many years of experience in a newsletter on trends in the IT industry and recruitment. In addition, Next Technology Professionals creates a series of interviews known as "Call for Tech".


Google: 4,5/5⭐, 19 reviews
Number of employees: 100 – 500 employees, 342 on LinkedIn
Services offered:
Recruitment
Assessment & Development
IT Contracting
Employer Branding
Payroll Consulting
Media Service
Executive Search
HRK is a Polish company specializing in personnel consulting and digitization of HR processes. Since 2000, they have been supporting managers in recruiting employees and effective personnel management.

Google: 4/5⭐, 25 reviews
Number of employees: 20 000+ employees, 23 506 on LinkedIn
Services offered:
Architecture
Banking & Investment
Construction
Energy
Accountancy & Finance
Hospitality & Catering
HR & Training
Eco & Engineering
Purchaising & Logistic
Life Sciences
Marketing
Property
Office Support
Contact Centres
Legal & tax
Manufacturing & Operations
Retail
Senior Finance
Sales
Technology
Shared Service Centre
Financial Services
Hays opened their first office in Poland in 2003. Since then, they have strengthened their position on the Polish market. Currently, Hays Poland employs 400 people in offices in Warsaw, Katowice, Wroclaw, Krakow, Tricity and Poznan.

Google: 4,7/5⭐, 15 reviews
Number of employees: 200+ employees, 225 on LinkedIn
Services offered:
Recruitment
Executive Search
Contracting IT
Market Research
Employer Branding
HR Consulting
HR Due Diligence
Multi-Recruitment
Recruitment Process Outsourcing
Antal offers recruitment of professionals and managers as well as providing HR Consulting services. The Antal brand is currently present in 35 countries and has been active in the CEE region since 1996. In addition to conducting recruitment projects they also specialize in HR consulting, employer branding and market research. Antal currently has offices in 5 Polish cities, as well as in the Czech Republic and Slovakia. In Hungary they operate under the Enloyd brand.

Google: 4,9/5⭐, 271 reviews
Number of employees: 9,000+ employees, 9,297 on LinkedIn
Services offered:
Recruitment in the following sectors:
Banking & Financial Services
Finance & Accounting
Engineering
Human Resources
Information Technology
Procurement & Supply Chain
Sales & Marketing
Tax & Legal
Michael Page specializes in personnel consulting and recruitment of highly qualified specialists and middle and senior management. The company has 139 offices in 37 countries around the world.

Google: 4/5⭐, 4 reviews
Number of employees: 11-50 employees, 13 on LinkedIn
Services offered:
Headhunting: Direct Search, Executive Search
Hidden recruitment
Recruitment training
Linguistic verification
Building a development path for employees
Application selection
Participation in recruitment interviews
One-time recruitment order
HR Partner is a Polish employment agency. They carry out modern recruitment of employees based on many years of practice and specialize in both acquiring employees and building their development path, so that they can fully meet the expectations of employers. They also offer they clients language verification, hidden recruitment and training.

Google: 4,6/5⭐, 30 reviews
Number of employees: 1,000+ employees, 1,023 on LinkedIn
Services offered:
IT Delivery Center
Recruitment Process Outsourcing
Permanent Recruitment Solutions
Investment advisory
Human Resources Consultancy
Temporary Workforce Solutions
Talent Bank
For almost 30 years, Grafton has been contributing to the job and recruitment market in Poland. Their Polish team consists of over 100 people, operating from 7 offices.

Google: 4,5/5⭐, 13 reviews
Number of employees: 100 – 500 employees, 445 on LinkedIn
Services offered:
Technological and Engineering Consulting
Global Networks, Telecoms & Multimedia
IT Systems and Information Technologies
Bespoke Engineering Solutions
ALTEN Polska is part of the ALTEN Group, which has become a provider of engineering and technology consulting services (ECT) over the last 30 years. Employing over 37,000 employees (including 88% engineers), present in over 30 countries and achieving a turnover exceeding EUR 2 billion, it supports the development strategies of its clients. In the field of implementing innovations, research and development and IT systems, they develop banking and finance, aviation, railways, automotive, energy, medicine, telecommunications, consulting services and industrial automation in Poland.

Google: 3,7/5⭐, 3 reviews
Number of employees: 11-50 employees, 17 on LinkedIn
Services offered:
Business Service
Consulting Service
Taxes Service
Inżynierowie.com was established in response to the needs of the market in the field of providing highly qualified specialists. Their activities cover the following areas: Automotive, Electronics, Aerospace, Manufacturing.

Google: 4/5⭐, 32 reviews
Number of employees: 50 – 100 employees, 56 on LinkedIn
Services offered:
Business Service
Consulting Service
Taxes Service
Bergman Engineering conducts recruitment and contracting of engineers. They carry out technological and development projects for clients in Europe. Bergman Engineering develops its competences mainly in the automotive, aviation and energy industries.
Choosing an engineering recruitment agency
If you want to check recruitment agencies in Poland in terms of customer reviews, in addition to their websites, you can explore The Manifest and Clutch rankings. However, the best way is to contact the recruitment company and talk directly. A dedicated consultant will answer all your questions and clarify any doubts.