Establishing cooperation with a finance recruitment agency in Poland in order to hire finance specialists can be a good choice for many reasons. Although the fee charged by a recruitment agency may sometimes seem high, it is a cost that is also an investment, as in return you will find the right person who fits the organization or the specific job. It is also worth noting that a recruitment company guarantees finding a candidate in a short period of time, and often the cost of the project being unable to start/continue, due to lack of employees or team frustration caused by too many tasks, can be many times higher.
We have prepared a list of 10 finance recruitment agencies, describing the location, Google rating and number of employees. The review can be helpful in the context of a quick overview of the type of services offered by the top 10 finance recruitment agencies in Poland.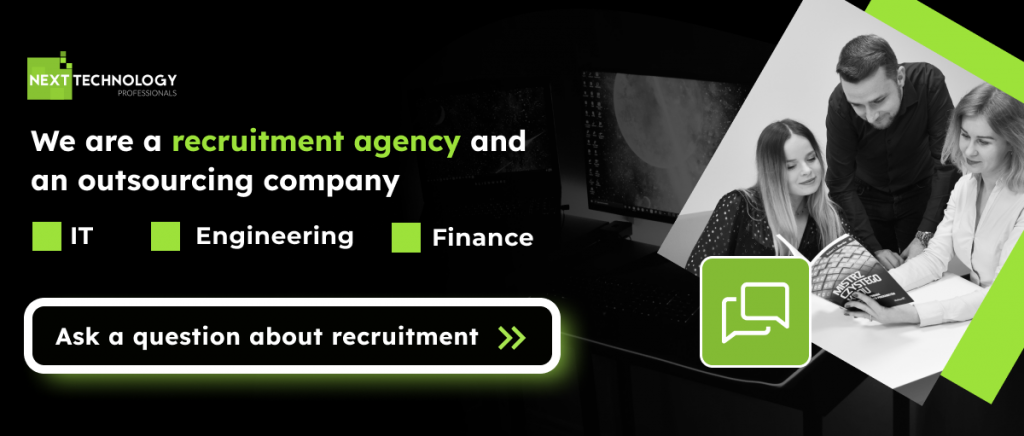 You can also check out our articles:
From the article you will learn what an IT recruitment agency is, what indicators it measures, what cooperation looks like and where the costs come from.
In the article, we described which points should be considered when choosing with whom we will establish cooperation regarding the recruitment of IT specialists. It is important to check e.g. the issue of offering guarantees, models of cooperation, location and knowledge.
In this article, we describe finance recruitment agencies (random order) such as:
Next Technology Professionals
HRK
Hays
Randstad
Antal
Michael Page
HR Partner
Devire
Reed
Finker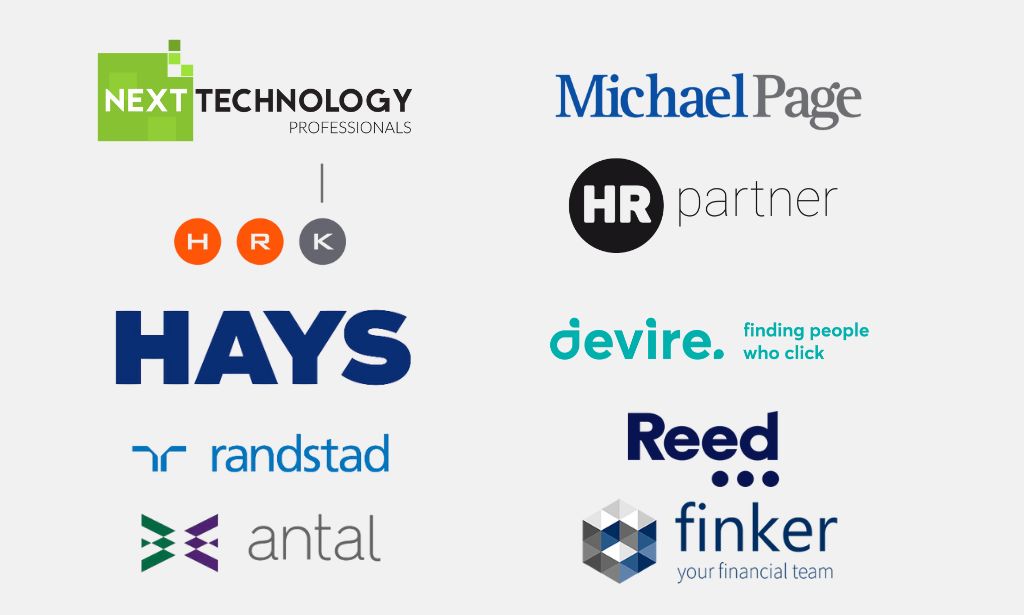 List of finance recruitment agencies in Poland
Below we present a list of top 10 finance recruitment agencies in Poland. They have been described taking into account the recruitment services offered, opinions, as well as the location and number of employees.

Google: 5/5⭐, 36 reviews
Number of employees: 11-50 employees, 40 on LinkedIn
Services offered:
Next Technology Professionals is a recruitment agency founded by two brothers – Dominik Jurek and Piotr Jurek. The company supports clients in recruitment of specialists from the areas of IT, Engineering and Finance. It has been operating on the market since 2015 and has completed over 700 successful recruitment processes. What is more, this recruitment company creates and publishes reports on the IT job market in Poland. The recruitment agency shares its knowledge and many years of experience in a newsletter on trends in the IT industry and recruitment. In addition, Next Technology Professionals creates a series of interviews known as "Call for Tech".


Google: 4,5/5⭐, 19 reviews
Number of employees: 100 – 500 employees, 342 on LinkedIn
Services offered:
Recruitment
Assessment & Development
IT Contracting
Employer Branding
Payroll Consulting
Media Service
Executive Search
HRK is a Polish company specializing in personnel consulting and digitization of HR processes. Since 2000, they have been supporting managers in recruiting employees and effective personnel management.

Google: 4/5⭐, 25 reviews
Number of employees: 20 000+ employees, 23 506 on LinkedIn
Services offered:
Architecture
Banking & Investment
Construction
Energy
Accountancy & Finance
Hospitality & Catering
HR & Training
Eco & Engineering
Purchaising & Logistic
Life Sciences
Marketing
Property
Office Support
Contact Centres
Legal & tax
Manufacturing & Operations
Retail
Senior Finance
Sales
Technology
Shared Service Centre
Financial Services
Hays opened their first office in Poland in 2003. Since then, they have strengthened their position on the Polish market. Currently, Hays Poland employs 400 people in offices in Warsaw, Katowice, Wroclaw, Krakow, Tricity and Poznan.

Google: ND
Number of employees: 50,000+ employees, 58,603 on LinkedIn
Services offered:
Physical work
Office administration
SSC/BPO
Finances and Accountancy
Human Resources and Payroll
Customer Service and Contact Center
Engineering and Production
IT and Telecommunications
Logistics
Sales and Marketing
Working abroad
Randstad is a global HR company specializing in personal consulting and temporary work. Their HR solutions include recruitment process outsourcing and outplacement. Randstad operates in 39 countries globally. In 2017, a total of 38,331 employees were working in 4,858 branches, and the company's income amounted to EUR 23.3 billion. Randstad was set up in 1960. Its headquarters are located in Diemen in the Netherlands. Randstad N.V. is traded on the NYSE Euronext Amsterdam.

Google: 4,7/5⭐, 15 reviews
Number of employees: 200+ employees, 225 on LinkedIn
Services offered:
Recruitment
Executive Search
Contracting IT
Market Research
Employer Branding
HR Consulting
HR Due Diligence
Multi-Recruitment
Recruitment Process Outsourcing
Antal offers recruitment of professionals and managers as well as providing HR Consulting services. The Antal brand is currently present in 35 countries and has been active in the CEE region since 1996. In addition to conducting recruitment projects they also specialize in HR consulting, employer branding and market research. Antal currently has offices in 5 Polish cities, as well as in the Czech Republic and Slovakia. In Hungary they operate under the Enloyd brand.

Google: 4,9/5⭐, 271 reviews
Number of employees: 9,000+ employees, 9,297 on LinkedIn
Services offered:
Recruitment in the following sectors:
Banking & Financial Services
Finance & Accounting
Engineering
Human Resources
Information Technology
Procurement & Supply Chain
Sales & Marketing
Tax & Legal
Michael Page specializes in personnel consulting and recruitment of highly qualified specialists and middle and senior management. The company has 139 offices in 37 countries around the world.

Google: 4/5⭐, 4 reviews
Number of employees: 11-50 employees, 13 on LinkedIn
Services offered:
Headhunting: Direct Search, Executive Search
Hidden recruitment
Recruitment training
Linguistic verification
Building a development path for employees
Application selection
Participation in recruitment interviews
One-time recruitment order
HR Partner is a Polish employment agency. They carry out modern recruitment of employees based on many years of practice and specialize in both acquiring employees and building their development path, so that they can fully meet the expectations of employers. They also offer they clients language verification, hidden recruitment and training.

Google: 3,6/5⭐, 68 reviews
Number of employees: 100 – 500 employees, 302 on LinkedIn
Services offered:
Permanent Recruitment
Executive Search
IT Contracting​
Payroll Consulting​
Recruitment Process Outsourcing​
External Employment
Devire is an international recruitment, executive search, outsourcing and employer branding company, established in London in 1987. For more than 30 years they have represented leading employers on the European market by carrying out comprehensive recruitment projects, implementing the latest solutions in the area of IT services and helping to build the image of an employer of choice. Their offices are located in Warsaw, Wroclaw, Poznan, Gdansk and Katowice as well as Munich, Frankfurt, Prague and Hradec Kralove. They are a part of Devonshire Investment Group.

Google: ND
Number of employees: 5,000+ employees, 5,820 on LinkedIn
Services offered:
Permanent Recruitment
Temporary Recruitment
Executive Search
Upskilling
Employer on Record
Pre-employment Screening
Recruitment Process Outsourcing (RPO)
In the early 1960s, Reed pioneered specialist recruitment in the UK. Seven decades on, they offer recruitment services, with offices spanning across the UK, Europe, the Middle East and East Asia. Reed works with more than 30,000 organizations to fill their temporary, permanent and interim positions for 20 sectors.

Location: Warsaw
Google: 4,8/5⭐, 21 reviews
Number of employees: 11-50 employees, 25 on LinkedIn
Services offered:
Accounting services
HR and payroll
Controlling
Recruitment services
Building a financial ecosystem
Cash flow forecast
Accounting due diligence
Financial model
Support for investment funds
CFO+ role for Private Equity Portfolio Companies (full / part time & interim)
End-to-end Corporate Finance Projects
M&A Projects and ECM Markets
Specific and General Strategic Advisory
Project Finance and Project Management
Investment Management and Treasury
Investor Relations and Corporate Communication
Valuations
Finker provides an end-to-end Financial Department Outsorcing (FDO), a one stop shop solution for all finance related services.
Choosing a finance recruitment agency
If you want to check recruitment agencies in Poland in terms of customer reviews, in addition to their websites, you can explore The Manifest and Clutch rankings. However, the best way is to contact the recruitment company and talk directly. A dedicated consultant will answer all your questions and clarify any doubts.