According to the European Commission, the IT skills shortage is around 600,000 unfilled jobs. Moreover, The Bureau of Labor Statistics forecasts that the IT shortage in the US will exceed 1.2 million by 2026. As the world moves towards digitalization, the demand for IT talent will increase. How to meet this? Read this article to know six proven solutions that will allow you to create software without worrying about staff shortages.
1. IT Outsourcing
One of the most popular methods of dealing with staffing shortages is outsourcing IT services. Depending on which cooperation model you decide on, you can add only one or a few employees to your internal team or outsource the entire project to an external company.
Outsourcing IT has many benefits, such as:
saving time — you can immediately add new people to your team
saving money — in countries that are the most popular outsourcing destinations, rates are usually lower than in the countries of their clients, which can mean even several times lower amounts than when hiring employees from your own country
flexibility and scalability — you can expand or reduce your team at any time without the necessity to lay off employees
For more on the benefits of this solution, read the article: Top 8 Benefits Of IT Outsourcing
2. Work with a recruitment agency
If you plan to hire employees directly for your company, it would be a good idea to work with a recruitment agency. Such companies have experienced IT recruiters who have proven ways to find the right employees and attract them to your company. They know exactly where to look for the right employees and how to talk to them.
What's more, they also have extensive networks so that your offer will reach more people. This solution saves a lot of time for your company.
You can read more about the pros and cons of this solution in the article: Pros and Cons of Using IT Recruitment Agency
3. Create a detailed and specific job offer
Programmers are individuals who respect their time. Moreover, they receive a lot of offers from various employers. How to stand out?
First of all, show that you respect their time and understand their needs. Create a detailed job offer that will include all important information that may be crucial for your potential employees. We're talking technology stack, required programming languages, frameworks, software, or project-specific information. Don't forget to include the salary range, form of employment, and information on whether you offer remote work.
These pieces of information allow your potential candidates to decide whether the offer you publish is attractive for them. Creating the most detailed offer possible will enable you to save a lot of your time because you will only get resumes from people perfectly tailored to your needs.
4. Post your offer on popular IT job boards
If you want to find developers for your company, it's a good idea to post ads on dedicated portals for their industry, such as Just Join IT, Crunchboard, StackOverflow Jobs, or No Fluff Jobs. Such sites are visited by IT professionals more often than standard job boards. Additionally, these portals have their internal ways of distributing offers to the right people, making more potential employees see your offer.
You can also research Facebook groups with job openings and post your ad there.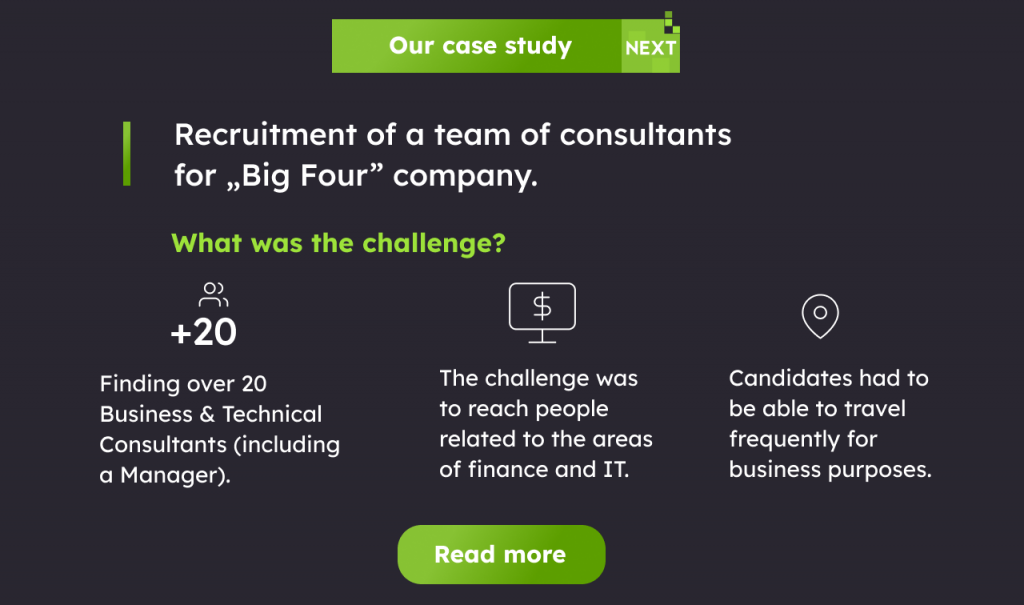 5. Train existing employees
If you are having trouble finding new employees for technical positions, you should also consider looking within your organization. Perhaps someone is just dreaming of retraining. So, instead of investing in recruiting, you can invest in courses to help acquire new skills for your current employees. This solution can not only solve your staffing shortage problem, but it can also positively impact your company's employer branding and reduce rotation within your organization!
So before you publish a job offer in the external sources, announce internal recruiting and give opportunities to trusted employees who know your company and its organizational culture well.
6. Look for employees from another country
During the COVID-19 pandemic, many companies switched to the remote working model. Many of them have no plans to go back to the mandatory work from the office anymore, giving their employees more flexibility.
Being able to work remotely also gives you more options as an employee. You don't have to find employees in your city or even country. Today, more organizations have an international team, especially in IT, where English is standard.
Poland, Ukraine, Belarus, India, and China are among the most popular outsourcing destinations. You can read more about it in the article: Top IT Outsourcing Destinations in 2021 and 2022. In Which Country Can You Find the Best Developers?
---
Want to find the right IT professionals for your team quickly? We can find many great experts ready to work on your project. Sounds interesting? Contact us and check it out.