Until recently, the form of remote work was for many people synonymous with a lack of productivity and efficiency. The epidemic situation in the world has led to a revolution and in a short period of time has shown the hitherto invisible advantages of remote working. Many companies in Poland, which before the pandemic did not offer employees such a possibility, have switched to the mode of remote work, and experts indicate that thanks to this form of work you can reduce costs and increase efficiency in the company.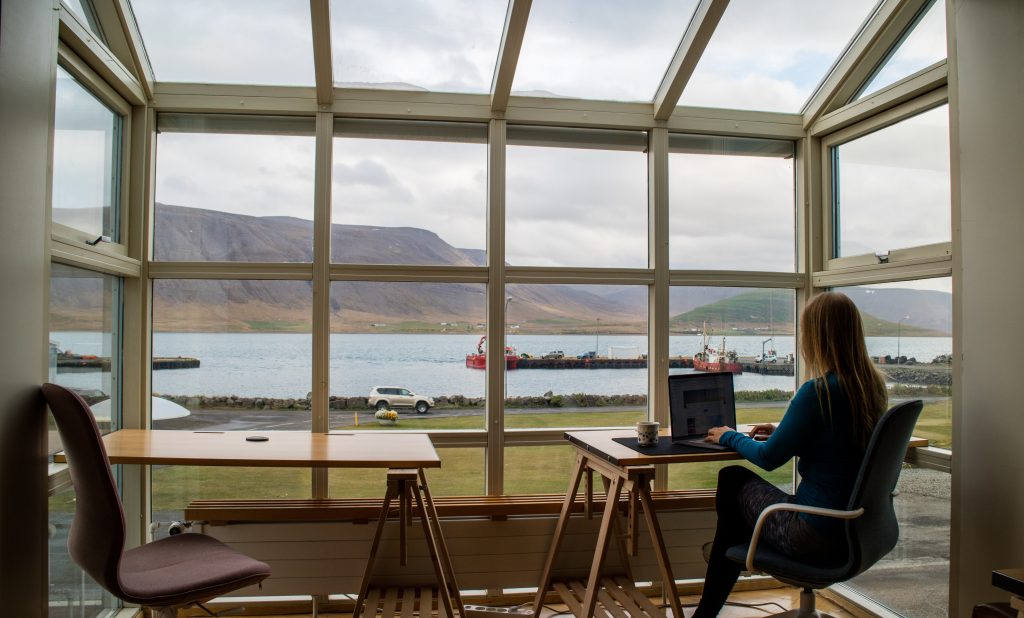 Remote, hybrid or stationary work?
As the saying goes, everything has two sides of the coin. There are professions that require the physical presence of employees. Remote work can also be problematic for the elderly or those unfamiliar with computer technology. However, we are at the moment when a new 'generation Z' is entering the job market, so everything indicates that the concept of home office will stay with us forever and we will never go back to the way things were before the pandemic.
If you are interested in the topic of 'Generation Z' , we recommend you to read the article about the employees of the future – generation Z in the workplace.
Generation Z and attitiude to work
Generation Z has recently been facing difficulties caused by the Covid-19 epidemic. Learning and working remotely, limiting activities outside the home – all this contributed to shaping this generation not only privately, but also professionally. People from Generation Z mostly chose happiness, family and the opportunity to pursue their passions as the most important values, wanting to maintain a balance between private and professional life (work-life-balance). The labor market will increasingly adapt to younger generations, which will eventually revolutionize it – through the influence of freelancers, greater pressure on fair pay and the ability to be independent in the performance of their professional duties.
Remote work in the reality of Generation Z
Therefore, paying attention to the values ​​of people from Generation Z, it can be safely said that remote work is the most desirable mode among this group. However, regardless of generation, each person may have different needs. According to a study conducted by the Harvard Graduate School of Education in December 2022. American Generation Z, after the unpleasant realities related to the lockdown and the epidemic, reported a feeling of loneliness and the need for contact with people (more on this later in the article), spending a lot of money just to establish this contact (according to the Business Insider article). However, at this point in 2023, it may seem that remote work still has the advantage, and contact with other people is achieved through active use of time after working hours (e.g. pursuing hobbies, meeting friends). For Generation Z, limiting the impact of work and work-life balance is a very important value.
Remote work in IT in 2023
For most IT-related employees, the overnight transition to remote work was no problem at all, but after such a period of time, many of them can't imagine going back to their offices altogether. According to our report – "Prepare for the IT recruitment process in 2023 – IT job market in Poland", the number of job offers with the possibility of total remote work has increased by 17 p.p. compared to 2021.
What will 2024 bring for remote work in IT?
Over recent years, the noticeable increase in remote operations in companies has been very positive not only in financial matters, but also in terms of good atmosphere among employees and the efficiency of tasks performed. However, employers want to have their employees in the company workplace – to see the team at work and how new employees are acclimatizing and coping with tasks or difficulties. This is quite a blow to the IT industry. Most people associated with the IT industry work on B2B contracts, and the transition to a hybrid mode is often associated with a change of place of residence for an IT specialist, difficulties in commuting to the workplace or ineffective performance of tasks due to the need to travel frequently. It is worth noting that employers, in order to encourage employees to work on-site, offer higher wages than for people working remotely, which at the same time encourages people, mostly working on B2B contracts, to change their workplace to one that will allow them to work remotely without any problems.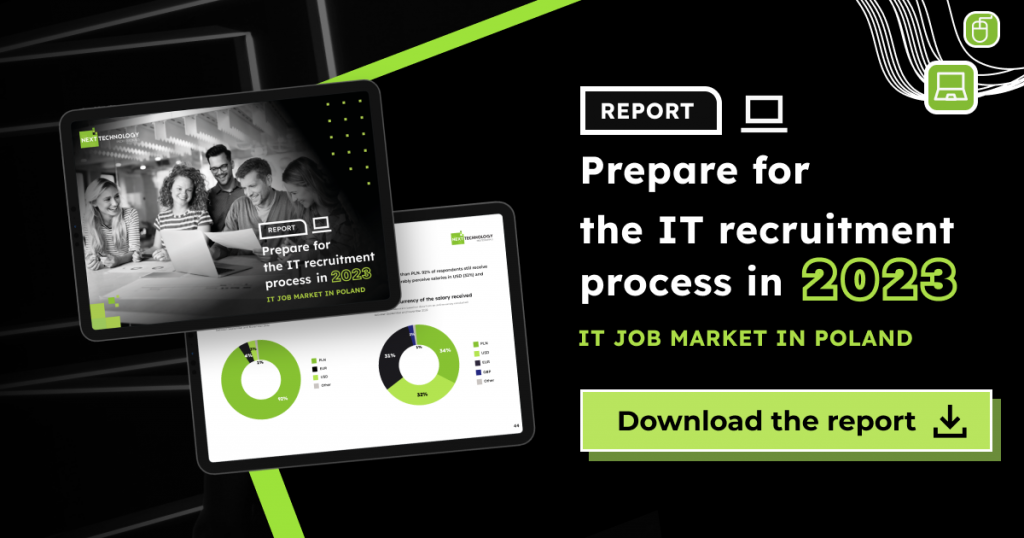 More remote work opportunities
Despite the abandonment of stationary work in many companies, 38% of offers still did not show the possibility of performing job duties 100% remotely. As the results of our survey indicate, 57% of professionals prefer to work completely remotely, while 42% chose hybrid work as the optimal model. Only 1% of respondents favor working 100% from the office.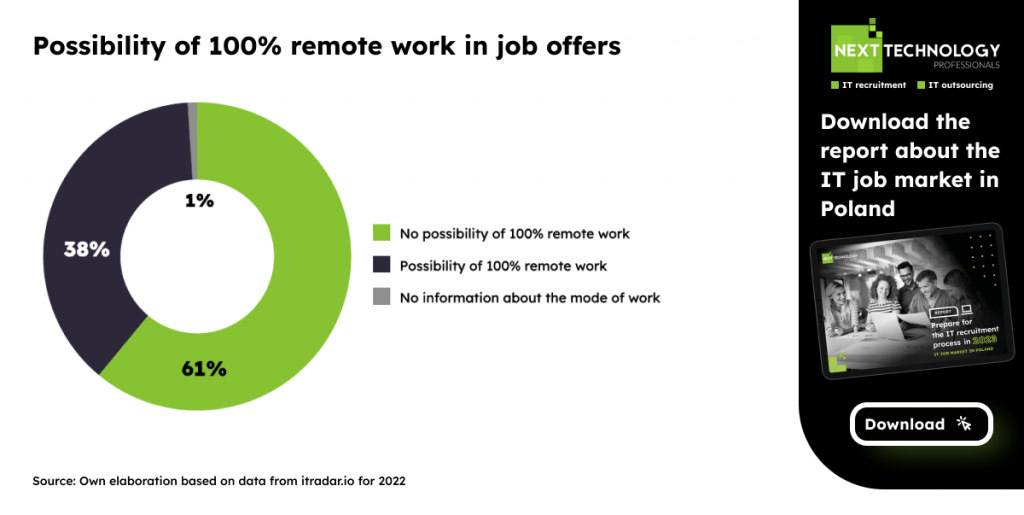 To sum up, as the presented data shows – despite the popularity of remote work, hybrid work is also often the preferred option. The fact that as many as 42% of respondents indicated hybrid work as the optimal solution means that it is worth giving programmers a choice regarding the preferred mode of work.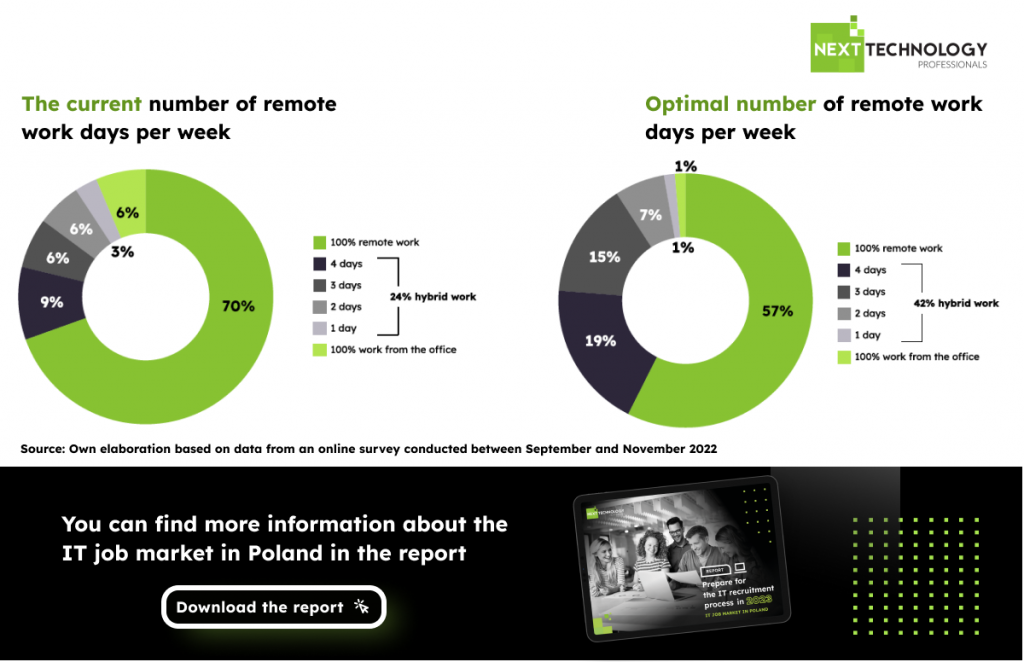 But is it the right thing to do? Learn about the biggest pros and cons of remote work! 😊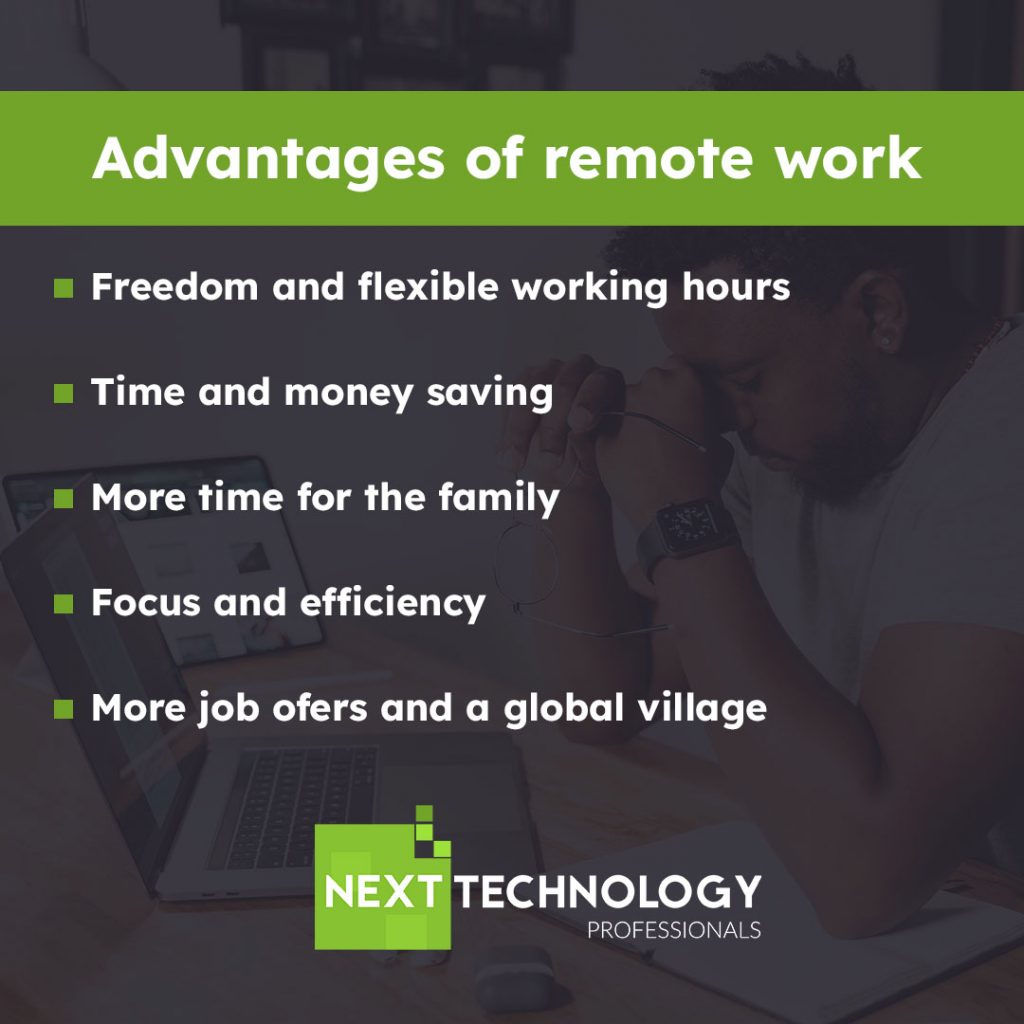 Advantages of remote work: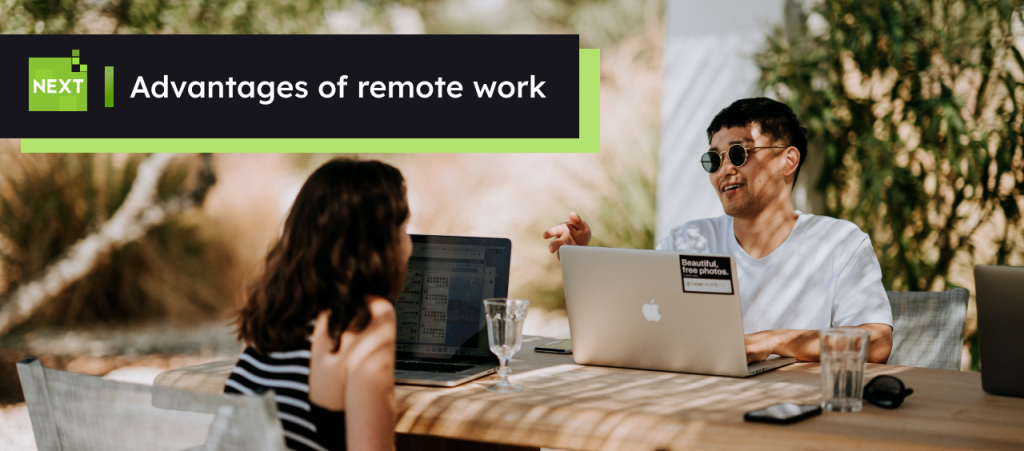 1. Freedom and flexible working hours
The employee has more freedom of action. You don't have to work under a strict time frame, you can take a lunch break at any time, or go out for a short walk. You can also work from home or from anywhere on Earth, where you have access to a high-speed Internet connection. It doesn't matter that you work from home at your desk, sit on a park bench, or sunbathe on a Caribbean beach. However, you should remember to take into account any time differences. 😀
2. Time and money saving
For many people, this is one of the biggest advantages. You don't have to get up a few hours earlier and spend extra time commuting to-and-from work, and as a result, you don't waste money on tickets or fuel. You don't have to worry about road conditions, traffic jams and potential delays. All you have to do is turn on your computer at the right time and log into the system.
3. More time for the family
When you need to take care of a family member, such as a child, a disabled person, or a sick person, remote work can be a good option. The same goes for you. If you often fall ill, suffer from chronic illnesses, or have any other health problems, remote work can allow you to perform your duties right from your home.
4. Focus and efficiency
When you do your work at home, it is not disturbed by conversations with colleagues, phone noise, or the sound of tapping on the keyboard by a dozen people. You can work all day in silence, peace and above all in full concentration. Based on the latest research conducted by Catalyst, access to remote work increases innovation by 63%, work engagement by 75%, and organizational engagement by 68%, in addition to improving employee well-being and productivity.
5. More job offers and a global village
It may happen that there was no dream job offer in your area, and those that suit you best were found many kilometers away from your home. By working remotely, you have the opportunity to get a job in companies not only in Poland but also around the world!
6. Improve health and well-being
Remote work can improve the health and well-being of employees. Employees have more control over their work environment and can tailor it to their individual needs.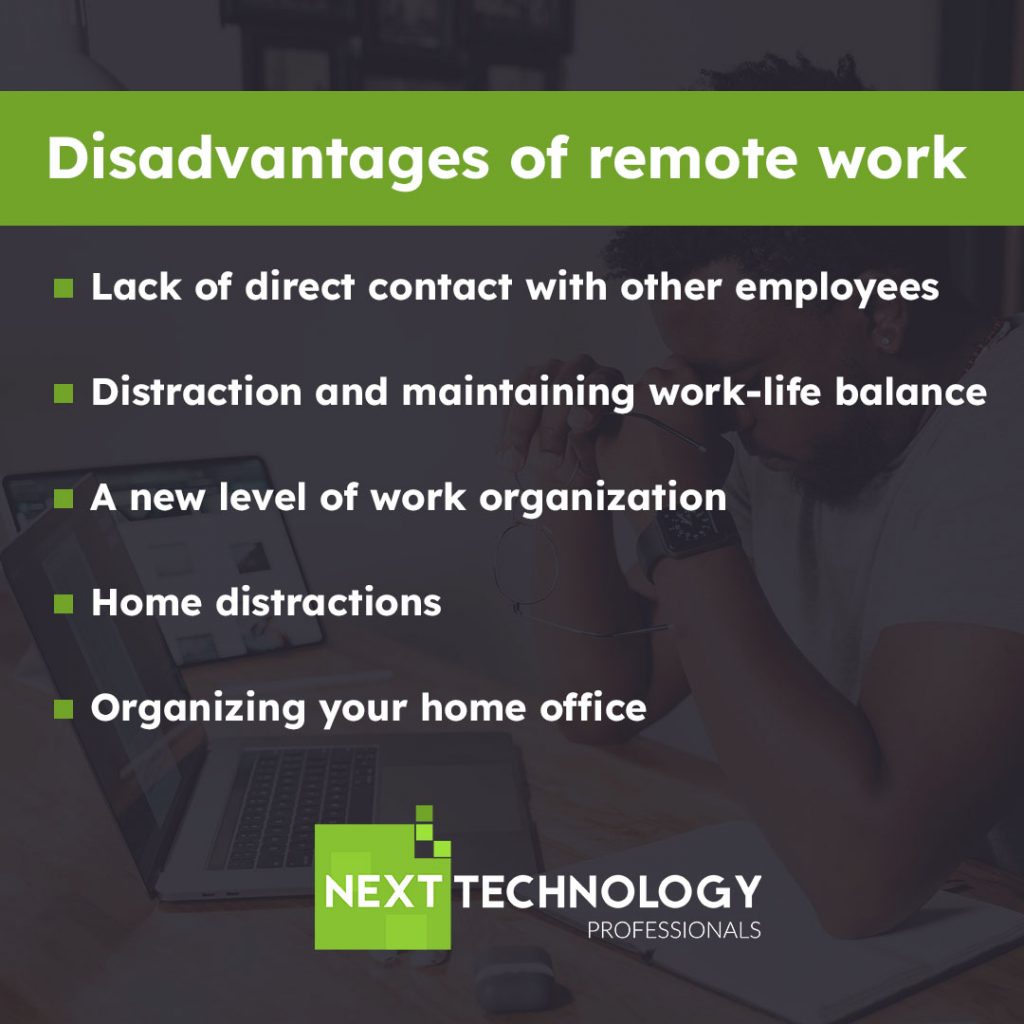 Disadvantages of remote work: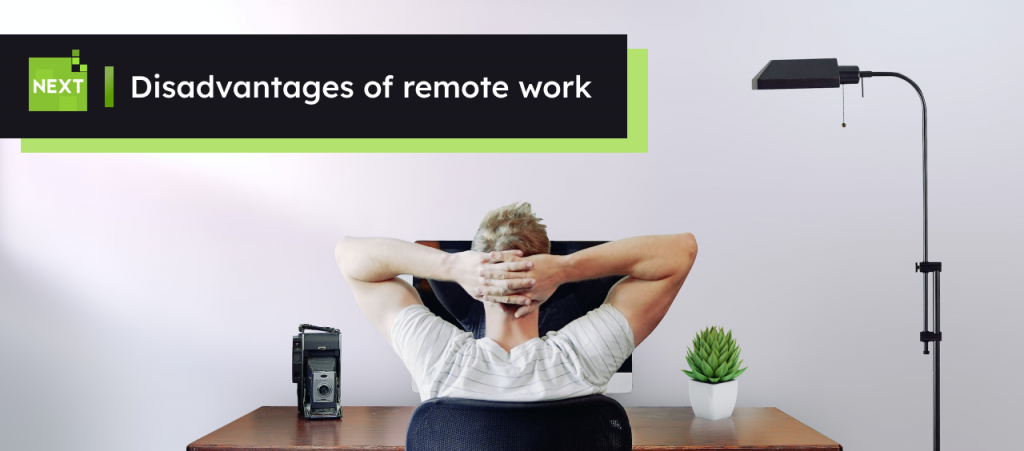 1. Lack of direct contact with other employees
We spend a large part of our lives at work, so the atmosphere there is very important and strongly affects us. The lack of physical contact and integration with colleagues from the office, resulting from remote working can be problematic for many people. According to research conducted by hrstandard.pl, as many as 44% of respondents indicated that it is the limited contact with colleagues and alienation that is the biggest disadvantage of remote work.
2. Distraction and maintaining work-life balance
Separating your work and personal life becomes more difficult when your dining room table becomes your work desk and you start sending morning emails directly from your bed. Your home should be a place of rest and relaxation, not a reminder of your business problems, so you need to set clear boundaries to avoid health problems – both physical and mental. The best ways to set such boundaries are to separate a special room and designate it as a locked office space. It is also a good idea to separate business and personal devices (laptop, phone). However, if we do not have such an opportunity, it is worth logging out of all platforms necessary for work after working hours, so that during free time we do not receive notifications about tasks and problems in the company.
3. A new level of work organization
By working from home you constantly have to maintain self-discipline and plan the course of each day. You have to organize your work to be efficient and show your superiors that you can be just as effective working from home as you can be in an office setting.
4. Home distractions
When you work remotely, you may be distracted by things like cleaning the apartment, making dinner, noisy family members, a neighbor drilling into the wall, or even the mailman banging on the door. Such situations do happen, but we are all humans and noise from behind the wall during an online meeting should not surprise anyone. It is very helpful to work with headphones. You should also remember to take care of private matters outside of working hours.
5. Organizing your home office
In order to be able to work in a focused manner, you need to organize a place to work remotely. A separate room in your home, which will serve as your home office, will help you with that. This will make it easier to maintain the work-life balance mentioned above. However, if you can't find such a room in your apartment and there is no space for a regular desk, effective work can be very difficult and tiring.
How to work from home effectively?
Working from home is not as simple as it may seem. It is important to create a schedule and routine for yourself. When working from home, it's easy to get distracted by chores or other distractions. By creating a schedule and sticking to it, you can help yourself stay focused and productive and make sure you get your work done on time.
Communication with the team while working from home
Working remotely can feel isolating at times, so it's important to connect with other employees from time to time and talk. However, regular video calls, instant messengers or e-mails can sometimes be distracting, so they should not be missing from your daily schedule. By chatting online with colleagues, you can keep up to date with any changes or events in the company. This kind of update will make you all feel like you are working towards the same goals and it can add a lot of motivation to working from home.
Conclusion about remote work
Remote work has as many advantages and disadvantages as working in an office. Effective work from home requires knowledge of yourself, your predispositions, expectations and abilities. Everyone should approach this mode of work individually and develop their own habits.A good compromise may be a hybrid work, which consists of working partly remotely and partly stationary. According to a report by the Future Business Institute, 42% of companies are predicted to increase remote working once the pandemic is over, but will not introduce it completely. Both remote and onsite work have their pros and cons. However, the advantages of working from home prove that you should definitely not be afraid of it. It all depends on our approach. 😊
---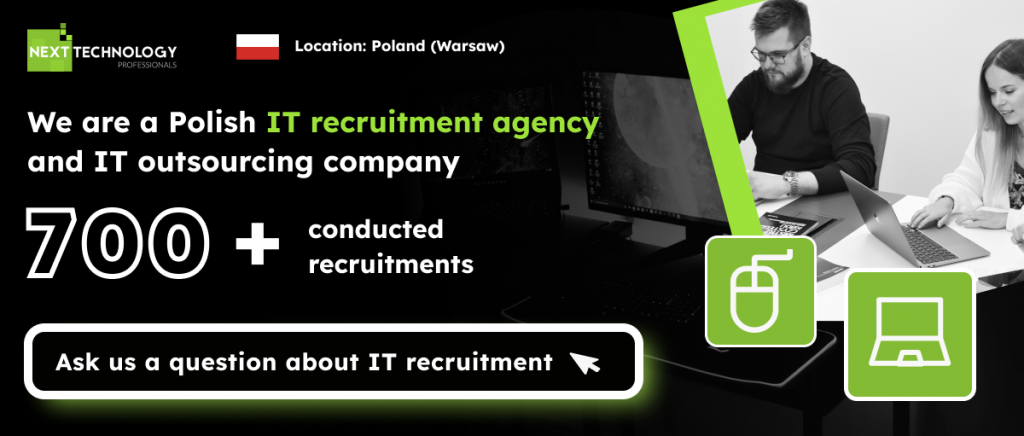 Check out all our services about IT recruitment in Poland. If you are looking for a suitable IT specialists for your company or you're thinking about IT outsourcing in Poland – contact us. As an IT recruitment agency in Poland will help you find the best programmers.