In 2020, Poland was ranked 7th among the busiest nations. According to data from OECD, each of us worked an average of 1,766 hours over the year. In addition, as we can read in the "Polish Labor Market Barometer 2021", after the outbreak of the pandemic, due to the unpredictability of the situation on the market, Polish workers currently face greater stress at work.
In the remote working style, it is more difficult for us to take care of mental well-being and maintain a balance between private and professional life. Employees increasingly complain about fatigue and lack of motivation, as well as lower job and life satisfaction. We are in need of rest, relief and peace.
Stress and burnout can have serious consequences both for the employee and for the employer. The solution to these problems may be a shortened working time. However, the 4-day working week still raises concerns of Polish and foreign companies. But should it?
Tests in Iceland – how it all began
The first studies on the effects of reduced working time were carried out in Iceland. They were the result of pressure of social organizations and trade unions that wanted to improve the issue of work-life balance. 2,5 thousand workers in 100 different workplaces took part in the experiment, which stands for over 1% of the country's working-age population.
According to the publication "Going Public: Iceland's Journey to a Shorter Working Week", the experiment had a number of positive results.
Despite the reduction in working time, employees' incomes remained at the same level.
In most jobs, productivity and service delivery have not changed, and in some cases have even improved.
Workers' well-being (including perceived stress, burnout, health and work-life balance) has improved.
After the end of the trials, 86% of workers in the country now work shorter hours or have been granted the right to shorter working hours.
After the tests in Iceland, other countries became interested in the subject of shortened working hours. First of all, Spain, where in 2021 the government provided €50 million to finance companies that will take part in a pilot program of shorter working hours. In New Zealand, in turn, the prime minister drew attention to this aspect in the context of enabling the solution to the economic problems caused by the coronavirus pandemic.
As PIE analysts note, the results of the Icelandic experiment are also confirmed by companies that decided to perform tests among their staff, including: Perpetual Guardian in New Zealand, Microsoft in Japan, as well as in Toyota service in Sweden, where, after introducing a 6-hour working day, both employee productivity (by 14%) and company revenues (by 25%) increased.
Poles' needs
Poles are more and more willing to work in a 4-day mode. According to the Personnel Service survey, 68% of respondents believe that such work would positively affect their health.
The number of supporters of such a solution grows with the education and size of the employing company. The greatest number of supporters of shorter working hours are people working in the largest companies (almost a half), less – in companies employing up to 9 people (31%).
The answers also differ depending on the age of the respondents. More than half of employees aged 25 to 34 are strongly in favor of reducing working time, while only 45% of their older colleagues (35-44 years old) have a similar opinion. Only 17% of respondents criticized this idea. The latter group includes mainly people over 55 and entrepreneurs running their own businesses.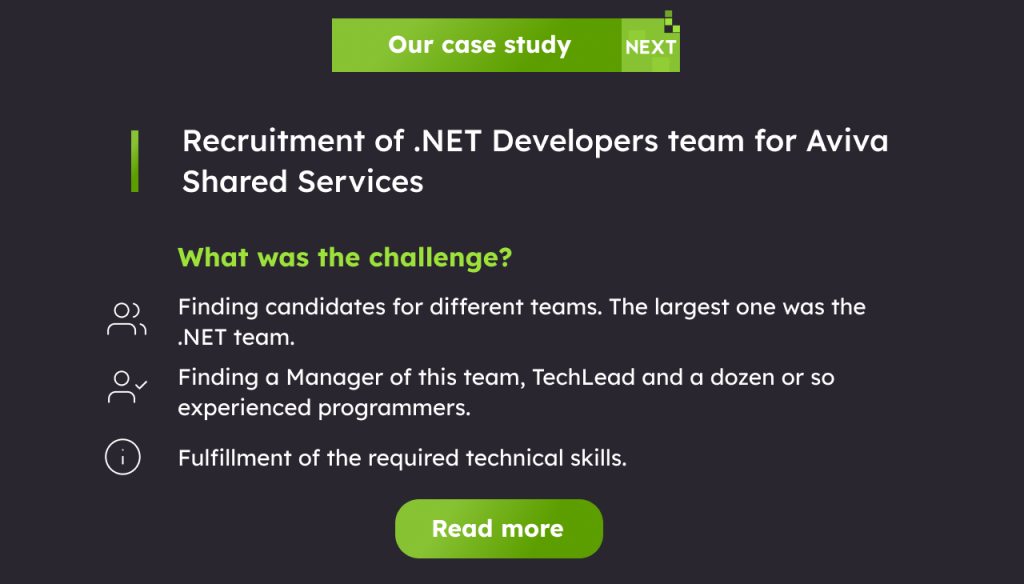 Pioneers on the Polish market
In Poland, the 4-day working week is not common. Only 9% of respondents have experience with such practice. The Hays report identifies several variants of shortened working time used in Polish companies.
30% of respondents who experienced shortened working time indicate the so-called "compressed hours model", i.e. the division of 40 hours a week into 4 days of work, e.g. 10 hours a day. On the other hand, the most common variant on the Polish market is working 8 hours a day, 4 days a week (37%).
The pioneers in the country who were the first and few to decide to test such a model are mainly IT companies. Even if their solutions do not reduce the number of working hours, some companies have found a way to motivate employees with chiller Fridays or by increasing the number of hours devoted to skills development.
One such company is Nozbe, where employees spend their Fridays summarizing previous days and planning work for the next week. On these days, they also take part in trainings and play sports. Similarly, in Senuto, it was decided to move all trainings and workshops to Fridays, thanks to which the last day of the week is calmer and does not require employees to deal with current tasks.
The Cogworks Poland chose yet another solution. Managers noticed that they did not always manage to finish interesting projects in one day, which they called "Freedom Friday". Therefore, they decided to refine their idea. Employees meet every two weeks and spend two days in a row on education, relaxation and external projects during hackathons.
Some companies decide to shorten the working day while staying with the 5-day week, e.g. in Kava, the strategic and creative agency, employees stay in the office only 6 hours a day. Similar steps were taken by the Polish branch of Tradedoubler, additionally introducing a ban on internal meetings from 9am to 10am and after 3pm, as well as setting the hours when employees should be available. Time limits for current meetings (up to 30 minutes) have also been added.
Each of these companies noticed many positive results of the reduction of working time, such as increased opportunities for employee development, no overtime, greater respect for the work of colleagues, increased number of implemented projects, improved performance (KPI), and in some cases even increased revenues in the enterprise.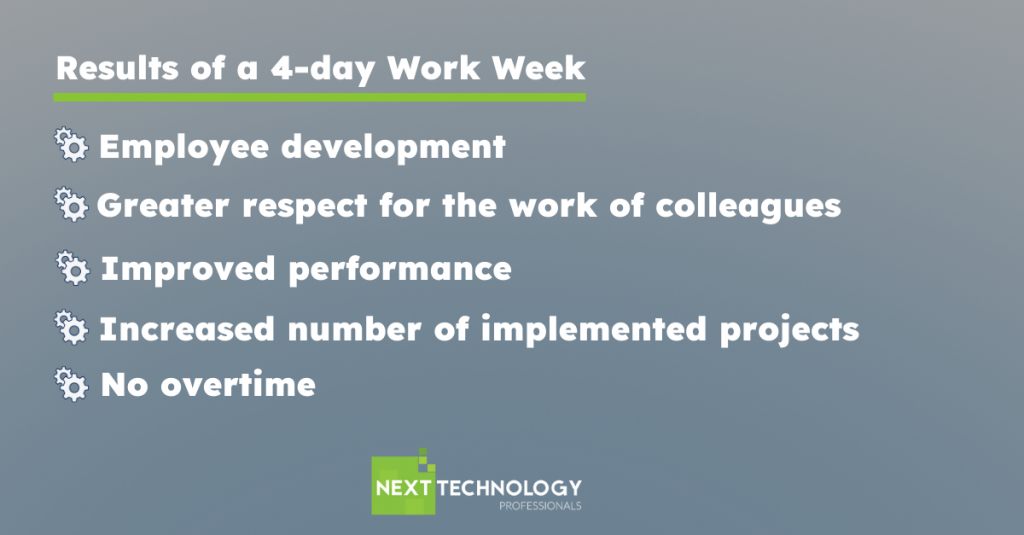 Perhaps in times of increased anxiety and stress, as well as changes in the organization of work related to a pandemic and the need to work remotely, it is worth looking at this solution. This will allow employees not only to breathe and take care of their own health, but also have a positive impact on their motivation and joy at work, while contributing to increasing work efficiency.
---
If you need support in recruiting IT specialists – contact us and find out how we can help you 🙂