Choosing an outsourcing provider is not easy. Many companies on the market offer to help you provide employees for your project, but how to choose the best one? Don't worry. We created this article to help you make your decision. Here is a list of 10 questions you should ask before signing a contract with a vendor.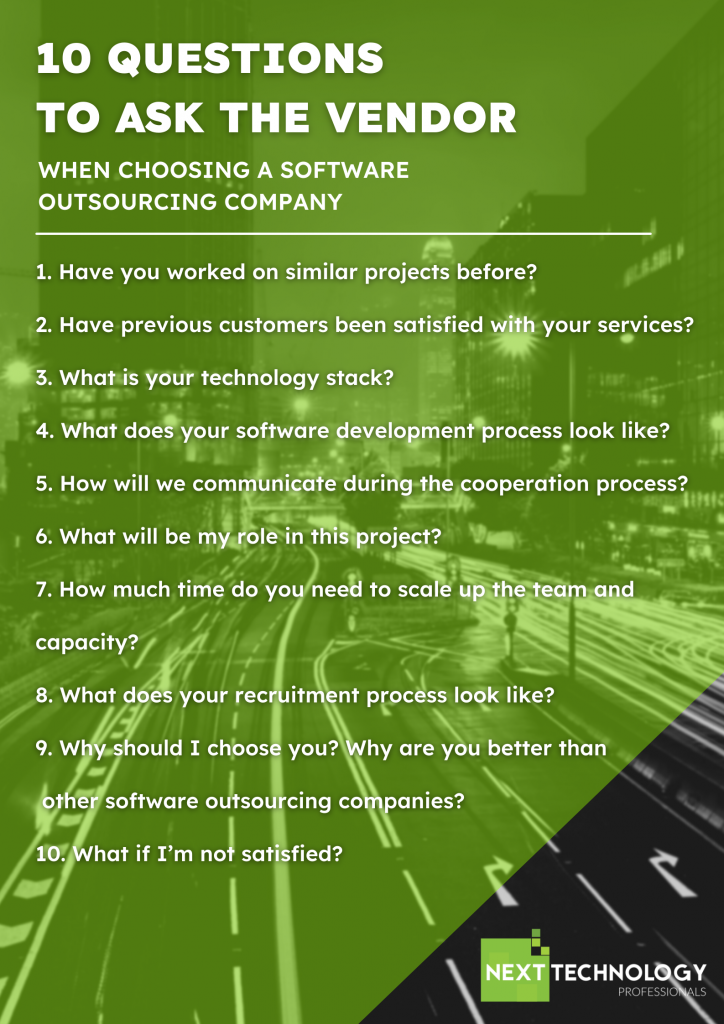 1. Have you worked on similar projects before?
Whether you are looking for an entire project team or perhaps just specific employees, in the beginning, you should ask about previous experience. If they have similar projects to yours in their portfolio, it's excellent! With this experience, they will be able to advise you better, increasing your project's chances of success.
Note: Before you ask this question, you can check out the company's website or profile on Clutch and review their case studies yourself. However, keep in mind that not all clients agree to share information about working with an outsourcing company. So even if you don't find a similar project on the vendor's website, it doesn't mean that the outsourcing company doesn't have experience in this area.
2. Have previous customers been satisfied with your services?
When you know if they have experience working on similar projects, it's a good idea to find out if their previous clients were happy with the collaboration. It is also where you can start with your own research. It's a good idea to check the supplier's company website and their profile on Clutch or another portal dedicated to providing references. 
If the outsourcing company will not be able to send you at least a few references of previous clients, cooperation with it is a big risk. There is a chance that the company is hiding something and previous clients were not satisfied with their services.
3. What is your technology stack?
When building software, the technology stack is essential. If you are looking for development support for an existing project, the outsourcing company should provide you with employees familiar with the technologies you are working on.
If you are starting a project, the outsourcing company's consultant should share his knowledge and experience with you and be able to help you choose the best technologies to suit your project's specifics.
Note: If you need support in implementing a new project that you will want to maintain internally in the future – you must remember to choose well-known solutions. Avoid niche technologies, as this may cause difficulties in finding employees who will work on this project when the cooperation with the outsourcing company ends.
4. What does your software development process look like?
The way an outsourcing company works will significantly impact the success of your project and the successful collaboration between your companies. Especially if you opt for a staff augmentation model and are looking for people to work with your internal team, these people must work in a similar way to your company.
You can expand on this question and ask about more specific issues you are interested in. Below you will find some sample questions:
What is the methodology of your work?
Do you use Scrum?
How often do you have team meetings?
Do you work on technical documentation?
What are your best practices for writing code?
How do you take care of security issues?
5. How will we communicate during the cooperation process?
Communication is the key to the success of your partnership. Therefore, you should ask the outsourcing company how they will communicate with you and keep you informed about the project's progress, plans, as well as possible problems or concerns. Ask not only about the way but also about the tools they use to communicate.
It is crucial to find a partner willing to help you when you need it and communicate with you to make you feel they are providing the highest quality service.
6. What will be my role in this project?
Even if you have no experience in IT project development, you can have a real impact and be an active participant in the project.
There is no good or bad answer to the question about your role in the project. The outsourcing service provider must want to meet your expectations and adjust the model of cooperation that suits you.
You can read more about different outsourcing models and division of responsibilities in the article: Various IT Outsourcing Models: How to Choose the Best One For Your Business?
7. How much time do you need to scale up the team and capacity?
One of the reasons companies choose to outsource is to ensure project continuity and access to a large base of skilled professionals. Scalability and flexibility are essential, so before you consider working with an outsourcing company, you should make sure they can provide you with as many employees as you need.
If you decide to increase the number of team members at some point in the project, would your vendor be able to provide them? If so, how long would that take? They are fundamental questions that affect the success of your project.
8. What does your recruitment process look like?
Regardless of the partnership model, when you work with an outsourcing company, you work with specific people hired by the vendor. Therefore, you should learn as much as possible about the specific employees who will be involved in your project. First of all, you can ask to see their resumes.
You can also ask your technology partner what the process of recruiting people for their company is like. Try to find out where your vendor finds the candidates and what they look for when hiring new employees. It is very important because it will help you learn more about the people who will be critical to the success of your project.
9. Why should I choose you? Why are you better than other software outsourcing companies?
Let your potential technology partner convince you why you should work with them. Not everything can be found on a website. You may find that the company you are considering partnering with has unique features that are a perfect fit for your organization's needs. It's worth asking this question, especially if you still have doubts if you are talking with the right vendor.
10. ​​What if I'm not satisfied?
Customer satisfaction should be every company's top priority. Software development is a complex process, the success of which consists of many factors. That's why every outsourcing company should be prepared for possible customer dissatisfaction and have a scenario on what to do in such a situation.
Asking such a question at the beginning of cooperation will give you a clue on how to communicate your possible dissatisfaction and what solutions you can expect.
Note: If the vendor answers that he does not predict that the customer may be dissatisfied, it is not a reliable company. All professional companies should be prepared for all possible scenarios.
---
Are you looking for an IT outsourcing company in Poland that will meet your expectations? Check out Next Technology Professionals' offer and hire the best specialists for your project! You can also read more about IT contracting and other IT recruitment services in Poland.