According to Get2Growth, around 305 million startups are created worldwide every year. It is estimated that currently there are more than 3,000 of them in Poland, so it is not surprising that startups are increasingly active on the Polish labor market.
As many as 59% of Polish start-ups indicate that programmers are the professional group they miss the most. In second place is a related profession – an engineer specializing in creating algorithms responsible for machine learning. Such specialists are sought by every fourth Polish startup (24%). Positions in this type of organization are attractive, especially for people looking for a new experience. The desire to broaden their competencies and skills, working on innovative solutions, an unconventional approach to business, as well as gaining new experience – often international – are the most tempting for candidates. Startups recruit for many positions, but due to the fact that they are working on their own solution or product, very often these roles are for IT specialists. Recruiting developers to a startup presents many challenges, but also opens up numerous opportunities during the hiring process. In this article, you will learn how to hire developers for a startup.
If you are wondering what are the reasons to choose Poland for IT outsourcing, read our article dedicated to this topic.
What is a startup?
A startup is a term used to describe a young company or temporary organization whose goal is to capture a new market for its product and achieve global success at a rapid pace, while not spending a lot of money in the process.
Startups are most often associated with the technology and IT industries, however, they can also be found in other industries such as gastronomy, logistics, medicine, interior design, or ecology. This fact stems from the fact that startups most often develop on the Internet because thanks to this there is a possibility of gaining an international range, and thus – a greater chance for financial success.
Well-known Polish startups include companies such as:
An important advantage that works in favor of startups is the experience that can be gained by developing them. Due to the fact that running such a business does not require a huge financial outlay, but rather time and a well-thought-out business strategy, even the failure of a project will enrich the entrepreneur with new skills and experience, thanks to which he will realize his next idea in an even better way.
However, founding a startup comes with a high risk of failure. Most young companies that have received funding through development or crowdfunding platforms such as Kickstarter have declared bankruptcy. According to Piotr Prajsnar, founder of Cloud Technologies, probably 90% of tech startups will fail within 12-24 months of operation, 8% will turn into normally functioning companies, and 2% will be globally successful. The reason for this is that, as a rule, such companies do not have a preconceived business model, but try to shape it themselves. The appearance of an investor does not guarantee that the project will be considered a success.
Do you want to hire Freelance Startup Developers?
Toptal is a marketplace for top Startup developers, engineers, programmers, coders, architects, and consultants.
What qualities should a programmer working at a startup have?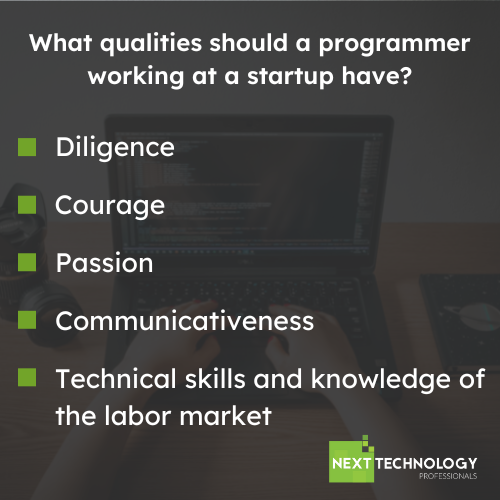 A startup in a nutshell means a lot of work, short deadlines, and many things happening at once. You need to release valuable customers' features or products as soon as possible and win the market. A programmer in a startup very often has to be able not only to program but also – if necessary – handle administrative or database work. In a small team, it is difficult to separate specific areas of specialization, so it is not always accepted that someone writes only the backend, the frontend does not know at all, and SQL does not like it.
Courage is needed right from the start. It takes courage to make difficult and risky decisions or to take on often breakneck tasks. But this actually guarantees real development and gaining valuable experience, which will certainly be appreciated later in your career.
Passion is one of the best traits of IT professionals. The very idea of a startup often comes from passion. The founder of the company is guided by a certain mission and is looking for employees who will support him in achieving the set goal. Only together the startup is able to achieve success. In addition, in the IT industry man is constantly developing, because there are new technologies that must keep up. Passion is also needed to cope with often less interesting, but necessary, tasks such as introducing changes that do not significantly change the functionality, or correcting errors.
A startup is a very dynamic environment full of changes, often functioning without any formal processes or tools at the beginning. Such an environment requires communication skills, openness to ideas, and the ability to communicate technical aspects in a way that others can understand. A programmer in a startup business has to understand many people – he has to be able to communicate with someone who creates the vision of the product, understand accounting, or communicate with a lawyer who will be explaining regulations related to personal data protection.
Technical skills and knowledge of the labor market
A programmer at a startup must be an exceptional professional. Often the financial situation of startups is not entirely stable, which makes costly mistakes unwelcome. Hardly anyone can afford to make mistakes at the very beginning, which will often determine the product for a long time and can become problematic if not fixed early on. You also need to have excellent knowledge of the market and new solutions, because not all of these technologies will stand the test of time, and not all are suitable for production applications. It is therefore advisable to exercise restraint when implementing any technological innovation from the market into a project.
How to hire a programmer for a startup?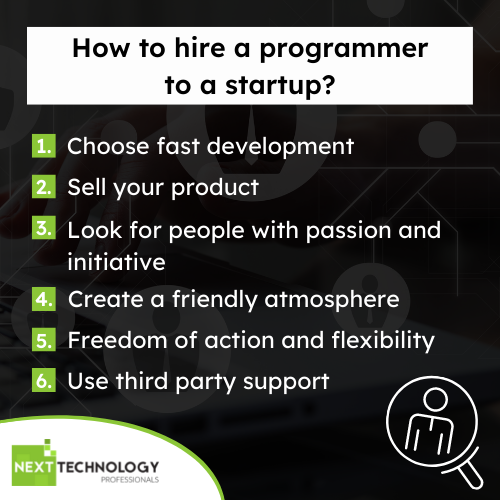 1. Choose fast development
Lack of formal savoir-vivre, innovative approach to business, openness to novelty, and a committed team are conducive to the rapid development of employees. Candidates often emphasize that deciding to work in a startup, they count on great opportunities for development. In such an environment, it is much easier to demonstrate and come up with your own initiative, and thus faster to get promoted or achieve new successes.
During the hiring process, emphasize what stage of development your product or service is at. Be sure to let the candidate know how much decision-making power the employee has in your company and how it works. Creating an environment where every voice counts, and where you can openly present your ideas and propose new solutions to the project within the team can be very encouraging. The pace of development is much faster than, for example, in corporations, where promotions and job scope are often burdened by long seniority and numerous procedures.
2. Sell your product
The biggest advantage of working at a startup is the ability to create products and services in response to customer or user needs. The key during the interview is to talk about what exactly the company does, its mission, and its vision. The candidate will know if this coincides with their values. Additionally, it's a good idea to tell a brief history of the company and share information about financing to ensure, for example, a guarantee of regular salary payments.
Also, the feeling when users use the results of your work to make their lives better is absolutely amazing and hard to compare with anything else. Being able to have a real impact on the end result is also a big advantage. The young companies are dominated by a flat structure that makes every good idea count, regardless of whose authorship it is.
3. Look for people with passion and initiative
While recruiting, ask candidates about their hobbies, what they do in their spare time, what passions they have, and if they do anything extra outside of work. Perhaps they have their own blog, run a YouTube channel, share their projects on GitHub, or have appeared as speakers at IT events?
These types of attitudes are very important when working in a startup, which is constantly evolving and developing and needs people who are not afraid to take the initiative, think creatively, think outside the box, and are hungry for new knowledge and development. They can also be excellent brand ambassadors who will attract other candidates to work for the company.
4. Create a friendly atmosphere
The atmosphere in this type of company should be relaxed and open, but not disruptive to the proper track of work. Everyone should perform their duties but without unnecessary tension and stress. The candidate should feel that he/she is taking part in something important that reaches a large audience and have a lot of room for invention. There should be full cooperation between team members, and exchange of ideas and concepts, based on collegial principles.
5. Freedom of action and flexibility
Flexible work hours are a big advantage. So is the possibility to work remotely. Introducing these types of benefits can prove to be a very attractive aspect for a candidate. According to our report "Prepare for the IT Recruitment Process in 2022" the ability to work from home was one of the top benefits. If you want to know what are the advantages and disadvantages of remote working, we recommend our article dedicated to this topic.

It may also be a good idea to introduce a benefit in the form of an opportunity for employees to buy shares in the company. This will further unite the team and strengthen the sense of influence on product/service development in the startup and belonging to it.
6. Use third-party support
It is worth remembering that the IT industry is governed by its own laws. If your startup does not have an experienced recruiter, HR department, or simply does not have enough capacity to find the right programmers, it is worth using the help of a professional recruitment agency. It will help you find the right IT professionals to help your startup grow in a short period of time.
Summary
The right fit between your employees and your start-up is the key to success and ensures you create a committed and cohesive team that will strive to achieve your goals. If you want to build a team that will reach the top, you need to take care of proper Employer Branding, Employee Value Proposition, as well as constantly work on recruitment marketing. Many other factors have an impact on finding the right programmer, such as proper recruitment planning, choosing the right methods, as well as professional verification of candidates, caring about the uniqueness of the employer's brand, and honest communication of the organizational culture and values. With these, finding and attracting valuable people who meet the startup founders' expectations and have sufficient experience will become easier.
At Next Technology Professionals, we are able to present our first candidates even within 3-5 days. Thanks to our extensive candidate database, direct search method, and in-depth candidate vetting capabilities, we are able to carefully select candidates and deliver only the most promising resumes.

Need to hire the best developers for your startup? Contact us! We can help you find the IT Specialists you need to grow your business.