Game development is one of the most dynamically growing and exciting industries worldwide. With more than 2 billion people playing games routinely, it provides game creators with countless opportunities and great potential to explore. Let's see what the industry looks like in Poland – one of the significant European gaming hubs.
What is Game dev?
Game dev is a sector of the software development industry focused on the development and distribution of games. The process of game creation typically requires input from various specialists including designers, programmers, animators, testers, artists, and other professionals engaged in concept generation and release, not necessarily involved in the software development tasks.
Before we move on to describing the game dev industry in Poland, let's shortly sum up the difference between game designers and game developers. Although these two terms are sometimes used interchangeably, they are separate technical roles with different fields of competencies and responsibilities.
A game designer is a person involved in designing the game's mechanism, aesthetic, and structure. This position is undoubtedly less technical than a game developer.
A game developer is actually a software developer, and their role is to turn a game design into a ready-to-play game. The role involves coding and using game engines, and requires highly technical skills.
Gamedev in Poland
According to PARP, the Polish video game market is worth around 470 million EUR. There are around 600 game development studios that provide jobs for 10.000 people.
Why is Poland so successful in the game dev industry? There are two major reasons for this:
there are nearly 16 million active gamers (almost half of the entire country's population), which results in huge demand,
high level of mathematics in the education system and a number of universities providing candidates with outstanding programming skills. To learn more details about the game dev education opportunities in Poland, check out the Polish Gamedev website.
Polish studios launch almost 500 new game productions every year, and 96% of them are exported abroad. This means that the most iconic games, such as Cyberpunk 2077, are played around the world and are the main topic in international games-related media.
The biggest number of game dev companies operate in Warsaw, however, other cities such as Poznań or Katowice also strongly contribute to the growth of the industry.
Game dev studios in Poland
Among 600 listed game dev studios operating in Poland, the majority of them are small and independent and hire no more than 10-20 people. Only ten of them hire over 200 employees. 44 of them are noted on the Warsaw Stock Exchange.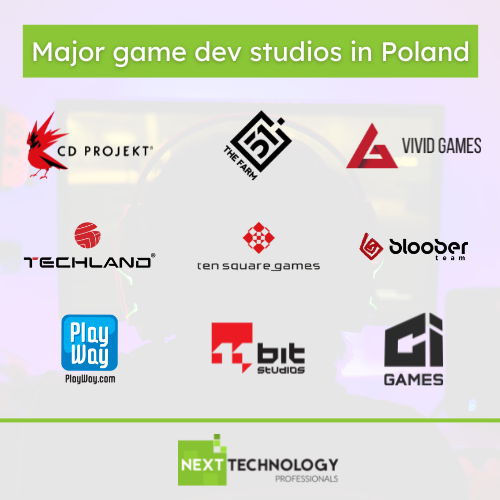 The most iconic studio is, obviously, CD Projekt Red, which is the most valuable game company in Europe. The company was established in 2002 and opened its locations in a few Polish cities shortly after. Now, except for the offices in major Polish cities, they cooperate with contractors in Tokyo, Berlin, Shanghai, and Los Angeles that help to coordinate their sales and marketing activities worldwide. In total, they hire nearly 800 game developers and industry specialists.
Their flagship games, such as The Witcher and Cyberpunk 2077, are popular worldwide and were sold more than 50 million copies. They are powered by the company's own game development technology called REDengine which is being constantly upgraded to remain the position of the top software solution.
Game Developer skills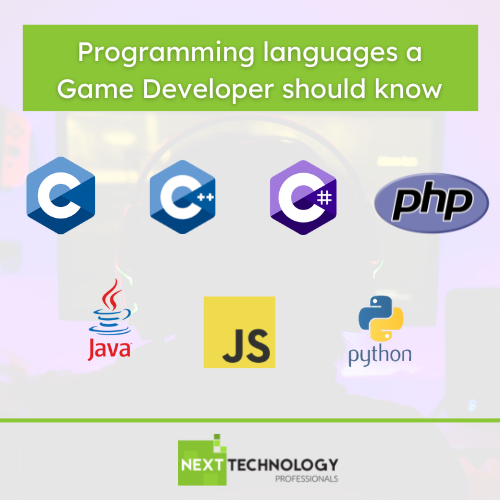 Some of the most popular game development environments are Unity and Unreal which allow you to design games for various devices used by users, including mobile, as well as web browsers.
Knowledge of the following programming languages will also be required to design simple games:
Java
Java Script
C
C#
C++
PHP
Python
Of course, there is no need to hone all these skills to the level of an expert, but it is useful to know the basic principles, tools, and limitations that can be encountered in these areas.
According to Kodilla.com, two groups of people are most likely to think about a career in game dev. The first is people with experience in IT or who are considering a start in this sector. Some of them were previously involved in game testing. The second group combines a passion for gaming with technical skills.
Game developer salary
What is the salary of a game developer in Poland?
According to Glassdoor, the median total pay is 18.854 PLN per month, with 9.427 PLN on average. The salary typically comes along with cash bonuses, tips, and profit sharing, which makes positions in the industry even more attractive.
According to Salary Expert, a Game Developer in Poland earns around 6.800 PLN per month, with the highest salaries reaching 10.600 PLN. This is the average monthly salary including all benefits.
According to the "Game Dev" report created by enterthecode.pl, entry-level professionals can expect to earn between PLN 4,500 and PLN 7,000 gross. Although there are exceptions such as Junior C++ Developer (MMO RPG Project), where a salary of PLN 5,000 to PLN 9,000 is offered.
As your skills increase or you are promoted to a position requiring more experience, you can earn between £8,000 (€1,678 | $1,682) and £10,000. (€2,098 | $2,103) gross. For senior positions and other more unusual positions, where high and proven specialized skills are required, you can earn much more. A Unity Game Developer can expect an earning range of PLN 23,500 (€4,931 | $4,942) to PLN 37,500 (€7,870 | $7,886) gross per month.
Game testers can expect to earn from 3,500 PLN (€734 | $735) gross per month at the outset.

The Summary
If you wish to hire a game developer in Poland, feel free to contact us. Our database consists of over 35 000 IT experts.
And if you're a game developer currently looking for new challenges, feel free to send us your CV to join our database and remain open for new exciting opportunities.