Can workation be possible in the work of an IT recruiter?
Justyna Gałązka will answer this question. Our IT recruiter with over 3 years of experience went on a trip to Tuscany to test workation mode in a camper. As part of the Call For Tech series, we were able to find out what, according to Justyna, are the greatest advantages, as well as the challenges of remote work combined with active rest. Would this style of doing tasks also pass a positive test for you? Find out by reading the article and going on a journey yourself 🙂
When more than 2,000 people working remotely were examined in the Buffer study presenting the state of remote work for 2022, it turned out that as much as 97% of those surveyed want to work remotely until the end of their career. Since the Covid-19 pandemic, it could be said that remote work has become normal for us, which has many advantages.
Do you agree with that?
Yes. The most significant advantage of remote work is the possibility of organizing the space and where we will work. Whether we want to find a special room to perform our duties or work on a plot in the forest with WiFi access is our business. Due to this phenomenon, the terms "digital nomad" and "workation" gained popularity.
Exactly, can you tell me more about what these terms mean?
A digital nomad is a term used to describe a person who works remotely and is not tied to one place. They can work abroad for several months, sometimes even change their place of residence every day. There is no single definition for this word. Workation is remote work performed from a place that is usually attractive to tourists. I have had the opportunity to work this way several times and it was the best possible decision.
That's great. I can't wait to hear about it! Maybe let's start with where did you go for workation and for how long?
I have not yet had the opportunity to work this way as much as for a period of several months or more. Those were rather weekly trips. I worked from Prague or our Polish mountains. Recently, I had the opportunity to check workation mode during a trip to Tuscany in a camper.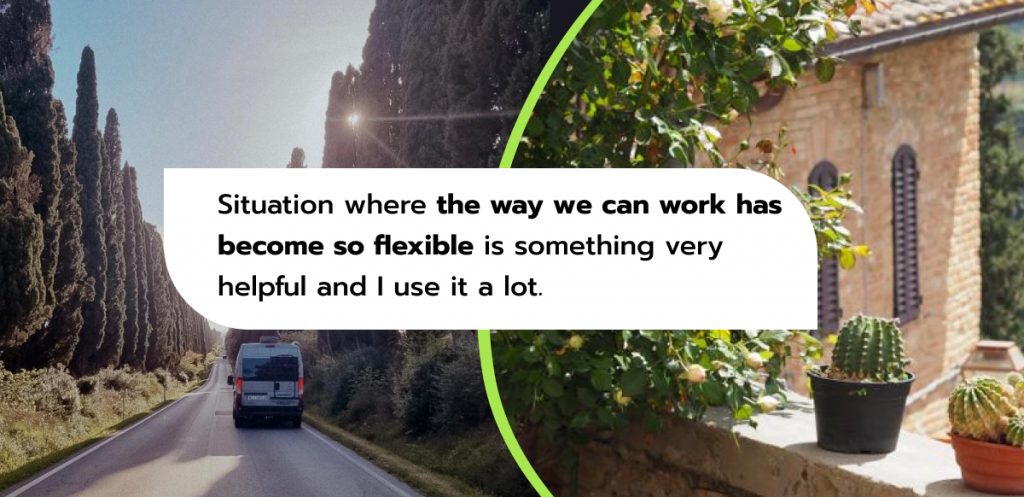 What did you do after work? What places have you visited?
Due to the fact that we traveled in a camper, we gave up visiting big cities. We focused on small local towns: Montepluciano, San Gimignano, Lucignano. We also followed the footsteps of Gladiator, saw the famous Gladiator Road and the entire Val d'Orcia valley.
Was the organization of work related to IT recruitment similar to the one you would normally do at home working remotely? How did you deal with the tasks in the camper?
It was a bit different due to the smaller space and the fact that the views outside the window often changed, because we were constantly driving and stationed in different places. I also had to remember that despite the holiday conditions, it was still a working day, not a vacation, so as always, I had to prepare my workspace.
The work of an IT recruiter is associated with conducting a large number of interviews with candidates, so in order for it to be done professionally, noises or other sounds from the environment shouldn't be present. It is worth paying attention to the space that surrounds us. There are video calls with candidates during the day, so we should especially take care of the space visible in the camera. A stable Internet connection is an important standard not only in the workation mode, but also when working remotely at home. Of course, if we work from a hotel, it does not necessarily have to be a problem, but when moving around in a camper, we happened to choose a place to park, being guided primarily not even by the comfort and surroundings, but by Internet reach. Once we had it, there was no problem with doing tasks. We traveled around the European Union, so we had the appropriate data plans.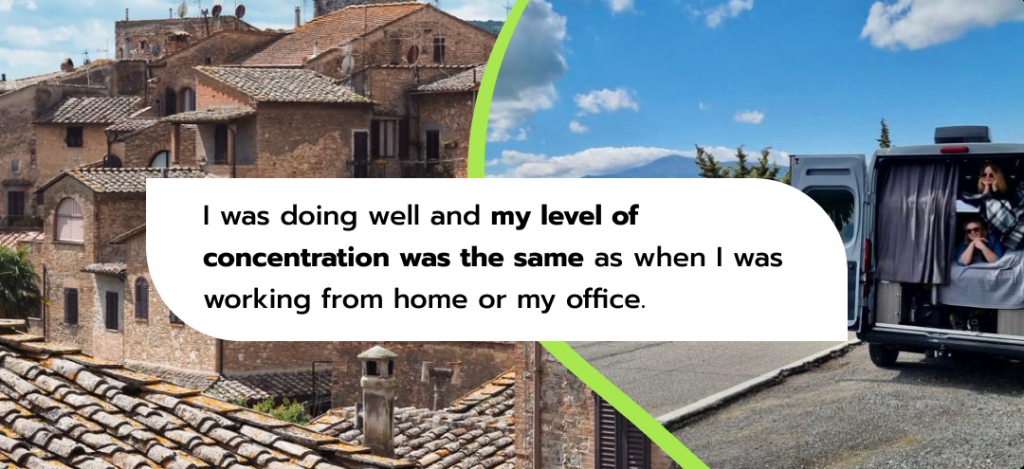 Speaking more about the organization of work, I should also mention that apart from me, there were also 3 other people who were with me in the camper. They usually went on a walk in the morning and I was working alone in the camper. However, if I was only doing a search and someone was also in the car, it did not bother me too much. It was different when I knew that I had many interviews planned with clients or candidates on a given day. Then we agreed that my fellow travelers would go sightseeing, so as not to disturb me.
Did you face any additional challenges?
Let's start with the fact that 4 adults had to fit in a relatively small space. The first days were a lesson on how to properly move around in a car, so as not to take up too much space for others. In addition, the use of a camper was something brand new for us because we had never traveled this way before. We had to learn how to heat water, use security systems or other functionalities. As for the temperature, fortunately in Tuscany in May it wasn't a problem, but I can imagine that at other times it could be a challenge to work in the heat.
I also have to admit that sometimes we circled the parking lots and weren't sure where to park for the night, but luckily the Park4night application helped us. Thanks to the reviews and photos showing that the place was checked out, we felt safe.
How did you feel after returning? Do you think you could be able to work in workation mode for a long time?
Traveling is my greatest hobby. I could be in workation mode all the time (maybe sometimes with short breaks). So a situation where the way we can work has become so flexible is something very helpful and I use it a lot. During a weekly trip, I can have 3 days of normal vacation and 4 days of work outside the home. I often try to combine it.
You might wonder what is the level of productivity during such trips. I must admit that being in travel mode did not have a negative impact on my motivation. I was doing well and my level of concentration was the same as when I was working from home or my office.
After my return to Poland, even though I was really working on my trip, I felt refreshed. I was glad that I was able to visit beautiful places and at the same time tell interesting stories to my colleagues from work.
A public opinion poll from 2021 shows that two-thirds of working Poles experience symptoms of burnout. In your opinion, could such trips make a difference? Is workation for everyone?
We hear more and more about burnout from work these days, and it affects even young people. I think workation is the answer to the daily routine. It can also be a huge source of inspiration because travel broadens horizons. Workation offers options for more effective rest after work and people who have a problem with workaholism are forced to leave the computer. They can clean their head and reset well. Cutting off work is more natural than at home. What's more, when you're working remotely you have a problem with frequently sitting at home, and here you can change the environment and create great memories, leaving your comfort zone.
Honestly speaking, workation is not for everyone. Aspects like organization and self-discipline are very important – we must remember that although we are in an amazing place, we spend a large part of the day at the computer. In addition, the recruiter has to adapt to the working hours of candidates and clients, which are usually standardized (9-17).
In my opinion, people who value peace and order on a daily basis, will not feel well when they are in an environment in which there will be situations that force them to leave their comfort zone or provide stressful moments, e.g. when suddenly there is a problem with the Internet or electricity. However, not every workation has to be in a camper. A lot of people work from hotels or rent apartments, and such solutions can be much more comfortable. I think that if you are not sure whether workation will be good for you, it is worth testing this mode and find out by yourself.
What are some of the biggest advantages of workation?
First of all, it is an opportunity to travel and meet new places. The option of trying out living somewhere else in the world for a few months may allow you to learn about the culture of a country, which would not be possible during a standard short-term vacation. Another advantage is flexibility in terms of vacation days. Workation made it possible to manage time better. For example, we can combine an ordinary vacation with workation and, as a result, be in some place of our choice for longer. In addition, the advantage is certainly the fact that this mode of work allows you to rest effectively.
Do you see any disadvantages?
I think that a long workation may be associated with a certain longing for family. In cases where self-discipline is lacking, engaging in work can prove to be a challenge. Another disadvantage may be the need to work in different time zones. If you were working from somewhere far away in the world, working hours could be a problem (e.g. if you had to start working in the middle of the night).
What would you advise people who are considering working in a workation mode? What is especially worth paying attention to?
I would advise ensuring that you will have a good connection and purchase the appropriate data package necessary for work. It is also a good practice to store the files needed for work in the cloud (in case of a hardware failure, we do not have to worry about anything). The most important thing may be to have a comfortable workplace (especially when traveling by camper). I think that I could also recommend taking with you products that cannot be bought in other countries. It is worth thinking not only about your favorite coffee or food, but also about medicines and other important things. Before traveling, I also advise you to pay attention to the aforementioned differences regarding the time zone (we should choose the one appropriate to our working hours).
Finally, it is worth adding that people forget that you also need to completely fully rest, and workation should not be associated with vacation, but rather as using the opportunities offered by remote work. I am very glad that such an option of an "extraordinary" mode of working has appeared. Thanks to this, you can create beautiful memories for years, and each trip is very valuable.