The ever-growing demand for qualified IT specialists and the epidemiological situation in the world have made more and more companies interested in employing programmers remotely. This option allows us to find experts for remote work not only in our home country but all over the world. Is remote mode a good solution for IT projects? How to find and hire programmers for remote positions? We will try to answer these questions by adding up-to-date information about remote work in IT in Poland in 2022.
Remote work is slowly becoming a basic requirement that must be met in the context of considering changing a job position. No Fluff Jobs conducted a survey covering Central and Eastern Europe to test preferences for remote or hybrid working modes. Furthermore, 56% of respondents declared that they would start looking for a new job if the employer would take away the possibility of working remotely.
The survey also shows that 61% of IT specialists now work fully remotely, i.e. 5 days a week from outside the office. In addition, over 96% of employees do not want to return to the office.
Why is it worth recruiting programmers for remote positions?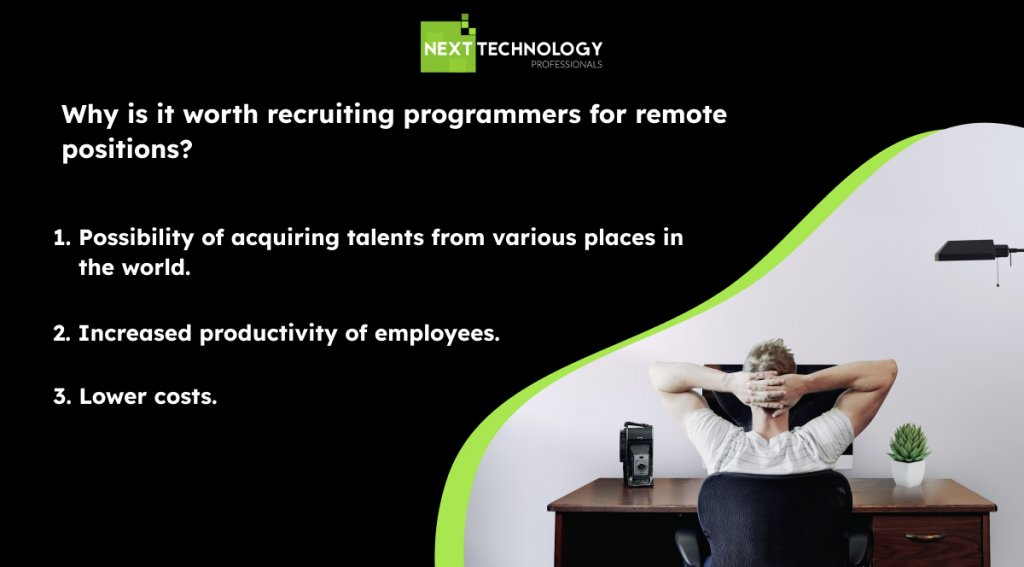 1. Possibility of acquiring talents from various places in the world
Remote recruitment or IT outsourcing offer many possibilities. Due to the popularity of remote work, we can expand our search without limiting ourselves to one country. If you are wondering which location may be the most suitable for looking for talent in terms of costs, programming skills and cultural proximity, check out our article in which we describe the best places to outsource IT in 2022. By employing remote developers, you will be able to achieve the business goals set in your organization.
2. Increased productivity of employees
The above-mentioned study also showed results in the context of how IT specialists assess their effectiveness when working remotely. 57,7% of respondents believe that it is higher than in the case of stationary work and 29,32% believe that it is the same as when working from the office.
The results of Stanford Business also confirm the upward trend in the effectiveness of activities related to working in this mode. Remote workers are 13% more productive than office workers, largely due to their ability to concentrate their work on the most productive hours rather than the restrictive 9-5 in a standard office.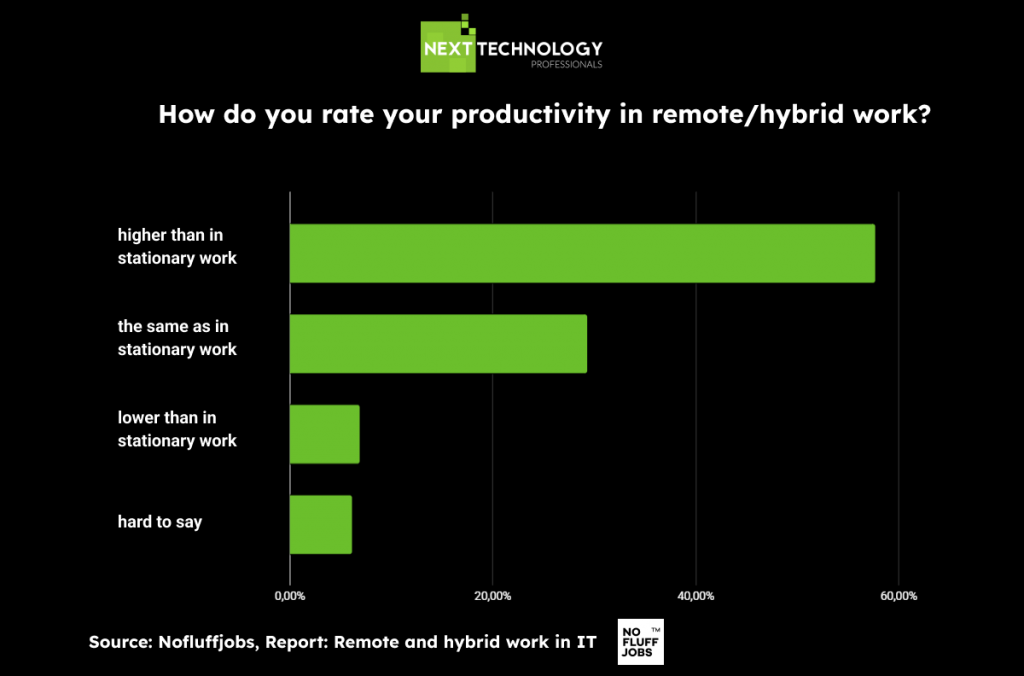 3. Lower costs
Remote work generates a lot of savings for both the employer and the employee.
This mode allows us to hire skilled programmers all over the world at low cost. Remote work reduces expenses on office space, stationery, media, commuting, etc.
You can read more about the advantages of working remotely in our separate article.
How to find and choose IT professionals for remote positions?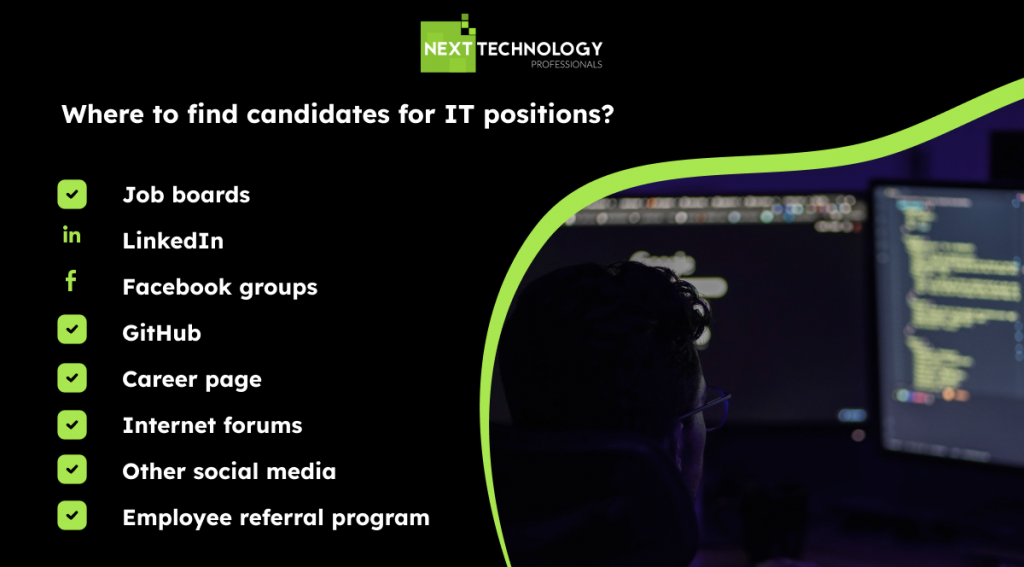 Where to find IT specialists?
The primary way to reach the programmer most suited to a given remote position may be to post a job offer on online portals. However, this is not the only option. Jobvite's report lists LinkedIn (53%) as the number one social media source attracting the most high-quality candidates. Facebook is in second place (33%). Here, thematic groups that are watched by hundreds or thousands of programmers may turn out to be the most important. Therefore, it is worth posting high-quality job offers there. Some of the most popular groups are: IT Jobs in Poland, Praca zdalna IT, Praca/ staż w IT and Praca szuka specjalistów z branży IT. GitHub can also be a good place to find Software Developers. Users share their projects there, so you can reach the pool of candidates who do not have the above-mentioned social media.
Furthermore, it is also worth mentioning the "career" page, which is the basic subpage in the context of sharing job offers. A good and properly described job advertisement may make candidates apply for the selected position themselves. It is worth taking care of the attractiveness of this website in terms of user experience and try to keep it updated on a regular basis. There is also a chance to find a candidate thanks to the referral program, which is also implemented at Next Technology Professionals.
What is worth paying attention to when recruiting programmers for remote positions?
1. Clearly explain the scope of the project and the skills required.
During remote recruitment, especially if we do not have the opportunity to meet the candidate for a given position face to face, we should try to find out if they really understand the offer addressed to them. You should focus on explaining the specifics of the project and allow space for asking questions. Another issue is to find out whether a given job offer meets the needs of the candidate for a given position. For programmers, in addition to salaries, the development path and the prospect of getting satisfaction from working on a given project are important. It is therefore crucial to have an honest dialogue on this matter and to ask the right questions. Thanks to this, we will be able to check the candidate's motivation to take part in the recruitment process for a remote position.
Additionally, remember to explain exactly what the scope of remote work looks like (do you have to visit the office from time to time? If so, how many times a month or a year?). This is important information for the candidate to help him decide if the offer is right for him.
2. Evaluate soft skills.
Remote work requires very good communication. If we hire a programmer to work remotely, we must gain confidence in the ability to communicate problems, doubts or ideas. The same applies to the freedom to exchange ideas with colleagues. Teamwork is very important in the context of software development. It is worth making sure that already at the stage of the recruitment process, the candidate has a chance to get to know a part of the team with which they will potentially work directly. It is also good to check the candidate's suitability to the culture of the organization. This may turn out to be especially important if we are considering employing candidates from all over the world. Cultural fit is an important aspect that allows for better exchange of views and the lack of communication misunderstandings.
3. Ask about time management skills and previous experience with remote work.
Working from home gives you a lot of flexibility. There are people who can effectively plan the division of activities and stick to it, and those for whom it is a big challenge. It is worth asking the candidate about a previous experience related to working in this mode and if they need any support in this area.
4. Verify technical skills.
During a remote interview we have a limited amount of time to verify the candidate's level of knowledge and the suitability to the project. Our report on the IT job market shows that the most preferred form of competency verification, according to programmers, is a technical interview (29%), a remote task (17%), or an HR / business interview (15%).
Remote work in Poland
The data by the:protocol clearly shows that remote and hybrid work are still the most frequently suggested operating models by employers. In 2021 and at the beginning of 2022, most offers for IT specialists concerned remote work, but at the end of the quarter, the hybrid model began to be the most common one. Our report about the IT job market also allowed us to present conclusions on this subject. We checked, what is the optimal number of remote work days per week according to developers. The data presented above also shows the popularity of these working modes – in the hybrid model the most preferred option is when you work 3 days remotely and 2 days from the office. Only 2% of the respondents chose 100% stationary work.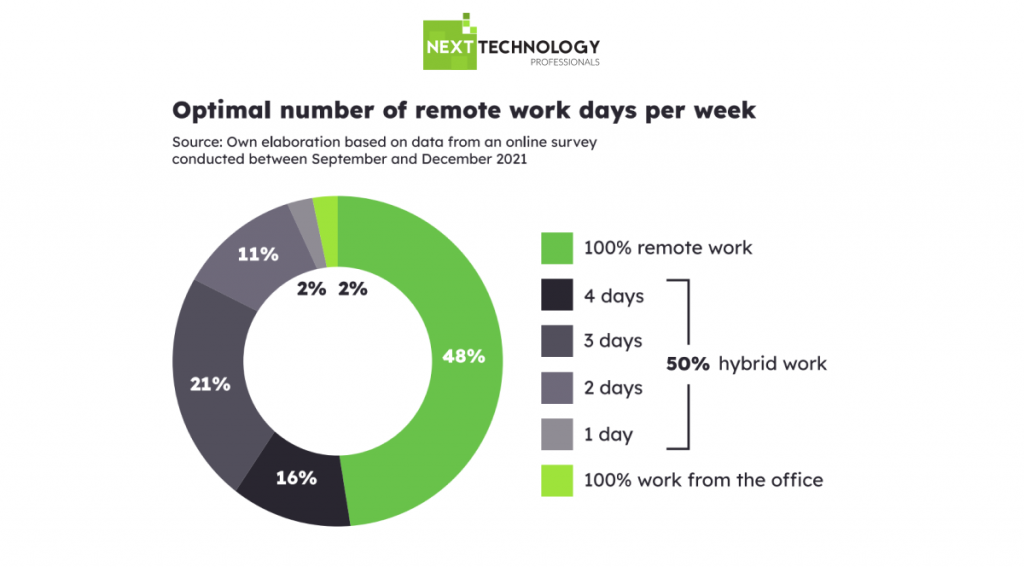 __________
If you are interested in hiring programmers for remote positions, you can contact us. We also encourage you to check our report about the IT job market in Poland, which may be a source of useful data on recruitment, earnings and trends in 2022.