If you compare the structures of different organizations, you'll notice that the roles within their teams may vary a lot. In case the organization works with the Scrum methodology, there will be surely a Scrum Master engaged in their projects. Who is a Scrum Master and how are they different than the role of a standard Project Manager? Here's a short overview of the similarities and differences between them.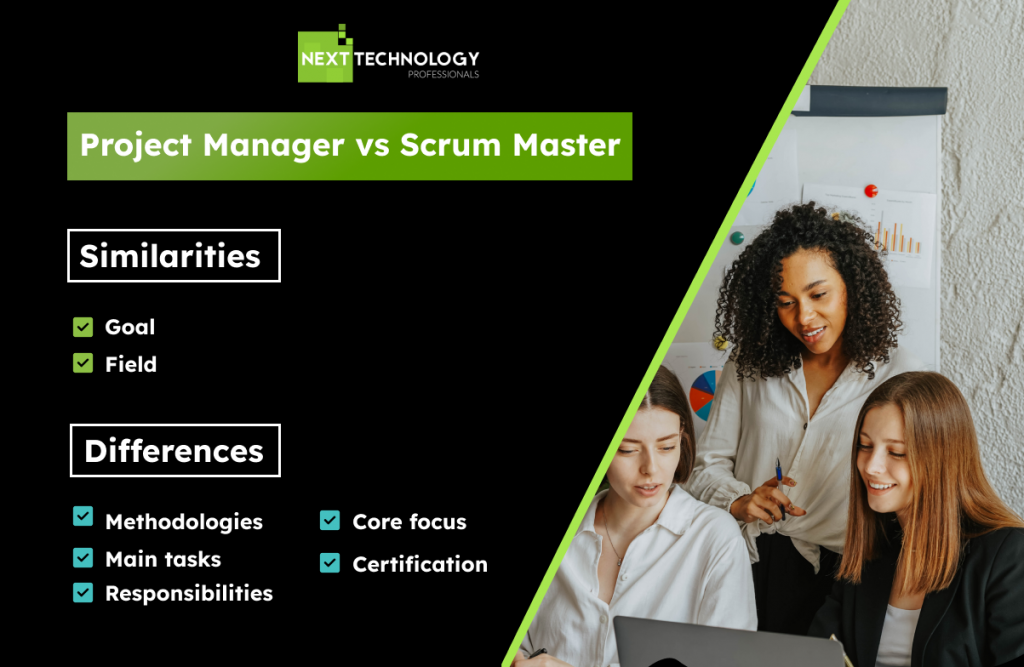 Who is a Project Manager?
The Project Manager is responsible for organizing, planning, and executing a certain project while being aware of the budget and schedules. Identifying and minimizing risks, keeping track of the progress, monitoring the project stakeholders, and maintaining a good communication flow within the project team are the main duties in this position.
Who is a Scrum Master?
Scrum is an agile methodology that helps teams to manage their work in a structured, efficient way. When working in a Scrum team, you will come across a set of assigned roles: a Product Owner, a development team member, and a Scrum Master. What are the main duties in these positions?
The Product Owner's main responsibility is to set clear directions for the project and plan the delivery. To do so, they regularly communicate with the development team members, who are skilled professionals in the target technology. Finally, a Scrum Master is a specialist with a good understanding of Scrum principles who guides the team through Scrum and ensures that they follow the framework correctly.
Project Manager vs Scrum Master – similarities
Now, let's take a look at the similarities of these two roles in the IT project.
Goal
Scrum Masters and Project Managers aim to deliver a properly executed project. To achieve that, they must have good communication and leadership skills. They simply must be able to earn the trust of team members and motivate them towards reaching the set goal.
Field
Both of the roles are typically related to the IT industry. However, Project Managers are qualified to work also on other kinds of projects, and in other industries such as engineering, finance, healthcare, or advertising. Similarly, Scrum Masters can also work in any industry where the Scrum methodology can be applied.
Project Manager vs Scrum Master – differences
Although the roles have some similarities, there are definitely more differences between a Project Manager and Scrum Master.
Methodologies
Generally speaking, Project Managers can work on the project delivery with the methodology of their choice. Scrum Masters, on the other hand, is inseparably tied to the Scrum methodology and specializes in its principles.
Main tasks
Project Managers are responsible for leading a project from its conception to implementation, meaning planning, execution, and managing human resources. On the contrary, Scrum masters don't have a lot on their plate when it comes to managing anything. The main aim of their work is to supervise the effectiveness of their teammates along with the Scum framework.
Responsibilities
Project Managers are responsible for leading a project from its conception to implementation, including predicting risks and managing the budget. On the contrary, Scrum Masters are mostly focused on coaching the team members, and their duties don't cover financial issues and risk management (unless they are helping the team watch for risks).
Core focus
The general role associated with Scrum Masters is a coach or a mentor, someone who offers guidance and support to a team, as well as individual members. The role of the Project Manager is broader and focused on delivery.
Certification
When getting a job as a Scrum Master, the candidate might find it helpful to get certified. The course conducted by the Scrum Alliance serves as a complete guide to the Scrum framework and its accountabilities and artifacts. When it comes to project management, there are several types of certifications. Some of the most popular are  Certified Associates in Project Management (CAMP) or Project Management Professionals (PMP).
Can a Project Manager be a Scrum Master?
If you're wondering if it is possible to be a Project Manager and a Scrum Master at the same time, the answer is – yes! It might be quite challenging to switch between two roles, though. Even if some characteristics of these two careers are similar, it is crucial to understand that these positions play different roles in the structure.

Are you looking to hire a Project Manager or a Scrum Master? Contact us right away and inquire about our top specialists ready to work on your project.