Finding the right IT specialists to fit the organization's culture and project requirements can be complicated. There are many solutions, platforms, and other tools available on the Internet that allow us to look for programmers who are open to changing jobs. As an IT recruitment agency operating in the market for more than 7 years, we have found that finding the most specialized ones requires the right outreach routes. The reason for this is that there is a great need to hire IT Experts both in the Polish market and abroad. Which sources of sourcing candidates are the most effective? Find out by reading this article!
If you want to know what IT professionals will be in greatest demand in the near future and what are the trends in software development in 2022, we recommend our article dedicated to this topic.
Where to find the best IT specialists?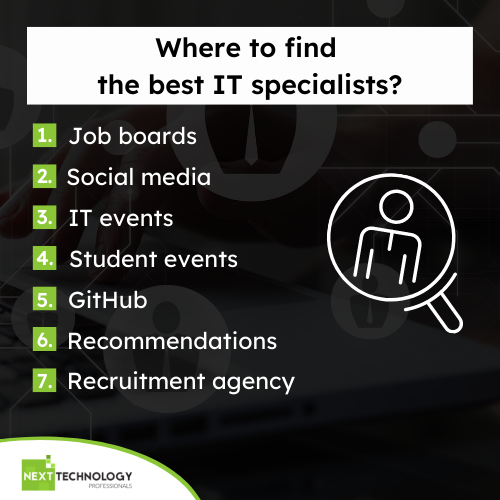 1. Job Boards
Job boards are online platforms on which a wide variety of job offers are published. It is also one of the most popular methods of attracting candidates – a recruiter writes an ad and waits for candidates to become interested in the offer and apply for the position themselves. There are very many job boards on the market. Both general ones and those focused only on a specific industry.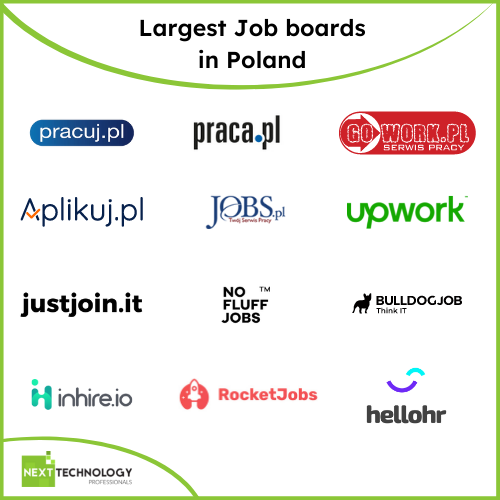 Among the largest general Job Boards in Poland are:
Some of the largest Job Boards in the IT industry include:
Popular Job boards also include:
Rocket Jobs – a job site dedicated to jobs in marketing in the broadest sense – for copywriters, in SEO, design, PR, or sales. In addition, you'll also find articles, industry news, or even meme compilations.
Hello HR – Polish job board for HR, EB, and related industries – including offers for IT recruiters.
2. Social media
Both of these social networks are dedicated to job search, candidate sourcing, and career development. On both, it's a good idea to create a profile and make friends with candidates, recruiters, or others in the industry. There are also many job opportunities available on both GoldenLine and LinkedIn, including those not published anywhere else.
In addition, if your company, is not currently recruiting, a potential candidate can write a message to a person in the HR department and propose their candidacy. In this way, such a contact can be saved for the future.
LinkedIn is currently used by as many as 93% of recruiters worldwide – this is due to Linkedin's direct search capabilities and its ability to reach the most matched candidates.
Facebook can also prove to be a good tool for sourcing candidates. We can upload posts with offers, and create advertising campaigns in which we have the option to select a strict target group of our choice. This allows us to target specialized and responsive developers.
In addition to this, we can post jobs on a number of dedicated groups dedicated to job searches. A significant number focus on offers only from a particular city or industry. These include groups such as:
3. IT events
Programmers and IT companies are eager and active participants in industry events. Due to the pandemic, many events are available in hybrid or 100% online form. Often these are events with a specific technology theme or more general job fairs, so this is a good way to find programmers with a specific specialty, perhaps also working in a particular location. You can talk to them right away, tell them about our company, ask them about their expectations and possibly offer them an offer right away. You can find a list of the most popular IT events and conferences in 2022 here.
Attending events like this not only enables you to find good programmers, but also allows you to expand your network of contacts with valuable companies and individuals, and gives you access to the niche knowledge and experience of speakers who are willing to share lessons learned from facing similar challenges.
A few of the largest IT conferences in Poland are:
4. Student events
In Poland, an average of 13,000 students graduate with an IT degree each year. If you're looking for juniors or those taking their first steps in IT, it might be a good idea to attend IT events organized by many student organizations attached to technical universities. Students are eager to attend IT events and job fairs to find a company where they can intern or find a full-time job. For this purpose, it is worth browsing the profiles of technical universities and the student organizations operating at them.
5. GitHub
GitHub is a portal where programmers can publish their repositories and open-source programs. In short, programmers publish their code there, and can also work in teams on projects. It is an excellent database of candidates with experience, as well as those just starting out. The portal is a tremendous help to recruiters and offers access to a database of candidates often unavailable on other sites.
6. Recommendations
Referrals are a very good idea for finding good programmers. You can ask anyone for a recommendation – your employees, business partners, network friends, or other companies you work with. At Next Technology Professionals, we also have an attractive referral system. To get adequate recommendations, it's best to approach people you know who have access to the people you're looking for. There's a good chance that a DevOps Engineer you've befriended, for example, knows other people working in the same position – perhaps one of them is open to new career challenges? The biggest advantage of this method is getting direct contact with good programmers. Those worthy of recommendation are usually already vetted, so you minimize the risks associated with potentially choosing an inexperienced partner who won't deliver what you're looking for. In addition, a candidate from a referral gives the company more trust at the start – after all, why would his good colleague encourage him to contact an uncool potential employer? 🙂

7. Consider the option of IT outsourcing or the support of an IT recruitment agency
If you have used various avenues to reach out to candidates and still haven't found the right person, or are concerned about time – it is worth considering IT outsourcing or the help of a recruitment agency.
IT outsourcing companies hire highly experienced Software Developers. IT outsourcing helps avoid the cost of hiring new full-time employees while giving flexibility not available in other collaboration models. An outsourcing company can also help find office locations, equip employees, and advise on their bonuses, vacations, or career paths. You can read about the pros and cons of IT outsourcing in this article.

On the other hand, if you are looking to hire a specialized Software Developer directly from the company, it may be a good practice to outsource the process of finding a suitable programmer, to professional IT recruiters. What should you pay attention to when choosing this type of company? We wrote about this topic in an article with tips on how to choose the best IT recruitment agency in Poland.
---
If you are looking for the best programmers to work on your projects – contact us and tell us about your needs.