Modern business is largely based on new technologies. However, finding and employing the best specialists in the IT industry is a challenge that is currently faced not only by startups but also big corporations with an established market position.
It comes from the fact that the company's IT team doesn't always have a sufficient number of in-house experts to deal with the tasks independently, or it does not have the necessary know-how to make the desired project. What is more, building a development team on your own, might be an expensive and time-consuming task. That's why it's great to know the opportunities of IT outsourcing.
Body leasing is a commonly chosen outsourcing model – how does it work exactly? In what kind of situations body leasing services will benefit your company the most? We're explaining that in this article.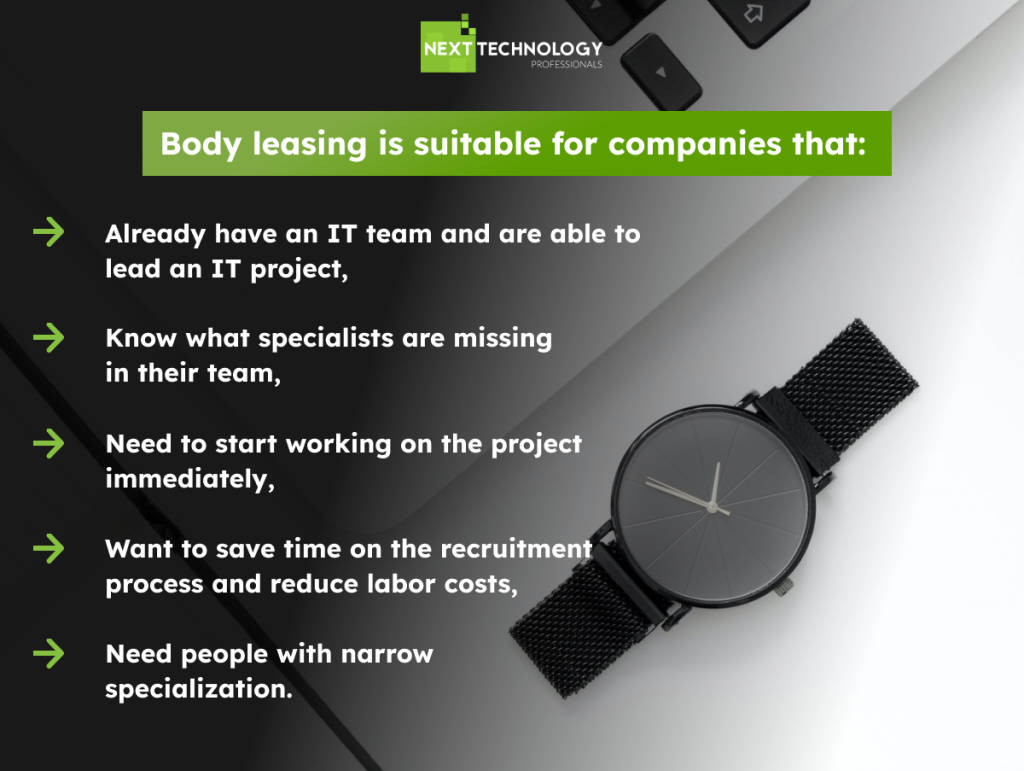 Body leasing – what is it?
Body leasing is used when the organization needs an employee with particular skills only for a specific period of time or for a specific project. An external IT expert, e.g. software developer, will have the competencies and provide its services without the permanent hiring contract.
Sometimes a leasing agency becomes a supplier of different talents: from QA software testers to senior developers. When more than 1 person is being hired we can use the term "team leasing".
The rules remain the same time, the provider of talents is still in charge of all the legal aspects of cooperation and administrative tasks such as payroll, accounting, and procurements.
Body leasing – 3 points to consider

Time
It is worth remembering that the standard recruitment process in the IT industry, which usually consists of 3 stages, ends on average with filling a vacancy within 2-3 weeks. When the company is under time pressure and wants to start working on the project as soon as possible, every minute counts.
Body leasing enables to find the specific IT expert fast, as it doesn't take into account complex recruitment. Therefore, the aspects that are usually considered when thinking of long-term cooperation (e.g. the culture fit) don't really have to be deeply investigated. So in effect, if your team needs extra support, you can choose the appropriate timeframe and use body leasing.
Costs
Body leasing is a solution that can significantly reduce the costs for the employer. Because of that, this person doesn't spend time searching for specialists on the IT market and thus avoids the costs related to that. It is the task of the company that provides outsourcing services to have access to IT experts from various areas. If you consider outsourcing IT specialists in Poland then you should read an article that explains costs and the level of expertise of Polish programmers.
The client also does not bear the costs of:
– retaining a full-time employee,
– employee training,
– HR, administrative and accounting services,
– investments in equipment, licenses or office space.
It's worth remembering that body leasing focuses on cooperation for a short period – sometimes the client needs such support only for a few days, or for several weeks/months. In such situations, the lack of costs related to full-time employment is a great help.
Additionally, there are types of work that may need to be done irregularly and it would be a waste to hire a full-time worker to do them. For example, you may need the help of a GUI expert only once in a while, after some substantial changes of your application functionalities are made.
Body leasing works generally in Time and Material mode, which means the client is charged per hour/week/month and the provider of IT experts takes care of all the other elements mentioned previously.
Skills
It might happen that your company doesn't hire IT experts with knowledge of a specific technology. Body leasing allows you to quickly develop your team with competent and experienced IT specialists with knowledge of the technologies needed for a given project for a short period of time. The external employer can bring to the table the necessary skills and a fresh perspective that the company might greatly benefit from.
A common problem in body leasing is a poorly defined candidate profile. For example, clients indicate too high expectations in relation to the actual needs, which causes an unnecessary increase in the cost of the project. In order to avoid it, it is good that the technical manager responsible for the project participates in meetings with the lessor from the beginning, thanks to which it will be easier to determine the actual skills.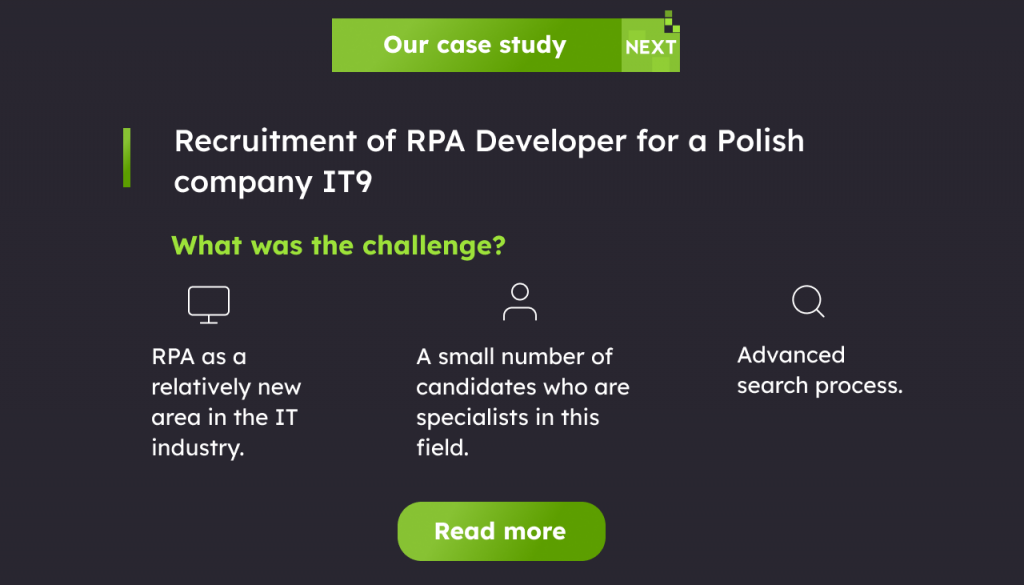 Should your company use body leasing?
In summary, body leasing is suitable for companies that:
Already have an IT team and are able to lead an IT project,
Know what specialists are missing in their team,
Want to save time on the recruitment process and reduce labor costs,
Need to start working on the project immediately,
Need people with narrow specialization.
To sum up, body leasing is a flexible model of hiring new IT specialists. What is more, this type of outsourcing allows you to hire IT specialists with various competencies for a specified period of time. Thanks to this, you can start working on the project quickly and reduce its costs. If you want to get more information on outsourcing make sure to read the article on our blog in which we described its three main types to consider based on localization: onshore, nearshore and offshore. If you have recruitment needs and are looking for skilled IT specialists – leave us a message.