In today's innovative business environment, companies that do not focus on further development often fail. Effective running of a business, good management of employees, agility, attitude, and conscious leadership – these are the qualities that describe companies that are most often successful in today's job market. These same qualities also define successful executives (the so-called C-level).
Despite the fact that companies are increasingly focusing on innovation and digitization, many still rely on outdated methods of sourcing candidates. Hiring IT professionals for C-level positions is a unique challenge. In order to recruit suitable managers for your company, your offer must be very attractive and also sustainable. For companies seeking candidates for senior IT leadership positions, we suggest how to adapt recruitment methods to today's job market. In this article, you will learn our most important tips and tricks.
If you're wondering what cooperation between executives and IT professionals should look like, we recommend our article – 5 things CTOs and developers can learn from each other.
Hiring for C-level positions
Depending on your company's needs, hiring an executive-level employee may not be obvious. So it's worth thinking carefully about who you really need in your company and what function they should perform.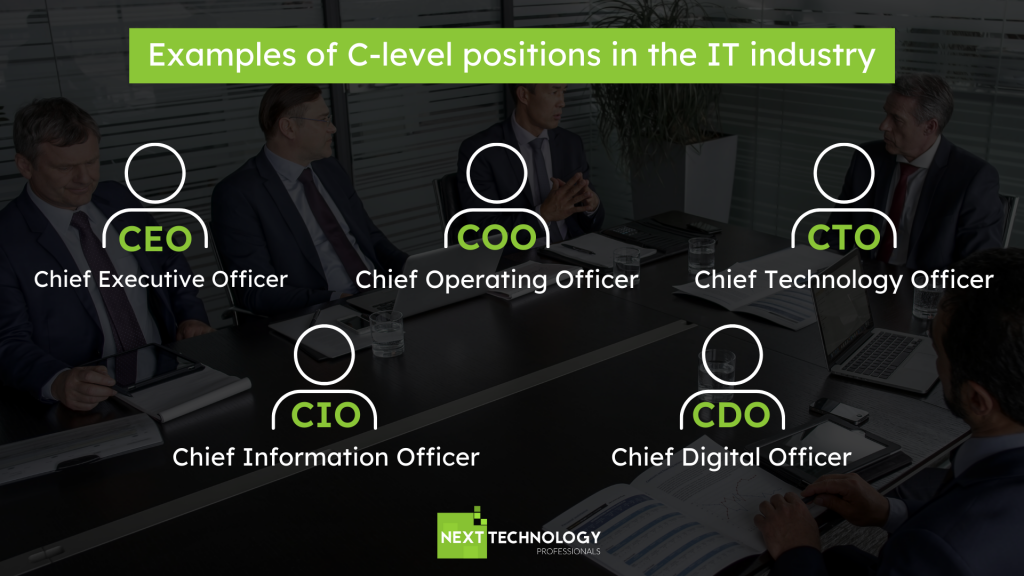 Examples of C-level positions in the IT industry include:
CEO – Chief Executive Officer
COO – Chief Operating Officer
CTO – Chief Technology Officer
CIO – Chief Information Officer
CDO – Chief Digital Officer
C-level employees, whose position is key in the organization, are very difficult to find in the labor market and invite to join. Such recruitment generally takes more time and requires well-considered values offered with the employment proposal. In the case of this group, the difficulty lies not only in the availability of employees but, more importantly, in matching them properly to the specific needs and characteristics of the company.
How to hire for C-level positions?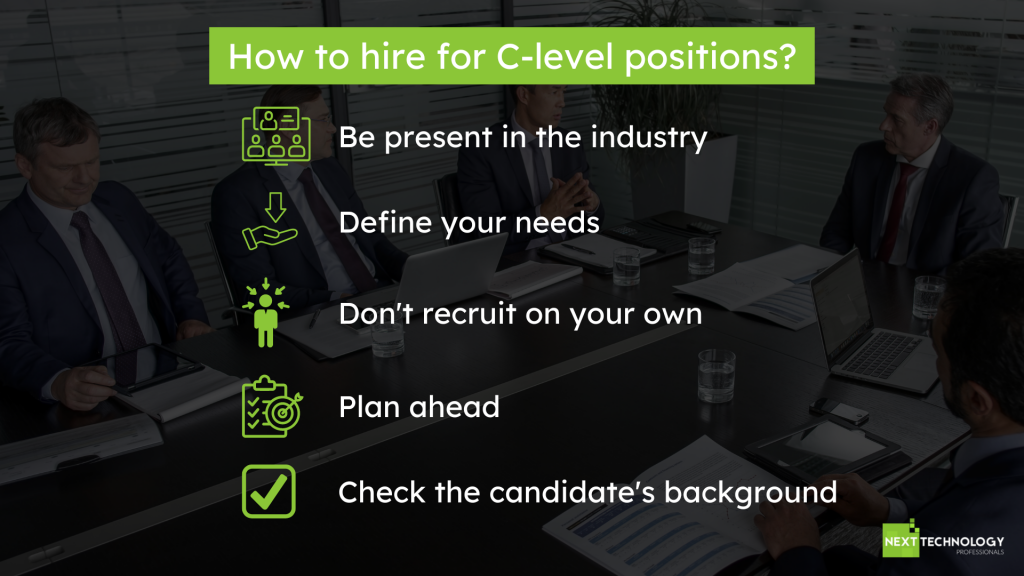 1. Be present in the IT industry
People like to work with companies they know. Brand awareness is as important in recruiting as it is in any other part of your business. Make an effort to attend industry conferences and trade shows. Build a community on social media and share your company's achievements and approach with employees. Showcase your industry leadership, experience, and expertise. This will make it easier for candidates to learn about your company, understand its vision and see your achievements. It's also worth conducting employer branding activities. Thanks to them, you will build a consistent and positive image of your company as an employer in the opinion of your employees, key candidates in the labor market, as well as business partners and customers. This will make it easier for them to get to know you and imagine being part of your company. We wrote about how to measure the effectiveness of employer branding activities in this article. Remember also that any good quality director will want to work with another good quality director.
2. Define your needs
To find the best people for senior IT management positions, it is not enough to post an ad on LinkedIn or a popular job board and expect to receive a large number of suitable applications.
Leaders who are familiar with modern technology, are goal-oriented, and can manage a company, usually do not actively participate in recruitment processes and do not seek new employment. Such people will undoubtedly already have a very good jobs, and their current employers usually take good care of them. When deciding to change jobs, representatives of this group are most often guided by precisely defined needs and expectations.
So before you start looking for candidates, make sure you have a solid outline of the position, taking into account all relevant aspects – from required skills and experience to attitude and cultural fit. It's essential to conduct a thorough mapping of the market and determine both the number of possible talents to consider and who among them is the best and most interesting in the sector you represent.
Analyzing the current job market and writing a compelling job description can significantly reduce the time it takes to recruit top-notch people for C-level positions. In addition, it helps executive recruiters in their search, which at the same time "sells" your company more effectively. The data you have and the insights you make from it will help you make an informed business decision about hiring a particular candidate.
3. Don't recruit on your own
You should never conduct an executive search alone. Always try to involve the majority of your board in both the recruitment and decision-making process. You can also work with other current managers and team leaders, who are likely to have a well-developed network of highly competent people.
This will allow you to reach passive candidates better and conduct a comprehensive analysis of them. At the same time, it will help reduce biases and make sure he or she is not lacking in any essential skills and qualities. You'll also check that he's a good fit for your team and the other directors with whom he'll be working closely in the future.
4. Plan ahead
One of the biggest mistakes made by companies looking to hire professionals for C-level positions is not planning ahead. When hiring such individuals, you are always taking a risk. If things don't go your way, the costs associated with hiring the wrong candidate can have a detrimental effect on the business – employee morale and productivity can plummet in such a situation. The time spent on hiring, training, and developing will be time wasted, and there are also high financial costs.

Unfortunately, it is relatively common for directors to leave unexpectedly. Such sudden departures leave the company without a director for an average of 75.7 days. Interestingly, about 58% of boards do not have an emergency succession plan for directors. Only about a third (35%) of board members say an internal candidate would most likely be selected in such a situation.
Nowadays, the process of selecting and selecting senior executives should be based on more accurate measurements than just a candidate's arousal of likability, or their possession of various skills, competencies, and experience. These aspects are important, but they should only be part of the considerations. To understand exactly how a candidate might function in a given position, take a data-driven approach. Personality tests, or psychometric tools such as Pulse Mindset, will accurately determine a candidate's motivating factors and job preferences. Assessment Centers will help measure a candidate's leadership skills or cultural fit with your organization.
Therefore, if you want to hire a suitable professional for a C-level position yourself, you should be prepared for about 4-6 months of searching. Being prepared can greatly reduce the internal stress of changing or hiring new executives.
5. Check the candidate's background
One of the last and most critical steps is to check the candidate's credibility. He or she is usually asked to provide 2-3 references. These should be given by people with whom the candidate has worked in the past. This will provide a complete picture of how colleagues viewed aspects such as his technical skills and management style.
After finding a suitable person for a C-level position, it is also important to verify that the information presented in the resume was truthful, by verifying both education and employment history. Depending on the role, conducting credit, criminal or public records checks is not uncommon.
Get help from an experienced recruitment agency
You have to reckon with the fact that hiring high-level executives can be very challenging when conducting recruitment processes yourself. In such a case, many companies choose to delegate the task to a recruitment agency or headhunter firm. This is a good move that will bring tangible benefits, including minimizing the risk of misguided recruitment or getting the best employees on the market for the company at an efficient pace. We wrote about the differences between a recruitment agency and headhunting in this article.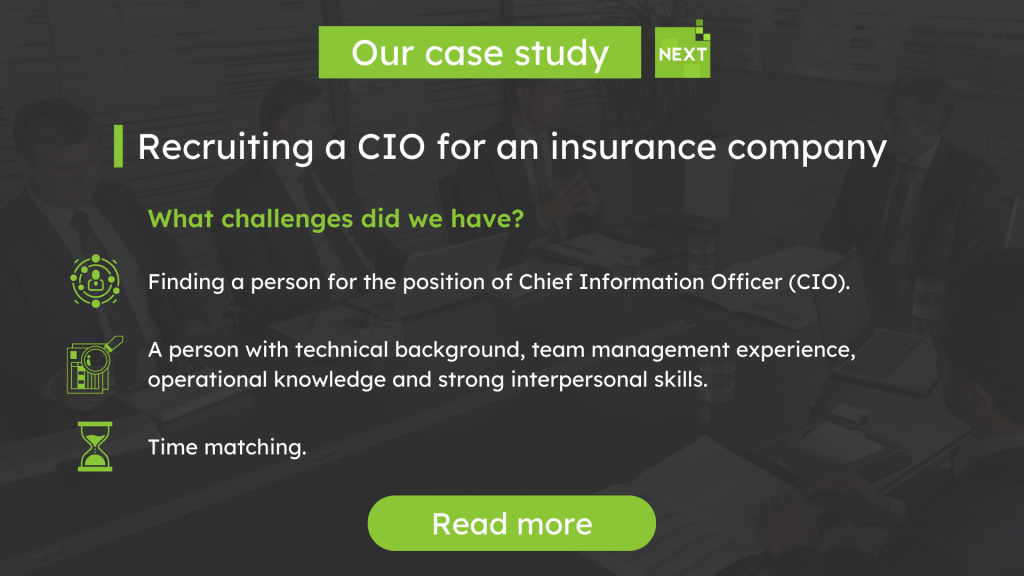 As an experienced recruitment agency, we provide Executive Search services. This is a recruitment service designed to attract highly qualified senior executives to your organization, and the presence of a good and confident leader can help your company achieve its strategic business goals. To our credit, we have more than 600 recruiting assignments.
If you'd like to learn about the techniques we use and how we can help you hire IT professionals for a C-level position, check out our case study on recruiting a CIO for an insurance company.
---
Are you looking for IT professionals for a C-level position? Get in touch with us. We will be happy to help you hire the best directors for your company.