As our work environment keeps transforming, so is the nature of the employees. We live in the days when the new generation enters the labor market and with that comes a dilemma as to what to expect of that group. What should you pay attention to when hiring Gen Z?
Keep on reading to find out!
And if you are interested in the topic of "young" employees in the labor market we encourage you to read our article about the situation of Junior Software Developers in Poland.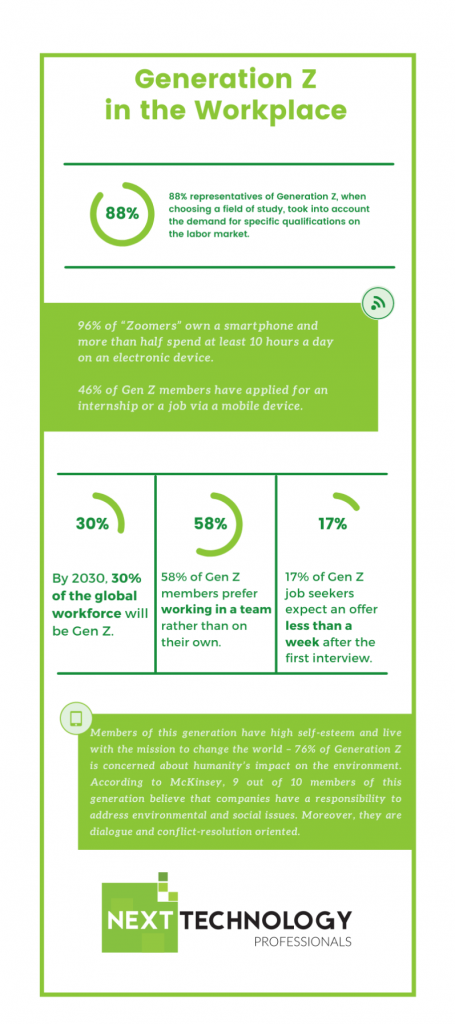 What is "Gen Z"?
To start off, let's define who belongs to Gen Z. Multiple sources indicate different years, but the general description is: "those born after the mid-1990s but before 2012". Their global population is approx. 2.56 billion people.
Zoomers are a generation of people who are always "connected". From an early age they live in harmony with technology and it is their natural environment.
Members of this generation have high self-esteem and live with the mission to change the world – 76% of Generation Z is concerned about humanity's impact on the environment. According to McKinsey, 9 out of 10 members of this generation believe that companies have a responsibility to address environmental and social issues. Moreover, they are dialogue and conflict-resolution oriented. They also take a radical approach to discrimination, and their style of consumption is a way of expressing individual identity.
Representatives of this generation are ready to work hard, but in return expect interesting tasks that will allow them to take full advantage of their education and digital skills.
Education
According to Accenture, 88% representatives of Generation Z, when choosing a field of study, took into account the demand for specific qualifications on the labor market.
Gen Z's most popular college majors are science, healthcare, and psychology/social science. Engineering is on the rise: the number of engineering majors has doubled between Gen X and Gen Z. The number two job that Gen Z job seekers are most applying to is a software developer.
Online presence
Knowing that 53.6% of the world's population uses social media and the average daily usage is 2 hours and 25 minutes we can expect that this also largely applies to the tech-savvy generations.
96% of "Zoomers" own a smartphone and more than half spend at least 10 hours a day on an electronic device. 46% of Gen Z members have applied for an internship or a job via a mobile device. And because of that, the use of technology to recruit new employees should not come as a surprise to you.
Research firm, Aberdeen Group, found out that 73% of 18- to 34-year-olds found their last job through a social network. So, if you want to target the youngest and most motivated group in the workforce, make sure that you use platforms that appeal to them.
What communication channels do Gen Z candidates prefer?
Email: 50%
Phone Call: 29%
Text Message: 11%
Video Call: 8%
Social Media DM: 3%
What can you offer as an employer?
By 2030, 30% of the global workforce will be Gen Z.
17% of Gen Z job seekers expect an offer less than a week after the first interview, so try to cut down on time-to-hire and provide frequent updates throughout the hiring process.
Generation Z pays attention to ​​traditional values ​​in the workplace, i.e. a clearly defined career path, job stability, the possibility of training, and a satisfying salary. For employees who have just finished their education and started working for large companies, it is important to have a manager who will also be a mentor for them.
At a minimum, Generation Z expects the "Big 3" employee benefits: medical insurance, paid time off and retirement savings. Aside from the "Big 3," Generation Z is looking for maternity and paternity benefits, student loan repayment, and tuition reimbursement.
Communication, problem-solving and management skills – these competencies Gen Z wants to develop the most. Despite being so attached to technology, many of the Zoomers (42%) prefer face-to-face meetings. Gen Z job seekers rank their relationship with their recruiter as the most important factor when deciding whether to accept an offer. So make sure to take time to build more meaningful, personal relationships.
Moreover, Zoomers plan to move on from their current employer in three years or less. However, those who are satisfied with their position are 2.5x more willing to stay with the current employer for more than 5 years. So if you are looking for long-term employees it's worth remembering the elements mentioned above.
---
By investing in a strong talent community (58% of Gen Z members prefer working in a team rather than on their own), portraying an accurate employer experience throughout the recruiting process, and focusing on benefits that matter, you have a big chance of attracting ambitious Gen Z representatives to your workplace.
People aged 18-24 are entering or have recently entered the labor market and their attitudes are beginning to shape. It's interesting to see what the future will bring and carefully monitor the situation of this particular group.