Staff Augmentation is, along with project outsourcing, one of the best ways to quickly and effectively increase your workforce. What are the characteristics of this model, and when is it worth choosing this solution? In this article, you will find out if staff augmentation is right for your organization.
Staff Augmentation — definition
In short, staff augmentation is the way to increase a workforce using outside temporary personnel on a temporary or long-term basis. It is an outsourcing strategy that gives a lot of flexibility and allows cooperation with people globally.
What's essential, staff augmentation is an agreement between two companies, and the vendor hires the employees on a contract basis. Therefore, this solution allows you to reduce the costs and liability of hiring new people. 
So, in a nutshell – you hire professionals "as a service" (from the company that does it) to supplement your team of developers.
IT Project Outsourcing vs. Staff Augmentation
In the introduction, we mentioned that both Staff Augmentation and IT Project Outsourcing are popular ways to increase staff. Both of these methods are types of outsourcing, but do you know the difference?
Let's focus on the difference from an IT outsourcing perspective. First of all, IT project outsourcing means outsourcing the whole project or certain aspects to an external company. Staff augmentation is a temporary help to the in-house team to manage the workload.
The key difference is sharing the responsibility for project management and achieving results. If you decide to choose an IT project outsourcing, the outsourcing company is responsible for managing it. If you select staff augmentation, then it is your responsibility to manage the project.
So you may be wondering why Staff Augmentation? Why not hire another person? The answer is simple. You don't need new employees permanently. You need specialists to perform specific tasks. That is all.
Read also: Onshore, Nearshore & Offshore – What Is It?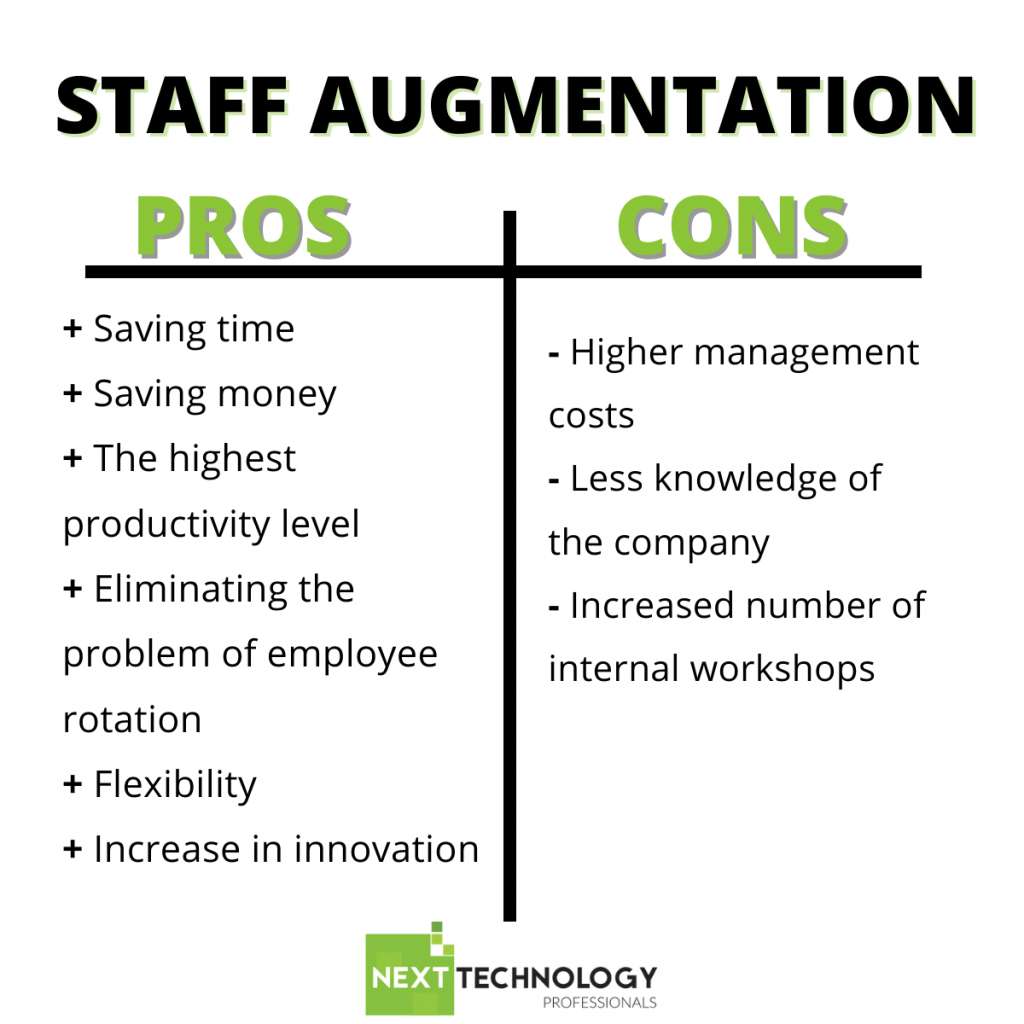 Pros of Staff Augmentation
Saving time
Hiring qualified IT workers can take months. It's a complicated, time-consuming and challenging process that can cost your company a lot of time, money and energy. Deciding on staff augmentation, you can immediately start implementing your project – without wasting time on a lengthy recruitment process.
Saving money
Staff augmentation doesn't just save money by reducing recruitment costs. It is also worth considering other factors such as: office maintenance, integration trips, or non-wage benefits. By choosing this method, you pay only for specific work. In this way, you cut costs without sacrificing quality. You hire someone with the right skills to get the job done, streamline processes that have already started or launch a new project. With Staff Augmentation you pay for exactly what you need.
What's more, you can hire workers from other countries where the wages are lower.
The highest productivity level
Staff augmentation enables you to achieve effectiveness and productivity because your software development team is fully focused on a project. It has a positive impact on both employee and customer satisfaction. What is more, you don't hire someone who only MAY have the right experience and skills. You choose someone who meets your expectations.
Eliminating the problem of employee rotation
Do you have any problems with retaining employees in your organization or there is a shortage of IT specialists in your country?? By choosing staff augmentation, you can forget about this problem! The outsourcing company is responsible for providing the people to support your project. And you can focus on other important issues for your business.
Flexibility
One of the most important qualities of staff augmentation is its flexibility. This model allows you to hire as many specialists as you need at any specific time. However, this is not as binding as when hiring in-house. You don't have to fire anyone because an external company is responsible for hiring them, and they can join another project after they finish working with you.
Increase in innovation
Bringing new people with different experiences and backgrounds into the team is a chance for entirely new ideas and a profitable exchange of expertise. Take advantage of this to provide your company with innovation and out-of-the-box solutions.
See also: Top 8 Benefits Of IT Outsourcing
Cons of Staff Augmentation
Higher management costs
Unlike outsourcing an IT project, you are still responsible for managing the project and staff by opting for staff augmentation. And it can mean higher project management costs. It may also not be cost-effective if the project is taking longer than you anticipated, or you are hiring a specialist for longer than you anticipated. "Hired" staff, are usually hourly more expensive than your employee, so hiring them for specific tasks, will always be cheaper, but the long-term "hiring" can negatively affect your budget. 
Less knowledge of the company
People who are temporarily employed by an outside company do not identify with your company the way internal employees do. There is a risk that they will not be familiar with the context, culture, history or specifics of your company's operations, which can sometimes affect the appearance and way they work on a project.
Increased number of internal workshops
To avoid the aforementioned gaps in company know-how, you should do several training sessions and workshops.  A specialist is added to an existing team that has been working with each other for some time. So it takes a while for employees to get to know each other, learn how to work simultaneously, and get to know the company structure –  it takes a lot of time and can be more time-consuming than standard in-house training. 
Staff augmentation service: how it works?
The staff augmentation process may vary depending on the outside company that provides you with employees. However, there are a few key elements that occur, no matter which vendor you decide on.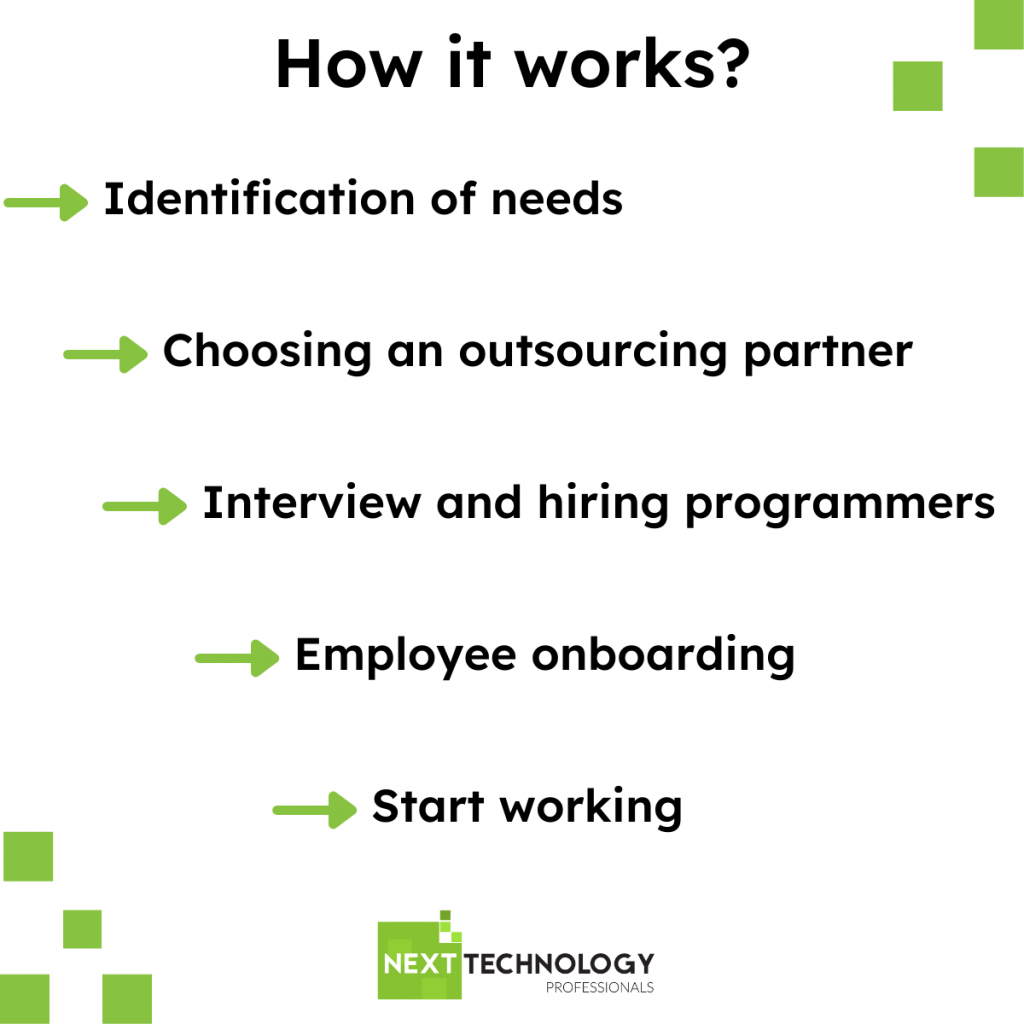 1. Identification of needs
The first thing you need to do is determine your needs. Think about how many and which professionals with which skills you need. Then think about what your requirements are for these people and what you care most about.
2. Choosing an outsourcing partner
Once you have determined your needs, find a company that offers this model of cooperation. Do thorough research, read reviews about this company, and then schedule an interview to talk about your needs.
3. Interview and hiring programmers
Based on your requirements and expectations from employees, your provider selects the best candidates for your company. You don't need to be involved in this process; you can take care of other business matters as recruitment is the vendor's responsibility.
4. Employee onboarding
To make sure that the work in your company goes on without any misunderstandings, you should organize a professional onboarding of employees. It's time to familiarize them with the team, the rules and methodology of work, the mission, vision, and specificity of the company and other issues that may affect your team's daily work.
5. Start working
Time to start working on your project. Make the best of this time with an exchange of knowledge, tips and experiences.
Summary
The demand for skilled developers is growing faster and faster, so many companies in the IT industry are struggling to hire people with the right skill set. Staff Augmentation is another answer to the set of outsourcing services offered by companies. But this time, instead of hiring an entire team of full-time employees, you can hire external professionals to handle the tasks. Take a closer look at Staff Augmentation as it could be the answer to your needs.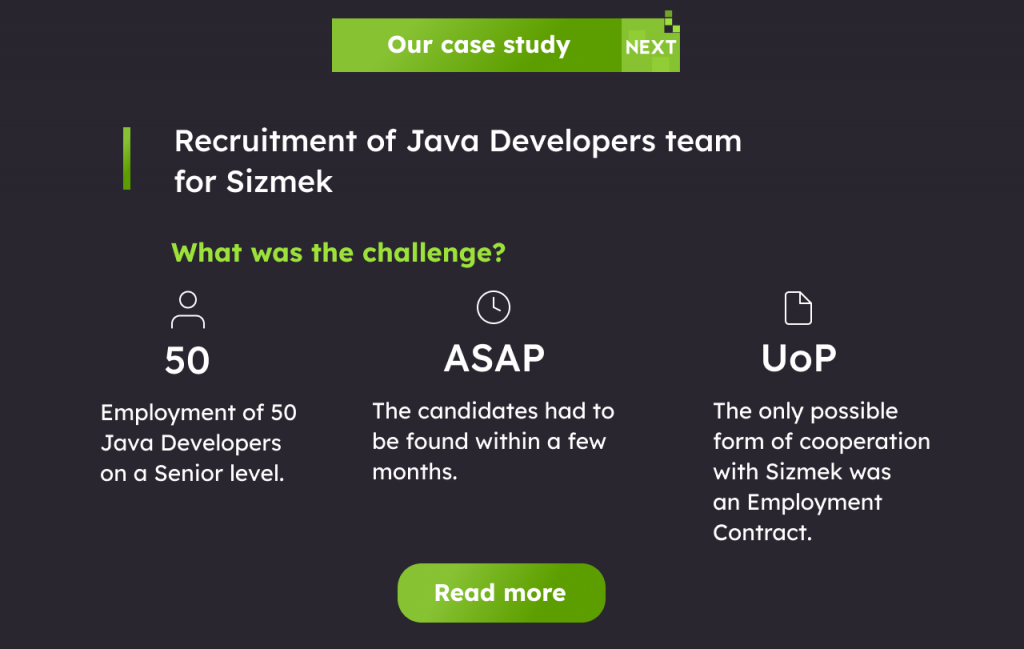 If you are looking for a company that offers staff augmentation services – contact us. We will be more than happy to talk about your needs and choose the best solution for your organization.