Finding and evaluating job applicants is often a time-consuming, multi-stage process. In the case of key positions, sudden changes in the organization or recruitment of representatives of niche specializations (e.g. IT specialists), we cannot always afford to search for a new employee for several months.
How to recruit efficiently and quickly? It will be necessary to optimize the process, properly plan the next steps, automate activities and use all possible forms of help, also on the part of the company's employees. Often, it may also be a good idea to use the services of a recruitment agency.
In this article, you will find 8 ways to speed up the recruitment process.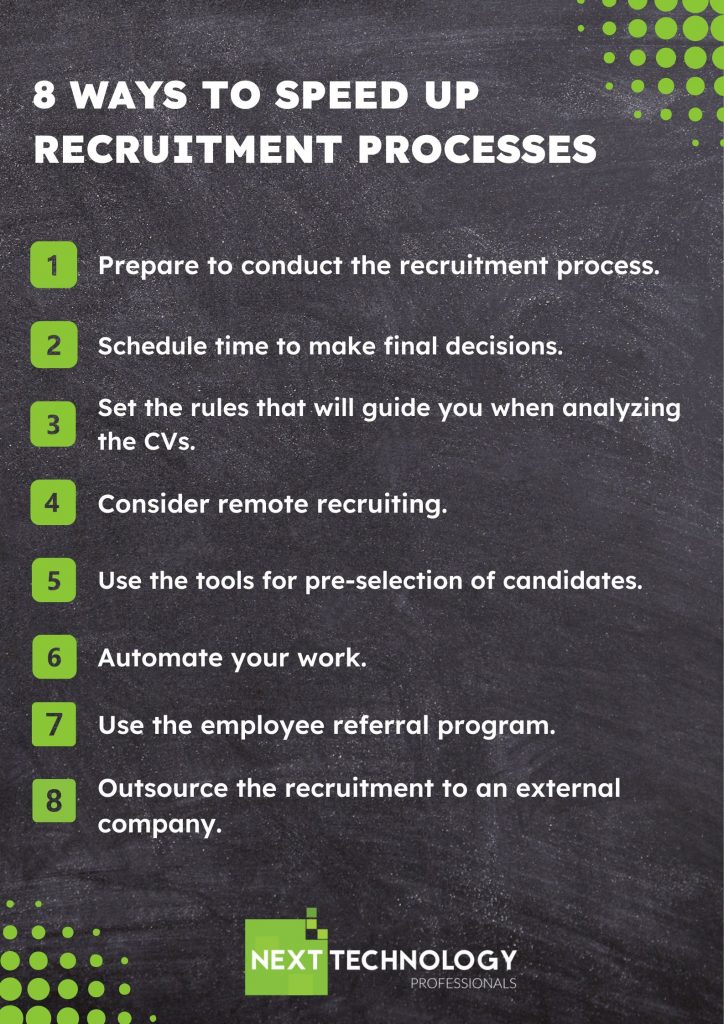 1. Prepare to conduct the recruitment process
If you want your recruitment process to be quick and professional, you have to define individual steps and set deadlines, and then stick to the plan.
The recruiter must have a description of the offer and the working conditions that he will present to interested candidates. Make sure you know exactly who you are looking for and what criteria you will be guided by when selecting candidates. Make sure you have a detailed job description and that you know Hiring Manageran's answers to all the most important questions.
Before recruiting, it is worth studying the position of the vacancy in the company's hierarchy, determining who the wanted person will report to and what development opportunities he has in the company.
Meticulous preparation and gathering all important information before starting the recruitment process will save you time when collecting CVs and responding to candidates' applications.
2. Schedule time to make final decisions
A frequent cause of lengthy recruitment is prolonged communication with decision-makers. In order to motivate them to make the final choices, it is worth planning meetings at the beginning of the process, where you will discuss selected candidates with them. Thanks to systematic meetings, you will be up to date with the needs in departments with vacancies, quickly react to sudden changes, receive feedback on the presented applications and how to verify them, and overall improve the decision-making process.
3. Set the rules that will guide you when analyzing the CVs
It is worth setting rigid and clear criteria for selecting candidates. A set of guidelines for each position you are recruiting for will be a good signpost. For example, you can define the most important skills of a new employee (must have) verified at the beginning of the process and the desired additional competencies (nice to have), which you will check at the final stages of candidate selection.
Thanks to this, you will ensure the objectivity of the assessment and avoid cognitive errors. This will make it easier for you to compare the level of competencies of the candidates and a structured form of work will make the assessment much more efficient.
4. Consider remote recruiting
Especially in a situation where you recruit in different cities or offer a remote form of work, it is worth considering online meetings. This form greatly helps the recruiter and saves him time traveling to the office. A video interview will also be great as a preliminary verification of candidates at the first stage of selection
We have described more about how remote recruitment can be carried out in a few steps in a separate article.
5. Use the tools for pre-selection of candidates
In order to speed up the verification of candidates, it is worth making a preliminary selection first. During the screening, you will have the opportunity to present the working conditions and verify the motivation of the candidates and give them a chance to consider whether the offer you present really suits them. Thanks to this, for longer recruitment interviews, conducted in subsequent stages of the process, you will only invite people who meet the main expectations of the company and are really interested in taking up the job.
You can conduct an initial interview by phone or in the form of the aforementioned videoconference. There are also video interviewing tools, such as EasyHire or RecruitLab (see the full list here), which can work especially for a large number of job applications.
The recruitment form may also be used for the initial verification of candidates. Well-formulated questions in the form will help you verify that the candidate meets the formal requirements. You will learn about his expectations and preferences regarding work.
It is also worth taking advantage of competency tests available to candidates in the online form. Such tests almost do not require the recruiter's time and commitment, and with their help, you can quickly verify declarations made in application documents and determine important skills, e.g. the level of knowledge of a foreign language.
6. Automate your work
Nowadays it is difficult not to use of work automation. ATS (Applicant Tracking System) is a great help in saving recruiters' time.
ATS helps you manage the recruitment process. In addition, many activities are performed for us – starting from the distribution of job advertisements and creating a database of candidates, through automatic messages to candidates and keeping a calendar of meetings, to creating employer profiles.
Moreover, thanks to the statistical functions, ATS will help you assess the effectiveness of individual sources of candidates' applications. On this basis, you will better select communication channels and methods of collecting applications. Additionally, you will be able to analyze the reasons for the rejection of applications and verify and shorten the entire recruitment process.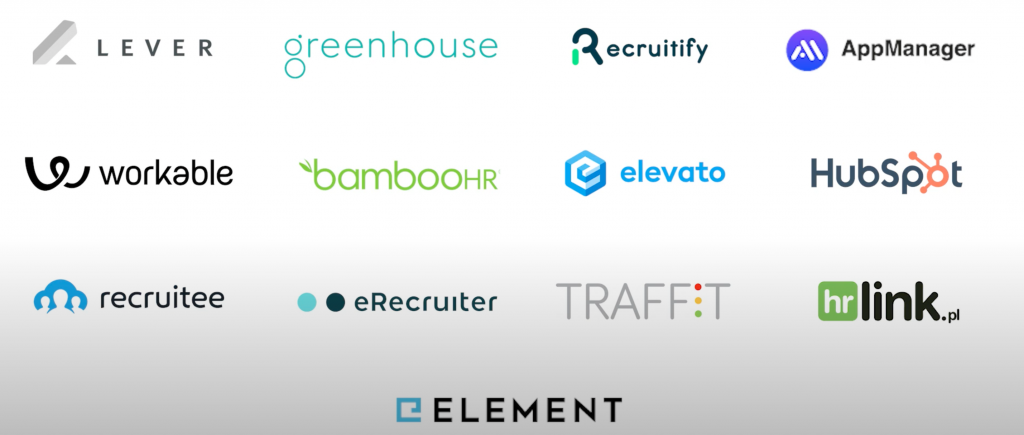 You don't know which ATS system to choose? Read our article: Best Applicant Tracking Systems (ATS) for Modern Recruiting.
7. Use the employee referral program
Involving company employees in the recruitment process brings a number of benefits. Not only will this increase the number of applications, but will also often result in higher quality resumes.
Employees perfectly present the offer to potential candidates, while increasing the credibility of the message. What's more, they often make some kind of selection themselves, because they pass information about work in our company to their industry friends who may be of real interest to them. The good news is that referral workers tend to stay with the company longer. Research shows that nearly half (45%) of them work for four years or more, and only 25% of employees recruited from job advertisements stay for more than two years.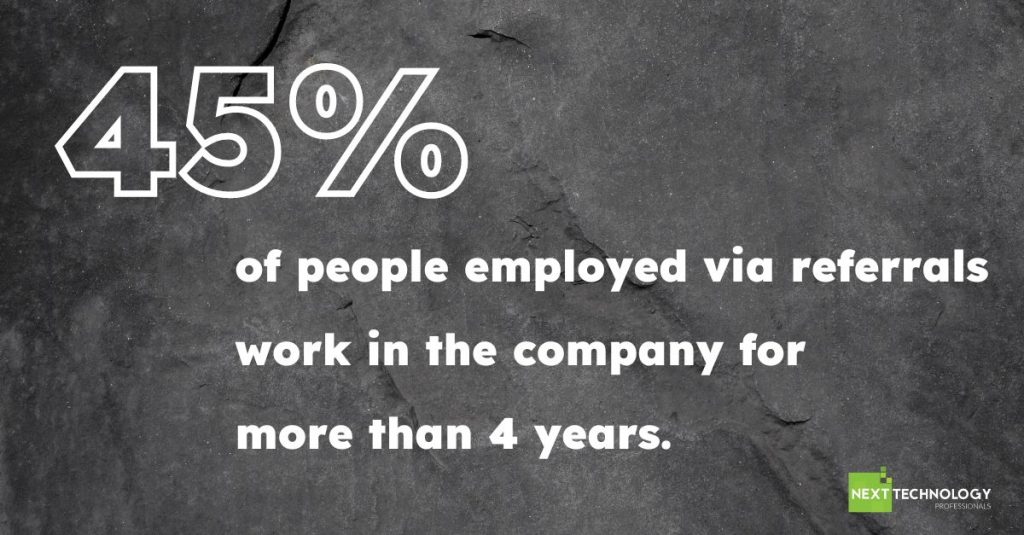 An additional advantage of this form of recruitment is strengthening the motivation and commitment of the team, especially if we offer additional rewards for participation in the referral program, e.g. in the form of awards or bonuses for recommending employees.
8. Outsource the recruitment to an external company
If your company does not have an extensive HR department or you do not have experience in recruiting for a given position, and the recruitment must be carried out at an express pace, consider outsourcing the process. Recruitment agencies often specialize in finding the best candidates in the industry and have extensive CV databases. They also have advanced recruitment tools and are able to reach even passive candidates. Outsourcing may turn out to be a cheaper and faster alternative, which will additionally allow the team to focus on other important tasks crucial for the operation of your business.
---
If you care about the efficient employment of IT specialists, contact us. As an experienced IT recruitment agency with a number of qualified recruiters on board, we will be able to quickly provide you with the specialist that best suits your needs.