According to Statista, the blockchain industry is expected to grow to $39.7 billion USD in 2025. Although the technology has been primarily deployed for the financial sector, it has quickly expanded to a number of industries such as national security, healthcare, insurance, real estate, energy, tourism, advertising, and more.
If you're currently planning to utilize this technology within your projects, let's check out how to hire a blockchain developer in Poland – the country with the most prominent IT experts in Central Europe.
Why hire blockchain developers?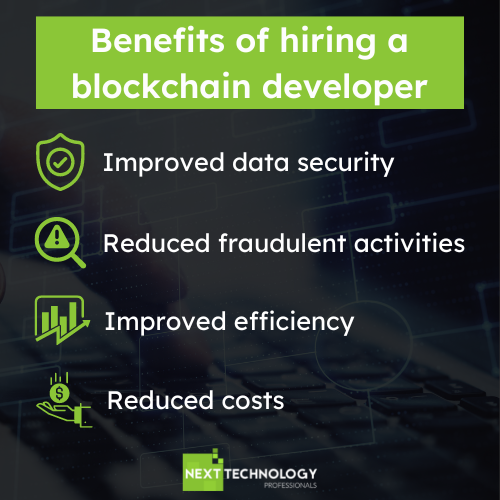 To put it simply, a blockchain developer is responsible for developing and implementing blockchain technology, specifically managing decentralized applications and developing new blockchain platforms.
As it's been already mentioned, the technology is rapidly spreading across a number of sectors and is used in a variety of solutions for industries such as:
Government
Mobile payments
Insurance
Border control
Supply chains
Healthcare
Real estate
Advertising
Tourism
Energy
National security
and many more.
This means that the need to hire blockchain developers becomes relevant and urgent for an increasing number of organizations. However, before we continue explaining how to hire a blockchain developer in Poland, let's highlight some benefits of hiring a blockchain engineer:
Improved data security thanks to encrypting data using cryptography
Reduced fraudulent activities and increased safety
Improved efficiency of technology and business processes
Reduced costs thanks to mitigated risks and avoiding recovery actions.
Hire blockchain developer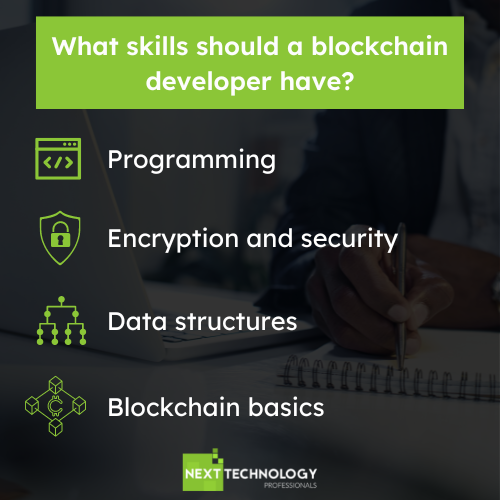 The number of blockchain jobs has jumped by 631% from 2015 to 2017. The 2021 data also shows the biggest growth in the number of active developers ever.
Despite the dynamic growth, the number of blockchain developers doesn't cover the demand. Finding a qualified blockchain engineer is still not easy, moreover, there is also a risk to bump into fake experts and scam blockchain startups.
So, how to verify whether a candidate is a real specialist? Blockchain developers should be able to perform skills such as:
Programming. A blockchain engineer must have at least basic programming abilities and a good understanding of syntax and writing code. The most commonly required languages are C++, SQL, JavaScript, and Python.
Encryption and security. Knowledge of cryptography and security protocols and the ability to implement security features are essential parts of blockchain technology.
Data structures. The knowledge of structures such as trees, graphs, hash tables, linked lists, and acyclic graphs is a must for every blockchain developer.
Blockchain fundamentals.
Blockchain developer salary
An increasing global interest in blockchain technology leads to significant growth in salaries. According to Cryptocurrency Jobs, the average blockchain developer salary in 2022 in the US is $132k. 
However, with the growing popularity of remote work and IT outsourcing, there is an opportunity to hire blockchain developers in Poland or in other Central European countries. For instance, the average Blockchain developer's salary in Poland is $42k annually. This means that hiring a specialist in the outsourcing model might bring significant savings and let remain high quality.
The biggest players hiring blockchain developers in Poland are large technology companies such as IBM, Accenture, Microsoft and Capgemini, banks and blockchain start-ups.
Where to find blockchain developers in Poland?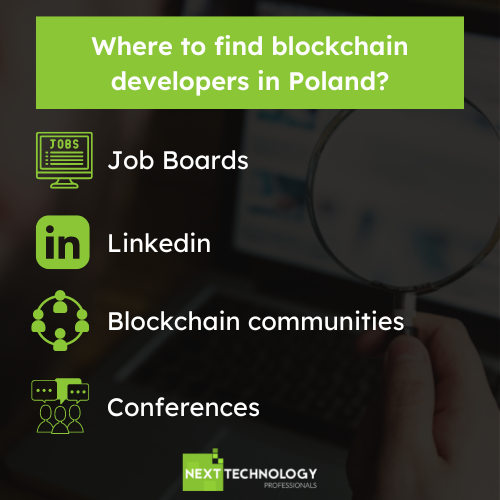 If you're already considering hiring a blockchain developer in Poland, it's time to explain where to find them. There are a few basic sources of candidates:
If you're wondering what the other most effective sources for hiring the Best Software Developers are, read our article focused on this topic.
However, all the options above require a lot of effort to succeed. While staying in a remote location, it may be challenging to select industry events and participate in them. Also, browsing LinkedIn profiles and job boards might be time-consuming and non-efficient, as the response rate of developers is usually quite low. Once you find a candidate, it's also challenging to verify their skills without vast technical knowledge in the field.
Tip from our recruiter:
"The technologies most often sought after by employers are Solidity, Smart Contracts, Solana. In tandem with these technologies, proficiency in Python, Rust, JavaScript is often required. 

Recruiters, can draw their knowledge regarding blockchain technology from many sources. Before searching for candidates, it is worth visiting forums and thematic blogs, where you can find a lot of valuable information and tips on what to look for when preparing an offer. Candidates already working in these technologies are an equally valuable source.

During the conversation with the programmer, we can clarify the most important issues of technology and what aspects are most important to them."
Fortunately, there is another option for you: hiring a recruitment agency. Such companies usually have access to a pool of verified talents ready to work on your projects. In case of quitting, the agency has other specialists at their disposal to replace the missing employee without the next costly recruitment process. Thanks to this, hiring a blockchain developer will be much faster and cheaper. The qualified agency is also capable of verifying the candidate's technical knowledge by asking the right questions.
The Summary
If you're currently looking for a blockchain developer in Poland, feel free to contact us. As an experienced IT recruitment agency with a number of qualified recruiters on board, we will be able to quickly provide you with a specialist best matching your needs.