Finding the most suitable candidates for a given position can be a challenge, especially in the IT industry. This is when time and accuracy are the most crucial, in the context of finding the right specialists. The chance to do this is significantly increased by job boards. Thanks to them, we can quickly and specifically describe the vacancy, and then post a job offer for which interested people will apply.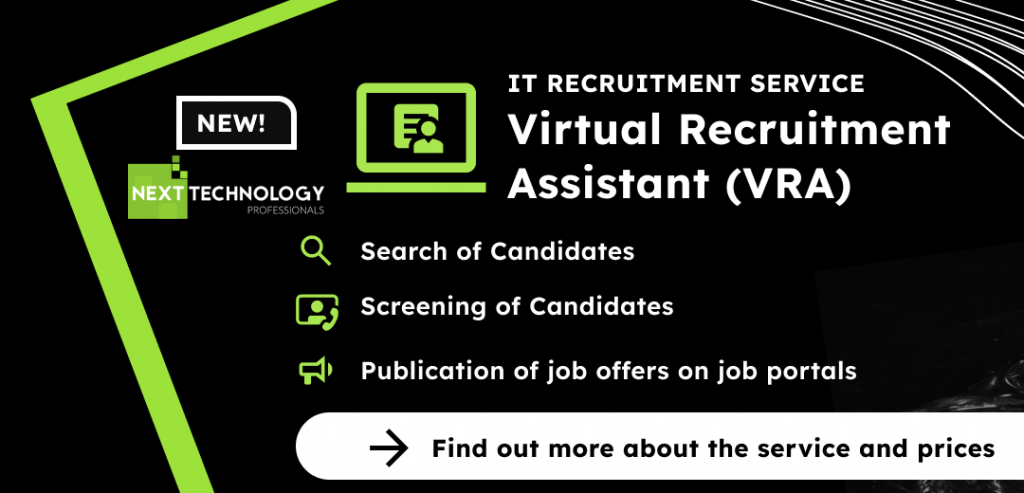 Which IT job boards are the best?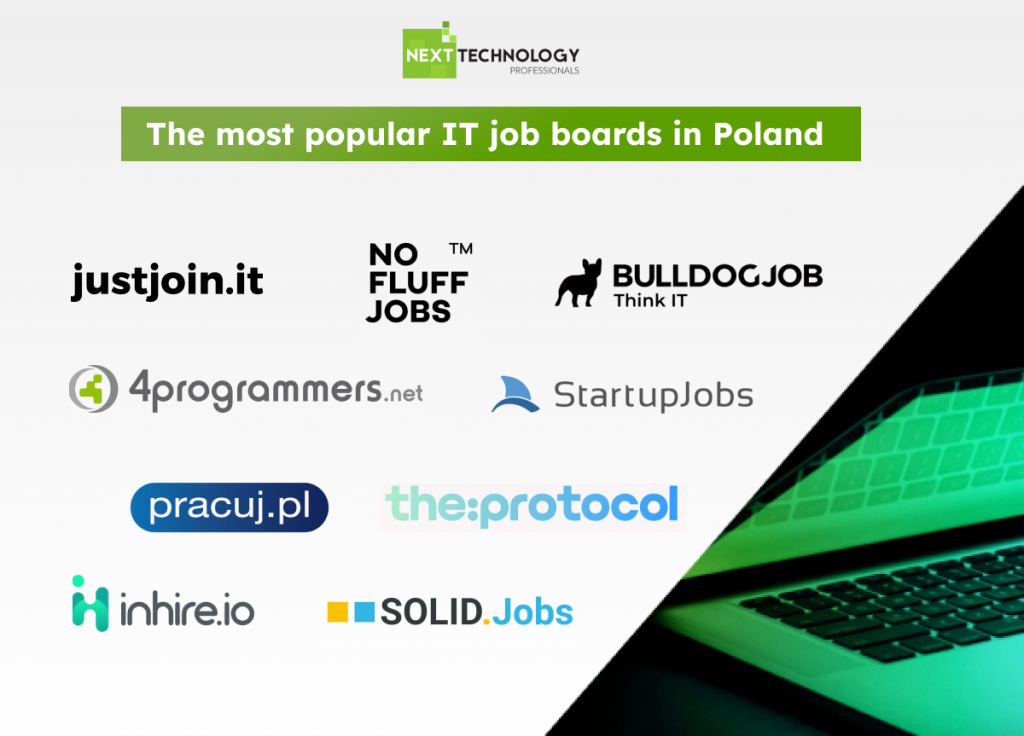 What opportunities do the most popular IT job boards in Poland offer? What are their prices and what additional services can make the job offer more visible? What other activities that increase the chances of hiring the best programmers are worth considering? We will try to answer these questions in this article.
Ranking of IT job boards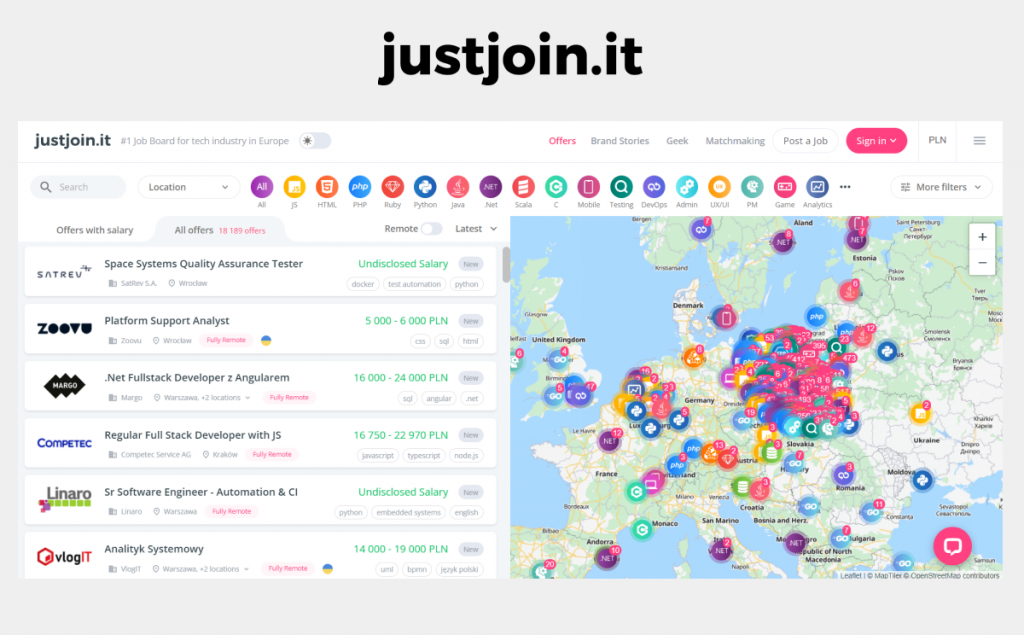 This job board has gained popularity over the last 10 years. It is estimated that the number of advertisements displayed on the portal increased to over 33 million annually, and the number of job offers published by employers in 2021 exceeded 30,000. The Justjoin.it interface enables standard filtering of offers by location and expected salary range. You can also select the level of seniority and the preferred type of contract. Furthermore, what draws attention is the additional filtering that allows you to see over 20 categories related to technologies in the form of icons on the map. The main view also allows you to choose only job offers that are containing salary ranges or only remote work.
For users (candidates) looking for a job, there is an option to create a profile. What is more, there is also a "Matchmaking" option available – the algorithm matches the user with companies to which he or she may fit.
Pricing: Simple (1070 zł), Pro (1570 zł), Enterprise (2170 zł), Corporate (3570 zł)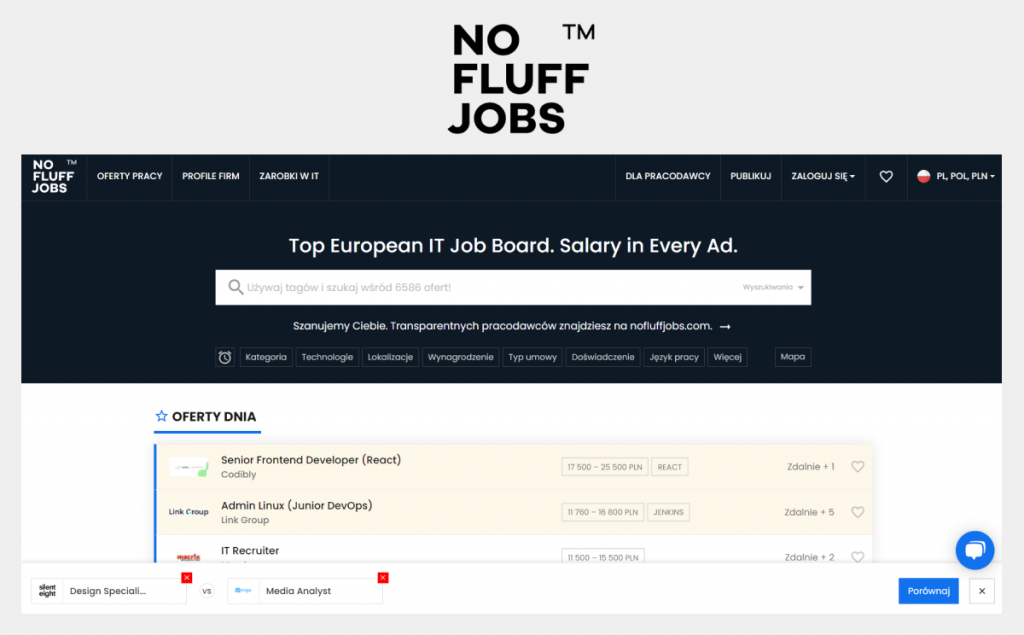 No Fluff Jobs is a portal where the addition of visible salaries is required in every advertisement. The candidate can filter the job openings by technology, salary, contract type and experience. An interesting option is also browsing job lists based on the work language or benefits. No Fluff Jobs also allows you to compare job offers in all possible categories of information included in the content (e.g. salary, requirements, basic information about the company, equipment, etc.). There are also some extra solutions. For example, for an appropriate additional fee, you can raise the job offer so that it is at the top of the list, highlight it visually or place it as the top search result for 3 days. What's more, by selecting the appropriate option, the job vacancy may be in a category called "offer of the day", which also significantly affects the views.
Pricing: Standard (1190 zł), Premium (1490 zł), Expert (1890 zł), All-star (2990 zł)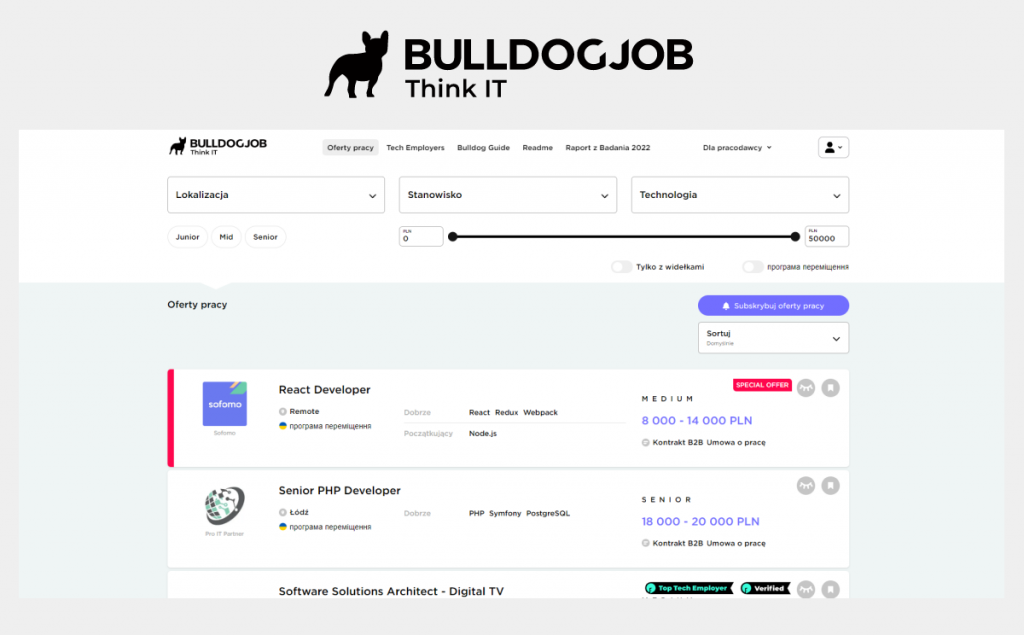 The portal allows you to filter job lists by location (specific cities in Poland + foreign category are available), position, technologies, expected salary range and level of experience. It is also possible to display only those offers that include visible salary ranges. Furthermore, Bulldogjob has also created a Top Tech Employer list, which evaluates employers in terms of offered salary and benefits, development opportunities, satisfaction and teamwork.
Another interesting option that distinguishes this portal is Bulldogguide, which collects data and provides personalized summaries that contain for example, salaries. Bulldogguide may turn out to be crucial for the candidate in terms of finding a suitable job or career path.
Pricing: Basic (790 zł), Plus (1090 zł), Premium (1590 zł), Super Bulldog (2390 zł)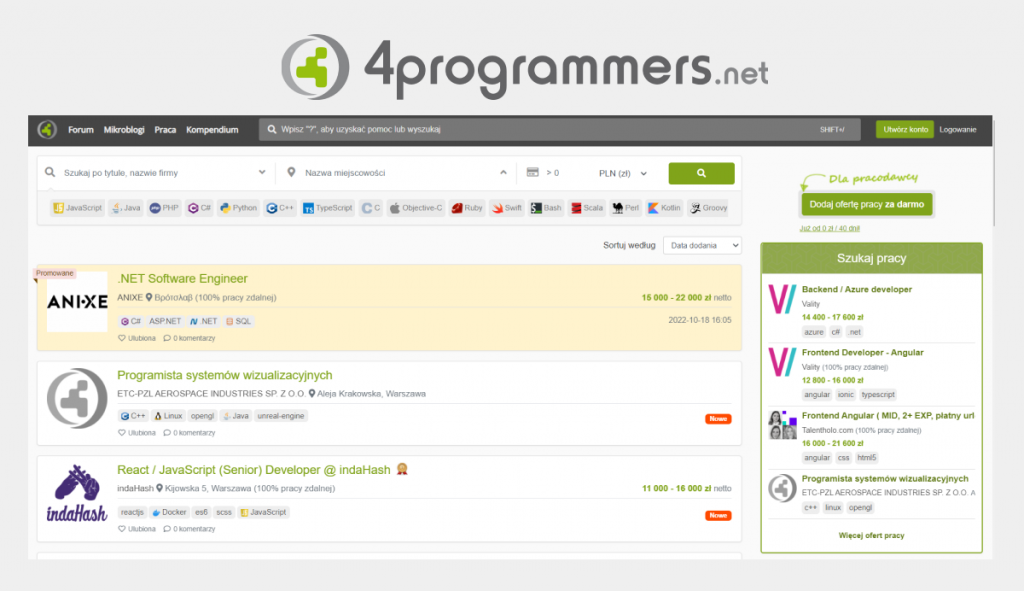 It is a website that includes not only job offers, but also a forum where IT specialists share their programming knowledge on a daily basis. Its active community is estimated at around 250,000 programmers, and the average page views are over 1.5 million per month. Therefore, this portal is a good place to make your advertisement stand out on a website that is visited by many potential candidates daily.
Pricing: Standard (0 zł / 40 days), Plus (65 zł), Premium (159 zł)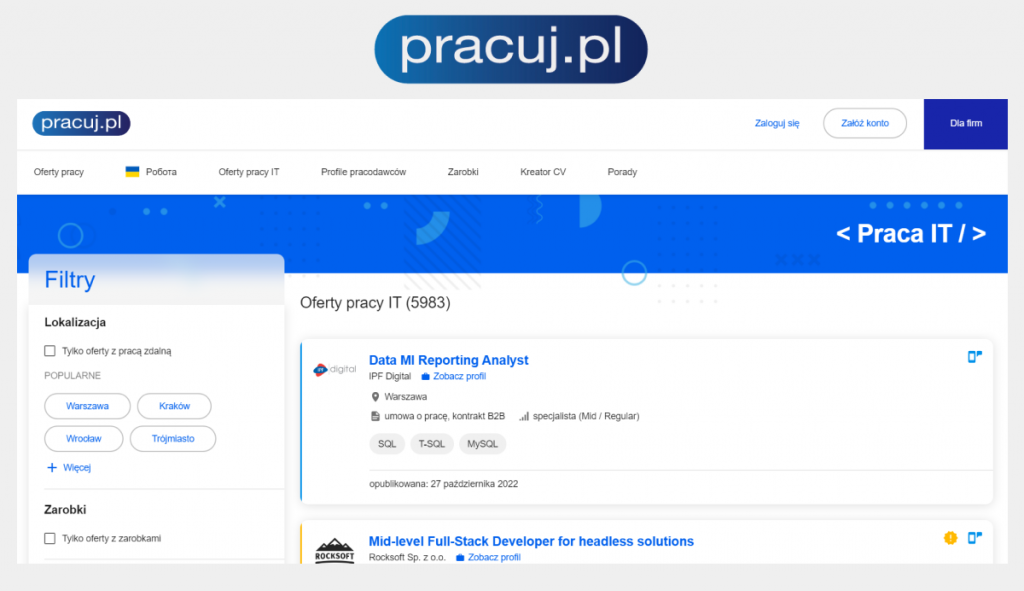 When preparing this compilation of the most popular job boards, it's worth mentioning the most famous portal with job offers – Pracuj.pl. Every month, the portal is visited by up to 3.5 million internet users. This is where a lot of job offers for IT specialists are added every day. A separate tab sends us to a subpage where you can find job lists intended only for this specific group of job seekers. The available filtering allows you to change the location, technology, tools, specialization, job level and preferred form of contract. Additionally, it is possible to display offers only with remote work or visible salary ranges.
Pricing: Pracuj.pl: The final price depends on the selected parameters.
Additionally, the:protocol.it is also worth checking in terms of browsing or adding job offers. It is a project developed by the Pracuj group. The website allows you to post job offers addressed to IT and is a good option if you want to add them to an additional place. It contains standard methods of filtering offers, extended by the possibility of viewing only those containing a description of the project.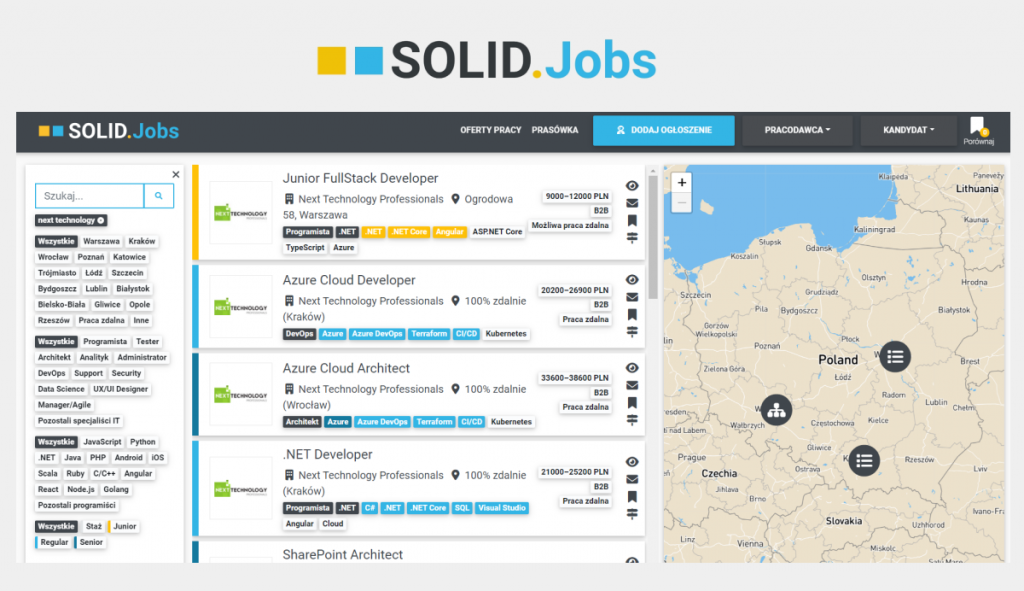 Solid.jobs is a platform that allows you to publish job listings, verify candidates or manage the recruitment process. Certain packages allow you to promote a job offer on the home page or use the recruitment tests. The interface, which also includes a map, allows you to filter in terms of the minimum salary accepted. It is also possible to select criteria related to the location or the preferred technology. If necessary, the candidate can also compare two job offers after clicking on the tab.
Pricing: Standard (0zł), Premium (497 zł), VIP (1497 zł)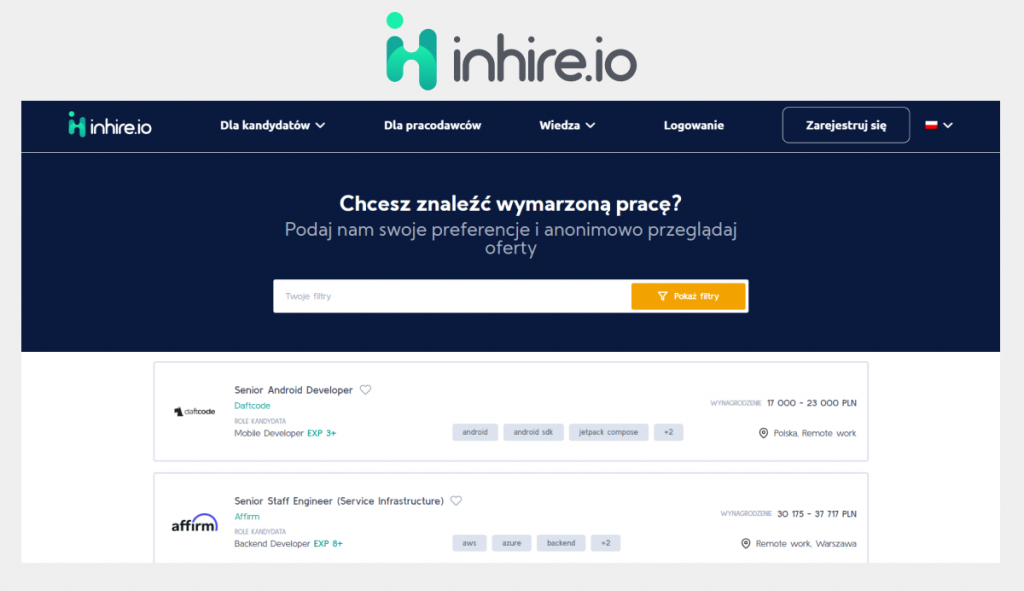 It is a platform that connects IT specialists with employers using machine learning. It is enough to describe the profile of the ideal candidate once, and Inhire.io will deliver the job offer directly to the suitable candidates. The database of potential candidates is estimated at around 20,000.
Pricing: to be determined after contact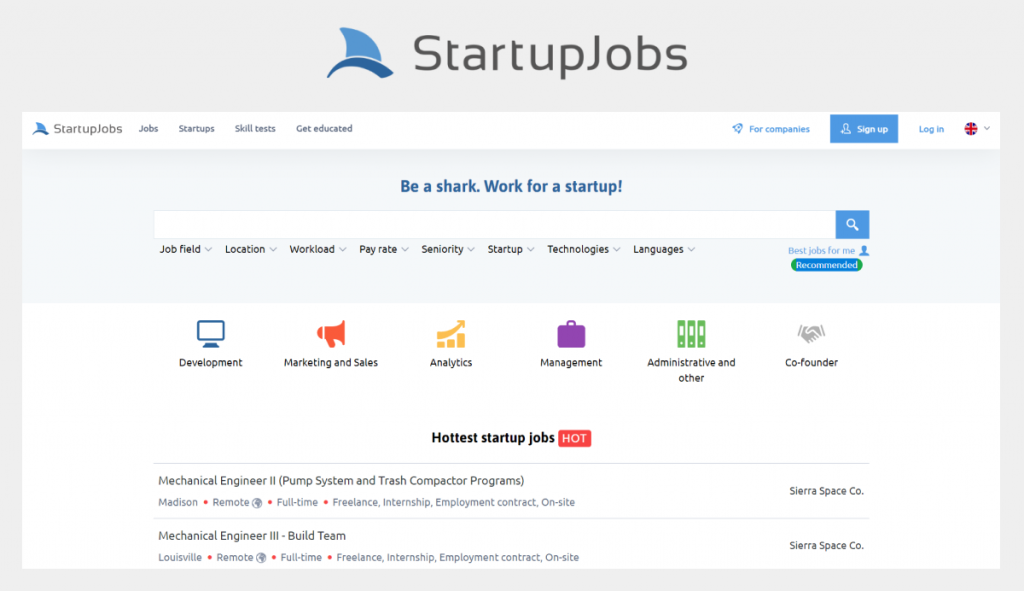 It is a job board that focuses on the publication of job offers in startups. The number of advertisements on the portal is not as large as on the other websites mentioned, but you can certainly find valuable job offers there, aimed at people who want to develop in this type of company. StartupJobs also provides other premium services such as skills tests for candidates, integration of the career page with the home page and a platform for communication between employers and candidates.
Pricing: Ultimate (19 999 Kč), VIP (11 999 Kč)
IT-Leaders – is a platform that makes it easier for candidates to find a job. Once you've created an anonymous, technical profile, you'll need to indicate what you're looking for when changing jobs, and specific companies will submit their own tailored offers.
Pricing: 1-2 Recruitments: 500 PLN, 3-5 Recruitments: 1200 PLN, 6-10 Recruitments: 2200 PLN access / monthly
What are the other ways to reach the candidate with the job offer in IT?
In addition to posting job offers on IT job boards, it is worth trying to reach candidates in other ways. We've described them in more detail in our article about the most effective sources for hiring the best Software Developers. These are, among others:
Social media: in particular LinkedIn and the posting of advertisements on Facebook groups;
Webinars and conferences;
IT forums;
Employee referral programs.
How to increase the effectiveness of the recruitment process in IT?
It is worth noting that before planning the recruitment process, it is worth knowing what the IT job market looks like. Thanks to this, you can choose the most effective way to find the right IT specialist for a given position. Did you know that as many as 2/3 of specialists are open to changing jobs and a programmer employed in B2B or UoP expects a salary increase by 25% on average when changing jobs? Information on the preferences of IT candidates regarding the length of the recruitment process, verification of competencies, the expected increase (when changing a job) and the division of salaries depending on the technology can be found in our report on the IT job market in Poland.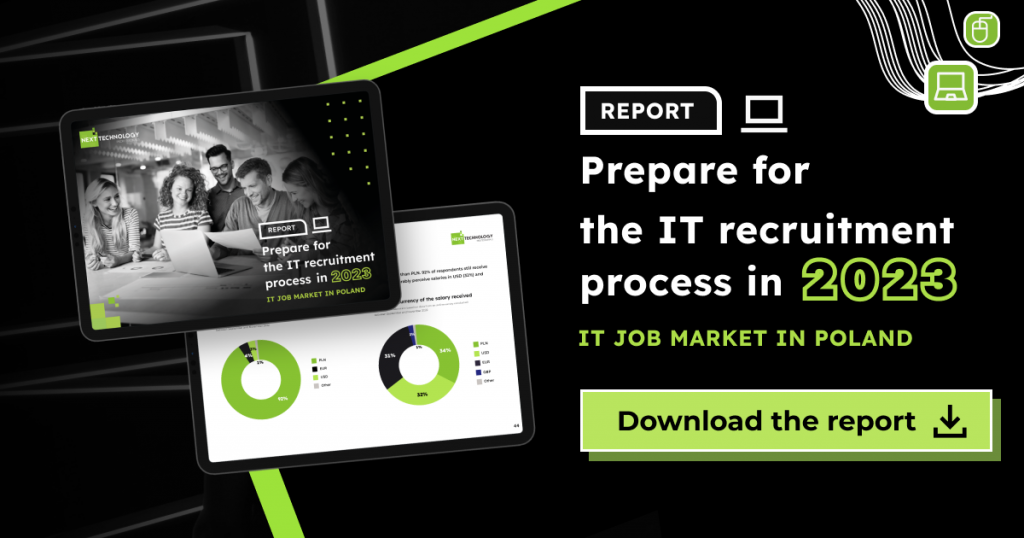 In addition to reliable data from reports, it is also worth finding information about the preferences of candidates regarding the form of job descriptions that are addressed to them. Additionally, it is good to know what kind of competence verification suits IT specialists the best. You can do this by browsing through the list of Call For Tech episodes where relevant IT experts share this information. You can find a list of all episodes here.

Cooperation with an IT recruitment agency in Poland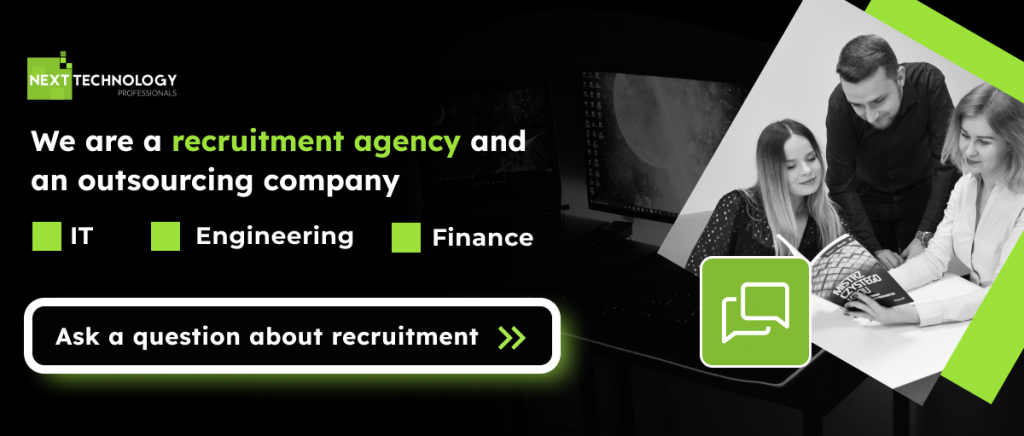 We use IT job boards, but we are aware that candidates also often browse job offers on the websites of IT recruitment firms. Therefore, placing them on the recruitment agency's website strengthens the effectiveness and the ability to reach the best programmers.
If you want to hire IT specialists efficiently and quickly, please contact us. As an experienced IT recruitment agency with a number of qualified recruiters on board, we will be able to quickly help you find the best programmers.