In the times of the COVID-19 pandemic, companies worldwide have started investing more and more money to digitize their products and services. As IT spending continues to rise, employers will have to contend with staffing shortages among IT professionals. And this is where we see the vast importance of IT outsourcing, which is sure to be very popular this year.
If you wonder what the IT outsourcing market will look like, we invite you to read on. Here you will find five trends to watch in 2022.
1. The growing importance of end-to-end solutions
Filling the team with missing talent by body leasing is a good option. Still, if you are planning to implement a large IT project, it is worth considering project outsourcing, which will allow you to outsource the entire project.
Companies worldwide in various industries are beginning to see great potential in entire outsourcing teams who have experience working with each other, communicating well, and working together smoothly. Time is significant, and involving a whole team makes the software development process faster and more efficient.
2. Quality more important than price
As we mentioned above, companies are spending more and more money on IT services. Just look at the data from Statista:
They predict that the spending on IT services will increase to more than 1.2 trillion dollars in 2022 and almost 1,4 trillion in 2023.
What could this data mean? That companies' savings won't be as crucial as creating solid, quality software that meets their expectations. Therefore, another trend that will be popular in 2022 will be to focus on the quality of the solutions delivered.
Companies will be looking for reliable and experienced technology partners with solid knowledge and a solid position in the market. These factors will guarantee excellent and practical cooperation and minimize the risk of possible problems and misunderstandings.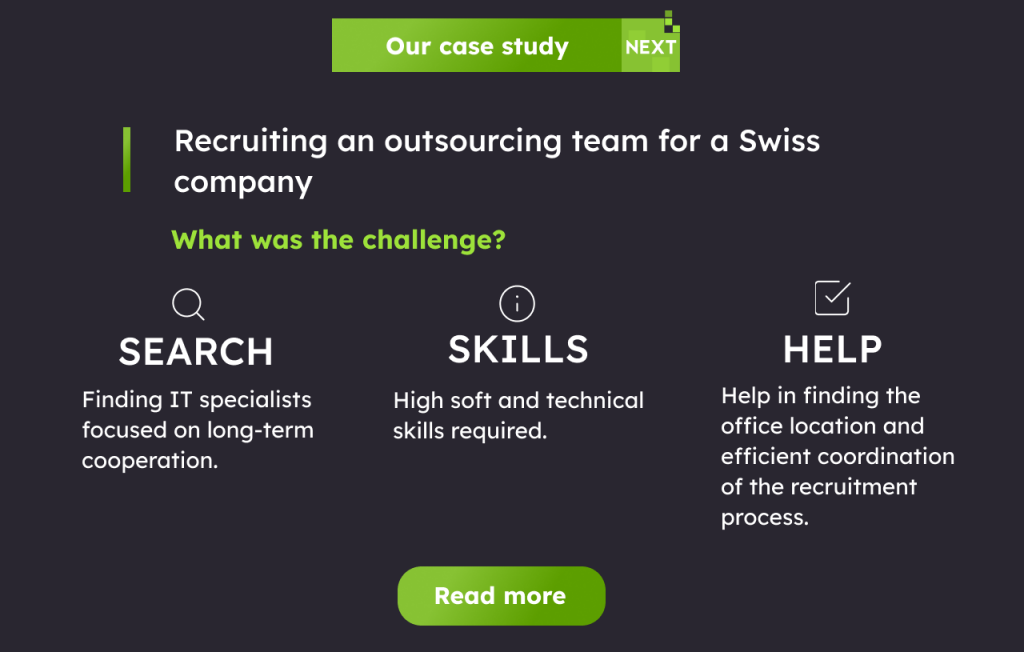 3. Increasing IT outsourcing popularity among small businesses
IT outsourcing is an opportunity for small businesses or startups to work with experienced experts at affordable prices. As we know, one of the main advantages of outsourcing is saving money, so even startups can create innovative technology solutions without going over budget.
The rise of this trend is confirmed by Clutch's data, according to which even 80% of small businesses in the US planned to outsource at least one business process to an external provider in 2021.
4. The growing popularity of IT outsourcing to Eastern Europe
Although India and China are still the most popular destinations for IT outsourcing, more and more companies are choosing to work with Eastern European vendors.
US and Western European companies mainly prefer to work with Eastern European countries for outsourcing, such as Poland, Romania or Ukraine. It is caused by cultural proximity, good English language skills, and high technical skills of the Eastern Europe developers. Moreover, this market is still growing! According to The 2022 State of IT in Europe, 57% of the European companies expect their revenues to grow in 2022.
Salaries in Eastern European countries are still lower than in the US, Germany, Switzerland, or Nordic countries. The quality of service and communication provided is usually much higher than in the case of companies from Asian countries. Choosing to outsource to a country like Poland is a safe solution, allowing you to work with the best professionals at a relatively low price.
5. Long-term business relationships
Finding qualified workers in IT is not easy. However, choosing the right outsourcing provider can also be a challenge. That's why when you find a trustworthy business partner, it's worth continuing to work with them on future projects. Long-term cooperation with one supplier is beneficial for both of you.
Above all, your teams know and trust each other well. You know what to expect and what results to anticipate. What's more, you don't need time to implement and familiarize them with your company's product, policies, and tools because they already know them from previous projects. It's a great comfort that allows you to act quickly, efficiently, and predictably.
---
Are you looking for an outsourcing company with which you can build a long and effective business relationship? Contact us and work with a reliable and experienced technology partner to help you achieve the best results! We will be happy to provide the best IT contracting and IT outsourcing services in Poland.