As IT recruitment agency in Poland, we know that companies competing for the best Software Developers must stand out in order to attract the candidate's attention. The Global Talent Trends 2022 study shows that when choosing a new job, in addition to remuneration, work-life balance, team and company's culture benefits are also important. This data is also reflected in the IT industry. Benefits have a significant impact on candidates' decisions to change jobs. In the article, we will discuss the most popular employee benefits in 2023.
What benefits can help keep the best talents in the organization?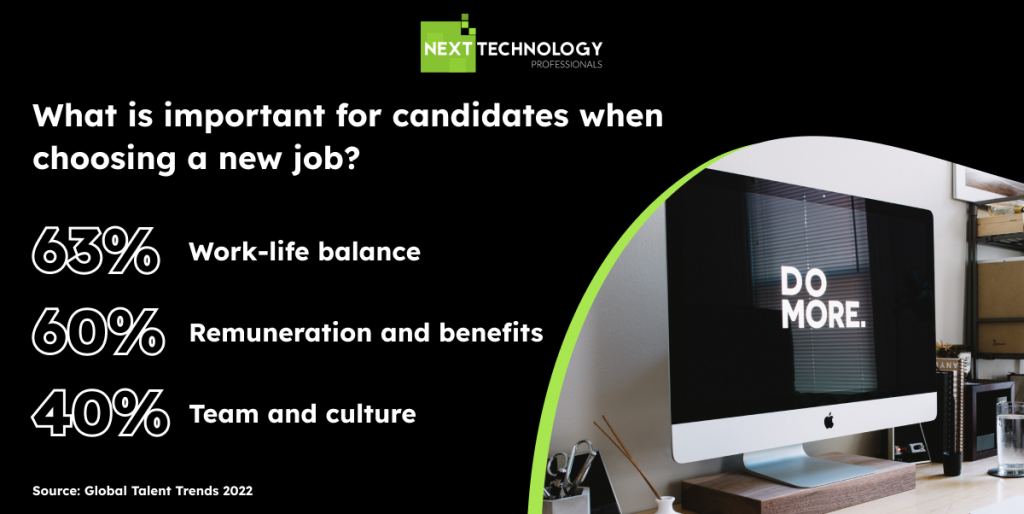 Certainly, the period of the pandemic caused huge changes in terms of the proposed benefits. At that time, for many people, the most important thing was to maintain a balance between private and professional life and flexible forms of work. We wrote more about the new approach in the article about revolutions in employee benefits.
The best benefits are those that are actually useful to employees. It is best to reach for specific data to see what elements affect the comfort of work the most.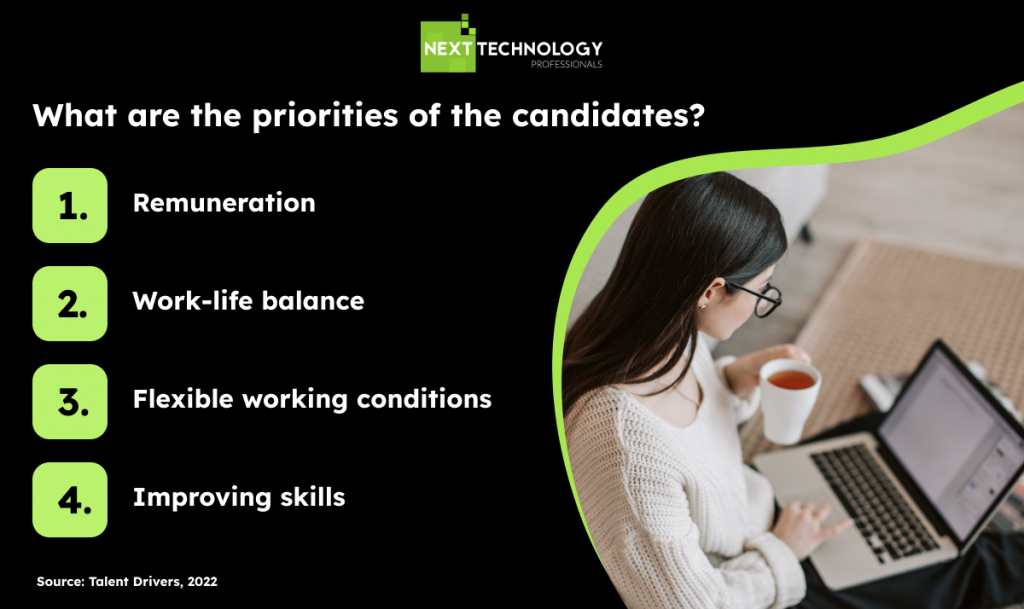 According to the Talent Drivers survey, conducted in August 2022, the candidates' priorities are as follows:
Compensation
Balance (supporting the organization in order to achieve a balance between work and personal life).
Flexible working conditions (e.g. possibility to work remotely).
Upskilling
It was followed by opportunities for advancement, challenging work (with meaning and impact), safety at work, well-being and supportive direct managers. Issues such as the opportunity to work on innovative projects, clear goals, culture and mission of the company were also mentioned. Furthermore, it was also noted that an inclusive workplace for people of diverse backgrounds as well as the talent and experience of other employees in the company are important.
What benefits will be the most popular in the IT industry in 2023?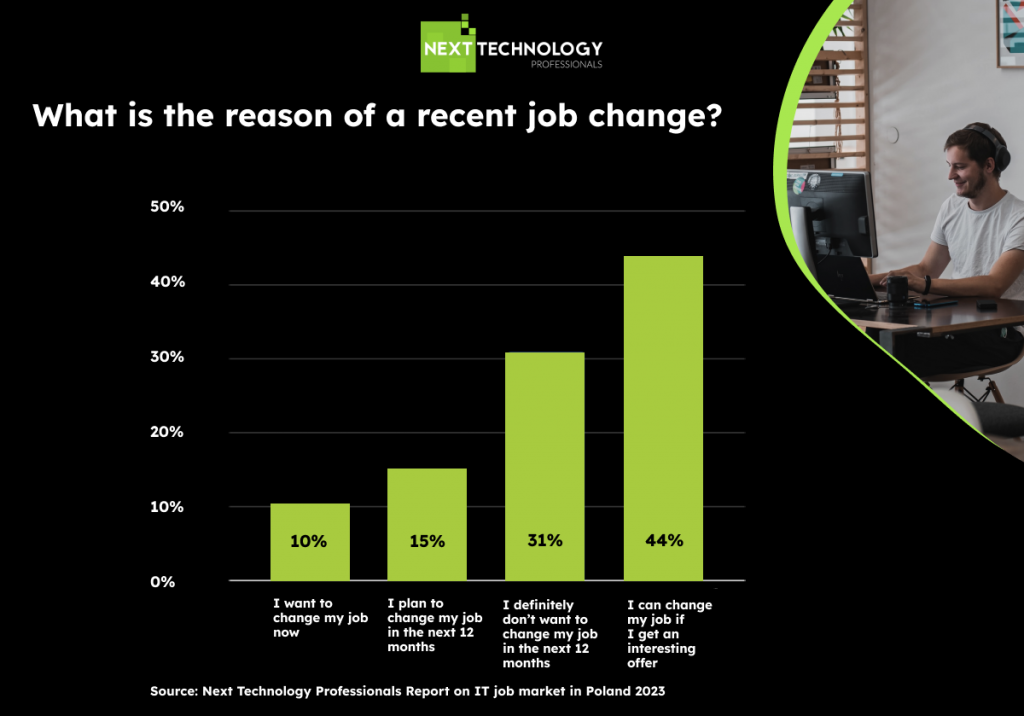 In order to answer the above question, we will look at the latest data on the IT labor market, which will be made available in a full report in early 2023.
The willingness of IT specialists to change their job is still at a high level, if they receive an interesting offer – 44% of the respondents answered this way. The benefits presented in the offer may also influence how interesting the offer is. What do people working in the IT industry think about it?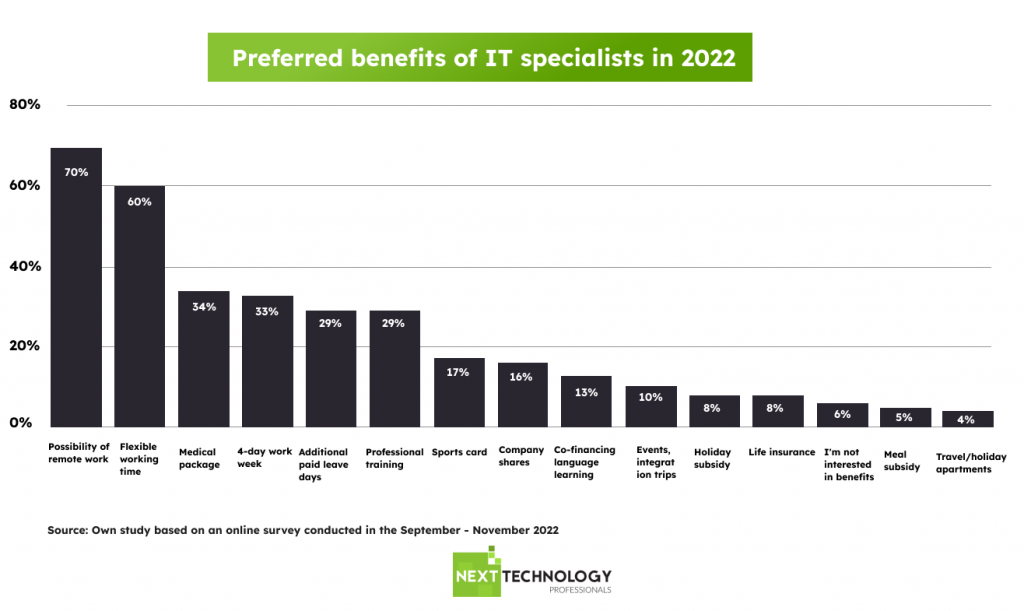 The most preferred benefit, or maybe already a standard in the IT industry, is the possibility of remote work. This answer was in first place last year, but in 2023 it has a significant advantage – as many as 70% of respondents marked this answer.
In addition, analyzing the results of the 2021 study from the report on the IT labor market, it can be seen that as many as 48% of respondents want to work completely remotely, and 50% in a hybrid way (the most desirable model is 3 days of remote work and 2 days of working from the office). Only 2% of all respondents express a willingness to work completely from the office.
The same applies to flexible working hours (60%). Developers want to be able to adjust working hours to the schedule of the whole day. What's more, medical packages (34%) are still popular – last year this benefit also took 3rd place. Taking care of protecting health is still important for IT specialists. A brand new thing that appeared in 2022 in the answers of developers (and wasn't on the list in 2021) is the 4-day work week – chosen by 33% of respondents.
In Iceland, the 4-day work system has been very successful. The results of this experiment indicated that the issue of stress and burnout among employees decreased and well-being improved. Interestingly, productivity has stayed the same and in some cases has even increased in many teams. We wrote more about this trend in a separate article.
When comparing the data from 2022 and 2021, you can notice a few other things mentioned by Software Developers. These are company shares (16%), travel/holiday apartments (4%) and concierge services, e.g. AskHenry (1%).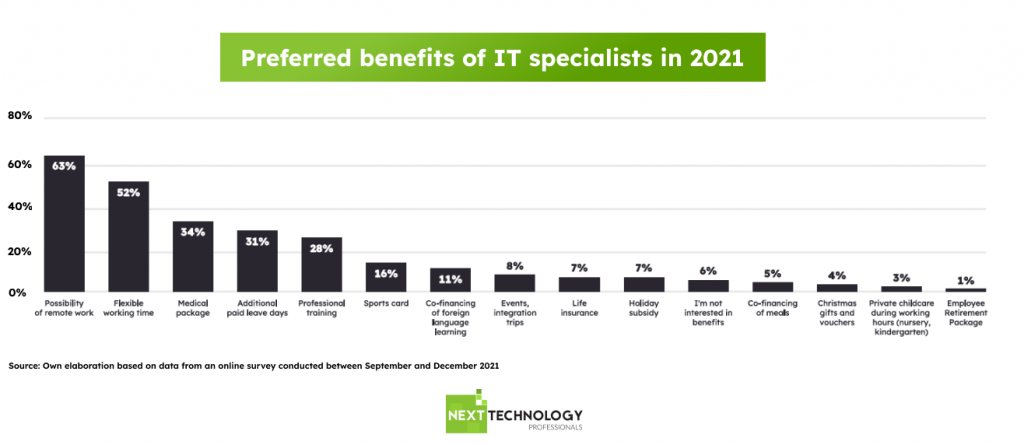 It can be concluded that issues improving work-life balance are the most important for Polish IT specialists. Fruit Thursdays are a thing of the past and only practical facilitations related to working in the IT industry matter.
What other benefits are gaining popularity?
Workation
It is a combination of holiday leave and working remotely. An employee can work from anywhere in the world, and after working hours, he or she can start exploring a given city or simply continue the journey. This mode of work was tested by our recruiter – Justyna Gałązka – we asked about her observations in a separate interview.
Concierge services
AskHenry is a benefit that helps employees carry out their daily, minor duties. This can help save them a lot of time. Trusted assistants can take care of e.g. official matters, mail, mechanics and many more important everyday things for the employee.
Cafeteria system
It allows employees to independently choose benefits for themselves. Thanks to this, everything can be tailored to the needs of a given employee. One of our respondents mentioned that some companies offer a card with a budget that can be spent on anything that will allow you to work better (WFH equipment, newsletters, courses, licenses, SaaS services).
Unlimited vacation
Netflix is known for this solution. The key area for this benefit to work is building a team full of trust and focus on results, in the context of the work performed and not on time.
Psychotherapy
The topic of occupational burnout and challenges related to the well-being of employees has become more seen in recent years. Visits to a psychologist or psychiatrist are no longer taboo. Therefore, some employers provide co-financing for therapy or medical visits.
Benefits of IT recruitment agency in Poland
Choosing the right benefit addressed to IT specialists can give a significant competitive advantage. In addition to checking current research or reports, it is worth conducting short surveys on your own or asking employees what is important to them. It all depends on the work culture and organization.
If you are thinking about hiring IT specialists for your project, we will be happy to share our knowledge about the current IT market and find the best programmers. Contact us for a free consultation